Found: A Functional Lip Gloss That Actually Hydrates Your Pout
Assistant Beauty & Health Editor
By Hannah Frye
Assistant Beauty & Health Editor
Hannah Frye is the Assistant Beauty Editor at mindbodygreen. She has a B.S. in journalism and a minor in women's, gender, and queer studies from California Polytechnic State University, San Luis Obispo. Hannah has written across lifestyle sections including health, wellness, sustainability, personal development, and more.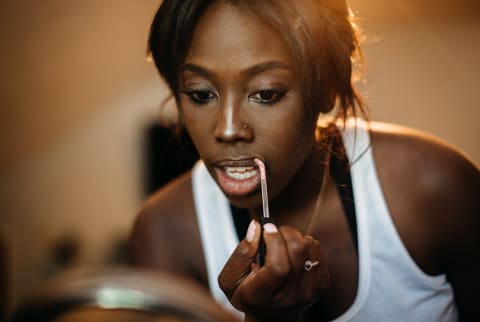 Image by Leah Flores / Stocksy
August 20, 2022
We carefully vet all products and services featured on mindbodygreen using our
commerce guidelines.
Our selections are never influenced by the commissions earned from our links.
Whether you're applying a vibrant lipstick or a pout-plumping gloss, it's easy to forget that your lips are also skin—and should be treated as such. Despite being one of the most sensitive areas on the body, they're often forgotten in standard skin care routines and instead left to fend for themselves.
Enter: functional makeup. This type of formula puts the benefits of skin care in your makeup—so you can support the health of your skin while also enhancing your features. It's the reason you'll spot hyaluronic acid in foundation or mascara infused with peptides. And one product that does this double-duty approach better than any other is the Kosas Wet Oil Lip Gloss.
Why I'm obsessed with the Kosas Wet Oil Lip Gloss.
Most plumping glosses I've tried leave a sticky residue for hours on end. And even when they avoid unwanted tackiness, the long-lasting formulas are typically uncomfortable to wear. Not to mention, the burning and tingling sensation induced by many plumping products isn't actually necessary to make the lips look full. (Beauty does not need to be pain!)
Yet somehow the Kosas oil manages to avoid all these common issues, plumping your pout to perfection sans stinging. The secret behind this formula is hyaluronic acid, which draws moisture into my lip to make them appear plumper. It's a win-win; my lips look great and get long-term benefits from the extra boost of hydration.
What's more, the tint of this product is a perfect middle ground for everyday wear. It's not too pigmented, so I can swipe it over any lip color for added shine without overriding the shade. However, on the days I'm solely sporting lip balm, the gloss adds a notable tint that's just enough to level up that "no-makeup makeup" look.
Plus, the finish is more of a shimmer than a sparkle, so it won't throw you back to the tacky, disco-ball-inspired glosses of your preteens. Still, it never fails to make your lip look pop; think of it as the perfect top coat for any look you're going for, whether it be a daytime stroll or a night on the town.
Ingredient spotlight.
As previously mentioned, the hyaluronic acid component of this formula is beneficial for both cosmetic purposes and skin health. The HA helps to keep my lips ultra-hydrated and plump (which is ideal for preventing any lipstick layered underneath from cracking or creasing).
Peptides double down this plumping power while also encouraging your skin to create more collagen (hello, youthful-looking pout). Additions like shea butter only further the benefits of the gloss, helping soothe and soften lip texture.
Botanical oils including avocado, primrose, and konjac help to cushion the lips with even more moisture and also create a gel-like barrier to the stressors in the environment. Packed with antioxidants, these additions help combat oxidative stress (one contributor to physical skin aging, lips included).
All-in-all, the formula of this gloss is A+, as is the sensorial experience and color payoff. Even if you're not going for full lip glam (think liner, color, and gloss), this product can serve as a nourishing boost for your pout at any time of day.
The takeaway. 
When you find a product that perfectly combines makeup and skin care, there's no way to pass it up. The Wet Oil Lip Gloss by Kosas is the perfect example of this concept: It adds just the right amount of tint and shimmer to your lips while deeply hydrating and protecting your pout. If you're looking for even more functional makeup finds, you may want to start with one of these primers.
Hannah Frye
Assistant Beauty & Health Editor
Hannah Frye is the Assistant Beauty & Health Editor at mindbodygreen. She has a B.S. in journalism and a minor in women's, gender, and queer studies from California Polytechnic State University, San Luis Obispo. Hannah has written across lifestyle sections including skin care, women's health, mental health, sustainability, social media trends, and more. She previously interned for Almost 30, a top-rated health and wellness podcast. In her current role, Hannah reports on the latest beauty trends and innovations, women's health research, brain health news, and plenty more.