The Lowdown On November's Full Beaver Moon & Its Eclipse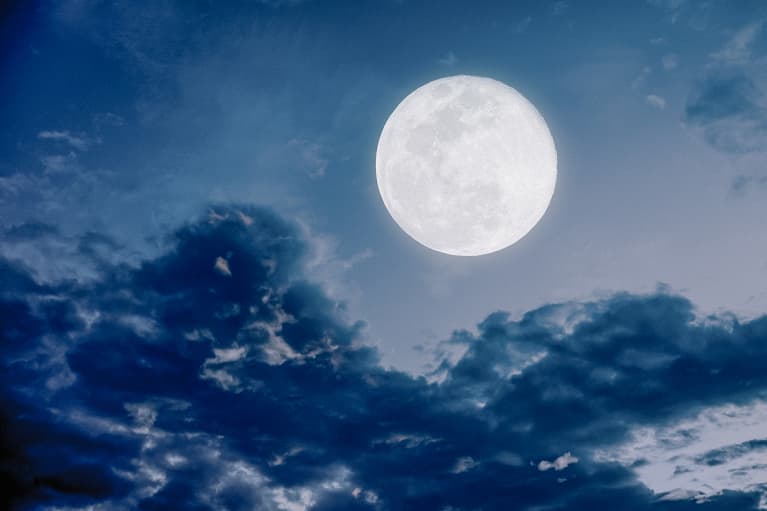 November's full "Beaver Moon" is just around the corner, and this month, it's going to be an eclipse. The full moon is due to peak in the very early hours of Monday, November 30, but you'll be able to see it after sunset the night before.
A potent time for culmination and fruition, tapping into the energy of the full moon can aid in manifestation and give us all a little extra oomph. Here's what this moon (and its eclipse) is all about, plus how to work with its energy.
This moon will have a penumbral eclipse.
Lunar eclipses occur when the sun, Earth, and moon line up in such a way that it creates a shadow on the moon. There are three types of eclipses—a penumbral eclipse (like the one we're in for) and a total and partial eclipse. When a penumbral eclipse happens, the moon passes through the dim, outer edge of the Earth's shadow—aka the penumbra—making it look slightly darker than usual.
This difference isn't really discernible to the naked eye, and most people likely won't be able to tell, but you can take a peek at the Farmer's Almanac's moonrise and moonset calculator to figure out when and where you can take a peek at this special moon.
Why is it called the Beaver Moon?
According to the Farmer's Almanac, November's full moon is called the Beaver Moon because this is the time of year when beavers start taking shelter for the winter. On top of that, when fur trading was booming, this was the time for beaver pelts.
Some other lesser-known names for November's full moon include the Frost Moon, the Freezing Moon, and the Digging Moon—as animals are foraging for food among the fallen leaves around this time.
How to harness the energy of the eclipse and full moon.
As mbg's resident astrologists, the AstroTwins, have explained previously, full moons are super powerful—and so are eclipses. "A lunar eclipse heightens the energy of the full moon and is a time to embrace endings and let go of things that are no longer serving you—ready or not," they say.
Ask yourself what you're ready to let go of during this full moon, that you don't want to bring into 2021. To amplify your intention, consider hosting a virtual full moon circle so you and your friends can get in on the magic.
On top of that, you can try other full moon rituals like meditating, taking a moon bath, making moon water, or even writing down what you want to release and burning it. The moon is also about intuition—so follow yours and do whatever feels right.
We may not be able to see this full moon's eclipse, but we know it's there, amplifying the moon's energy even more. After the Beaver Moon, we've got only one full moon left in 2020! So, however you choose to celebrate this month, prepare to let go as we get ready for a new year.