Health Editor's Review Of Form Nutrition's Superblend Protein
Assistant Beauty & Health Editor
By Hannah Frye
Assistant Beauty & Health Editor
Hannah Frye is the Assistant Beauty Editor at mindbodygreen. She has a B.S. in journalism and a minor in women's, gender, and queer studies from California Polytechnic State University, San Luis Obispo. Hannah has written across lifestyle sections including health, wellness, sustainability, personal development, and more.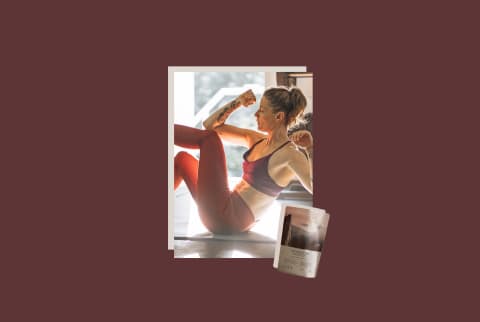 Image by Ivan Ozerov x mbg creative
September 8, 2023
We carefully vet all products and services featured on mindbodygreen using our
commerce guidelines.
Our selections are never influenced by the commissions earned from our links.
As a vegetarian, I often turn to protein powders to ensure I'm getting enough plant-based protein. But as most people know, a lot of vegan protein powders leave something to be desired. They're either chalky or taste like feet. And when protein powders actually taste like the fruit loops or other unique flavor promised on the label, their ingredient lists leave something to be desired.
So when I finally discovered a protein powder that I looked forward to (and felt good about) drinking, I knew I'd discovered something special: Form Nutrition Superblend Protein.
What I was looking for
As a smoothie connoisseur of sorts, I've always wanted a protein powder that either disappears into my recipes or adds rich flavor to my blend. Unfortunately, most protein powders do the opposite—they add a distinct artificial taste that dominates the recipe and makes it almost undrinkable.
What's more, I need enough protein in my supplement to make it worthwhile. The Recommended Dietary Allowance (RDA) for protein in women is 0.8 gram per kilogram of body weight1 per day (at a minimum), which would be around 46 grams daily for me.
But given that I'm in the gym three or four times a week working toward building lean muscle, I know I need to bump up my daily intake. As a 130-pound woman, I tend to aim for about 70 to 75 grams of protein daily—I don't always hit it, but I try my best to get close.
So my dream protein powder would include a decent dose of protein (I'm talking more than 10 grams, which many vegan blends cap at), and it needs to actually taste good if I'm going to commit to drinking it every single day. Finally, my favorite product has arrived.
My review of the Form Nutrition Superblend Protein
Form Nutrition's Superblend Protein comes in a few different flavors, but my absolute favorite is the Chocolate Salted Caramel—and yes, it tastes just like that. It's sweet but not too sweet, thanks to the combination of stevia leaf extract and thaumatin, a protein from the African Katemfe fruit.
With a whopping 20 grams of protein, it certainly checks the box of a worthy protein supplement. For me, one smoothie with this protein powder takes care of nearly 30% of my protein intake for the day.
And we're talking about a nearly complete amino acid profile too. The organic base utilizes pea protein with brown rice and hemp protein to create the ultimate vegan protein profile.
But the best part is that it's so much more than just powdered protein: This blend also contains a long list of additional nutrients at 50% of the daily value or more including vitamins D, B12, C, zinc, pantothenic acid, and more.
For those seeking even more protein per serving, consider Form's Performance Protein—a unique blend with 30 grams of plant protein along with BCAAs to aid in muscle recovery.* This one comes in chocolate peanut, tiramisu, and vanilla, so you have even more options to work with. I've tried this one as well, and the tiramisu is my personal favorite.
Another lovely perk is the chic packaging that's fully compostable, so this one is good for you and the planet. It doesn't come with a plastic scoop like most protein powders do (for the sake of less waste), so use your measuring spoons to scoop two leveled tablespoons into your drink.
You're probably wondering: What's the best way to use it?
Well, I've landed on quite a delectable smoothie recipe, so I'll share that here. However, I've definitely scooped the protein powder into a shaker bottle before and was surprised by how delicious it tasted à la carte, too.
A creamy chocolate caramel smoothie recipe
Ingredients:
2 tablespoons Form Superblend Protein
2 frozen bananas
1 tablespoon cacao nibs
2 small ice cubes
1½ cups coconut milk (or any milk of your choice)
A few shakes of cinnamon powder
Simply blend up your ingredients to meet a consistency you enjoy. If the initial product is too thick, add a bit more milk and continue blending. This recipe works with any of the protein flavors, too.
If you're not a chocolate lover, opt for the Vanilla Superblend Protein and sub in another ingredient like chia seeds or coffee grounds for added texture.
The takeaway
The Form Nutrition Superblend Protein powder is a worthy investment for anyone who wants their product to taste delicious and pack a plant-based nutrient punch. It's packed with complete vegan protein along with vitamins, minerals, adaptogens, and more so you get more from your supplement. Whip it up in a smoothie or take it with water, it's delicious either way. For more vegan protein powder favorites, check out this article.
*These statements have not been evaluated by the Food and Drug Administration. This product is not intended to diagnose, treat, cure, or prevent any disease.

If you are pregnant, breastfeeding, or taking medications, consult with your doctor before starting a supplement routine. It is always optimal to consult with a health care provider when considering what supplements are right for you.
Hannah Frye
Assistant Beauty & Health Editor
Hannah Frye is the Assistant Beauty & Health Editor at mindbodygreen. She has a B.S. in journalism and a minor in women's, gender, and queer studies from California Polytechnic State University, San Luis Obispo. Hannah has written across lifestyle sections including skin care, women's health, mental health, sustainability, social media trends, and more. She previously interned for Almost 30, a top-rated health and wellness podcast. In her current role, Hannah reports on the latest beauty trends and innovations, women's health research, brain health news, and plenty more.