Nontoxic Fall & Winter Skin Care: How To Transition Your Routine
mbg Beauty Director
By Alexandra Engler
mbg Beauty Director
Alexandra Engler is the beauty director at mindbodygreen and host of the beauty podcast Clean Beauty School. Previously, she's held beauty roles at Harper's Bazaar, Marie Claire, SELF, and Cosmopolitan; her byline has appeared in Esquire, Sports Illustrated, and Allure.com.

Medical review by
Keira Barr, M.D.
Board-certified dermatologist
Keira Barr is a dual board-certified dermatologist and founder of the Resilient Health Institute.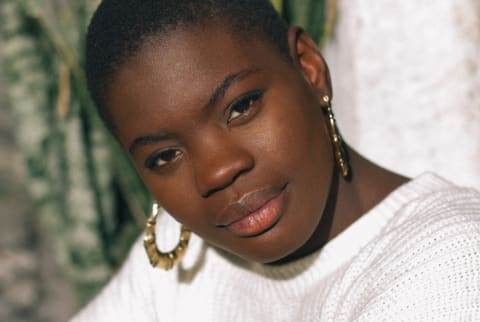 Image by Mariana dos Santos Pires / Getty Images
September 27, 2019
Our editors have independently chosen the products listed on this page. If you purchase something mentioned in this article, we may
earn a small commission
.
It's officially fall: Perhaps you've done your own fall equinox ritual, and have considered revamping your fall wardrobe, mani color, or even makeup look. And I'm here to tell you that your skin care will likely need a little tweaking as well. No, you don't need to trash every product and start from scratch, but there are easy swaps you can make that will help your skin adapt to cooler temperatures, drier air, and heaters.
Advertisement
This ad is displayed using third party content and we do not control its accessibility features.
Why you actually have to change your routine.
The change in weather has a much bigger effect on our skin than people give it credit for. It's also easy to assume that a fall skin care makeover is just marketing (and listen, there's some of that too). But we make changes in our behavior—from the meals we make to workouts we do—based on the weather all the time: Why would skin care be any different?
"Your environment affects all parts of your body, so of course it will affect your skin! For example, in the summer you tend to be outside more: So you tend to think about how heat and humidity affect or skin; as well as environmental aggressors, like pollution or sun exposure," says board-certified dermatologist Howard Murad, M.D., who also notes that sunscreen and pollution protection is an issue in the winter as well: This is not permission to skip SPF! In fact, Murad City Skin Age Defence Broad Spectrum SPF 50 is 100% mineral sunscreen and one of my all-time favorites.
"But the winter is drier, so that's when we need to focus on adding moisture, preventing water loss, and making sure the skin barrier is supported, as it becomes easily compromised when it's dry," he says. "Your skin is the first line of defense—when you're taking care of your skin you're taking care of your body."
Here's how you can revamp your skin care for fall and winter.
Switch cleansers.
In the summer, humidity, sweat, increased oil production, and extra activity often make us feel like we need a more thorough cleaning. You'll hear a lot of advice about switching to a purifying or treatment cleanser with oil-reducing actives like salicylic acid. But come fall and winter: You might need something that is more gentle to your skin barrier. "You don't want to use anything stripping; when you're drying it, you are damaging the barrier. And you need a cleanser that will, yes, clean your skin at the end of the day, but it shouldn't dehydrate the skin," says Murad.
Try a cream, milk, or oil. Pai's Light Work Rosehip Cleansing Oil came out earlier this year, and it's already a cult classic. The new face-wash-only brand HoliFrog's Tashmoo Water Lily Nourishing Milky Wash is dubbed a "comfort blanket meets comfort cleanser." And Indigo Wild Zum Face Gentle Face Cleanser suds up just so slightly but still maintains moisture levels—perfect for those who enjoy a little foam.
Essences add extra moisture without overhauling your routine.
One of the biggest hurdles to a seasonally revamped routine is straying too far from your go-to process. Once you have one in place, with products you stick with, there's little temptation to change. Here's some advice if you don't want to overthrow every product in your lineup: Add an essence. These are not to be confused with an astringent toner, which is about removing dirt or oil; essences are applied post-wash, pre-moisturizer, and simply add an easy, refreshing layer of hydration. Plus, when you top it off with a lotion or cream, you're trapping in all that water in the skin.
"A moisturizing essence can provide hydrating ingredients," says Murad. "Just pay attention to what you're using: The problem is if you have one that's basically just water, it's just going to dissipate, and you'll be drier."
Luckily, the new batch of essences are all about boosting glow and improving barrier function. Naturopathica's Oat & Calendula Soothing Jelly Mist not only has the ease of a spray bottle, but the probiotic formula keeps the skin's microbiome healthy. Tata Harper's newest line, Supernatural, includes this Concentrated Brightening Essence that has 10 hydrating actives packed in. Éminence Organic Skin Care Birch Water Purifying Essence is so lightweight but also contains botanical collagen to help retain moisture.
Add antioxidants for brightening and repair.
Antioxidants are vital year-round, even if they tend to get more attention in the summer. Yes, they help protect you from environmental damage (as we've learned here, vitamin C can act as an extra layer of sun protection: As this research shows1, it can provide a decreased risk of sun-induced redness and UV cell damage). And antioxidants will also help your skin's repair function2. "Just as you should be using antioxidant skin care during the summer months to protect your skin from UV and environmental aggressors, during the fall, you need them to repair the skin from summer damage," says cosmetic chemist Ron Robinson.
And come winter and fall, you might reach for an option that has hydrating elements as well. The brand name might suggest otherwise, but Summer Fridays' new CC Me Serum is perfect for the fall because it also contains squalene and a peptide complex. SkinFix's just-launched Correct+ Dark Spot Corrector has bio-identical lipids and, honestly, feels like a lightweight moisturizer itself.
Shop These Products:
Consider a night cream.
Here's why nighttime skin care is so important: "At nighttime your skin is trying to repair all the damage that happened in the day," says Murad. "And during the skin's repair cycle is the most important time to hydrate. People don't use night cream because they are tired or whatever reason, but you need that moisture." Essentially if you're not hydrating adequately, you're not giving your skin the tools to do its night shift.
You should also consider the sleeping environment, too: "Depending on where you live, you might have the heat on when you go to sleep. This is very drying to the skin," says Murad.
InstaNatural Collagen Night Cream contains a special Peony Root extract that is shown to help collagen synthesis (essential for skin health). And for when you need a real moisture boost, apply a thin layer of Korres' new Greek Yoghurt Hydra-Biome Face Mask before bed: It contains real Greek yogurt and is so soothing.
Shop These Products:
Stock up on hand cream.
Not only is it cooler out, but come fall and winter comes another issue: cold season. You might be tempted to stock up on hand sanitizer and wash your hands more frequently. "Alcohol, the active ingredient in most sanitizers, will dry out your hands and strip the skin of its natural barrier," says board-certified dermatologist Jeanine Downie, M.D. (Also: the same goes for harsh soaps.) And this not only causes premature aging, but it can also lead to serious issues, like cracks in the skin and damaged cuticles. "Many patients I have who use sanitizer regularly will also pick at the dry skin around the nail or joints, and that will lead to infection," she says.
The new hand creams on the market are all about treating the area like you might the face. Take Caudalíe's Vinoperfect Brightening Hand Cream, which includes white peony and avocado oil. Neal's Yard Frankincense Intense Hand Treatment Serum's ingredient list literally reads like a face serum. Osea's most recent launch has vetiver essential oil and is perfect to leave on your bedside.
Shop These Products:
Internal hydration is just as important.
"What you eat is going to have a huge impact, and we need to support the skin internally. We go from full hydration to less and less with age; ask anyone, Are you drier now than you were 10 years ago? The answer is yes," says Murad, noting that the drier climate can exacerbate this feeling. So if you want to eat for your skin come wintertime, it all goes back to skin barrier function (are you noticing a trend?).
"We have to ask ourselves what are our cell membranes made of? They're made out of fatty-acid-based lipids and proteins. Sure, you can put on creams that have those, but you also need to eat a diet that is full of them or take supplements," says Murad. His go-to bedtime snack? A few walnuts, which are rich in omega fatty acids, antioxidants, and amino acids (the building blocks of proteins). "They just help replenish your body internally before you go to sleep."
Finally: Hydrate outside the water bottle. "You need to eat your water in raw fruits and vegetables," says Murad. "It's a different structure of water—unlike normal drinking water, which goes right through you—this stays in your body longer, and the water is released gradually."
Advertisement
This ad is displayed using third party content and we do not control its accessibility features.
Alexandra Engler
mbg Beauty Director
Alexandra Engler is the beauty director at mindbodygreen and host of the beauty podcast Clean Beauty School. Previously, she's held beauty roles at Harper's Bazaar, Marie Claire, SELF, and Cosmopolitan; her byline has appeared in Esquire, Sports Illustrated, and Allure.com. In her current role, she covers all the latest trends in the clean and natural beauty space, as well as lifestyle topics, such as travel. She received her journalism degree from Marquette University, graduating first in the department. She lives in Brooklyn, New York.