I Never Knew My Sleep Could Be So Good — Until I Tried This Supplement*

President of mindbodygreen
By Elena Sukacheva
President of mindbodygreen
Elena Sukacheva is the President of mindbodygreen. Her career spans consumer, media and management consulting industries. She holds a B.A. from Moscow State University, M.A. from Wayne State University, and MBA from University of Chicago.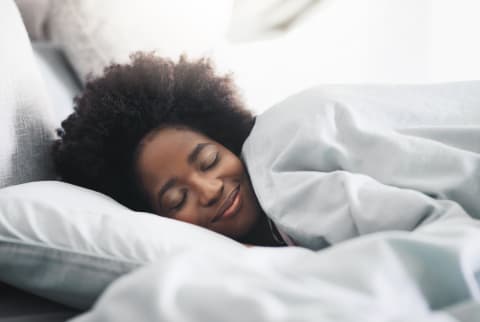 Image by Adene Sanchez / iStock
August 25, 2022
We carefully vet all products and services featured on mindbodygreen using our
commerce guidelines.
Our selections are never influenced by the commissions earned from our links.
I've always considered myself a pretty solid sleeper. I can usually fall asleep quickly and don't have any trouble snoozing through the night. But every so often, a stressful day or busy period at work would send my mind into overdrive. Racing thoughts would keep me awake and ideas would come to me in the middle of the night, making it impossible to achieve high-quality rest.
Overall, I'd say my sleep was good—but I knew it could be even better. That's why I was intrigued to try sleep support+, a nightly supplement designed to help people improve the quality, not just the quantity, of their sleep.* The fact that the supplement was made with high-quality magnesium also really appealed to me. Magnesium is an essential mineral for heart health, muscle function, blood pressure, and more, so I knew it was healthy to start taking nightly (unlike other popular sleep aids like melatonin, which come with some health concerns).*
With my first order placed and my Oura ring charged, I was eager to see if sleep support+ could improve my overall sleep quality.
My experience with sleep support+.
After trying sleep support+ for the first time, I noticed a difference in my sleep almost immediately. Within three to four days of working the supplement into my routine, I was able to fall asleep even faster than before.* My mind would slow, I would start to see images, and a nice, gentle wave of sleep would quickly follow behind.
I also didn't have any issues sleeping through the night, which I saw reflected in my Oura ring sleep tracking score. Once I started taking sleep support+, the amount of time I spent in deep sleep skyrocketed from 50 minutes to up to two hours each night.* My REM sleep also enjoyed a nice little boost. These are two of the most important stages of sleep, when cells can repair, muscle and tissues can grow, and our brains can recharge. So it makes sense that after taking sleep support+, I started to wake up feeling more rested than ever, even though I was spending the same amount of time in bed.*
Two years after first trying sleep support+, I'm still taking the supplement nightly and I can track the positive impact it's had on my overall well-being. Now that I'm getting higher-quality sleep at night, I'm more refreshed and ready to go in the morning. While I used to take my time getting out of bed, I can now take on the day right away.
Those days when I need to stay up late for work or wake up early with my kids don't affect me nearly as much as they used to because even if I'm spending fewer hours asleep, the sleep I am getting is so much deeper. Grogginess is not something I deal with anymore, and the dreaded afternoon slump rarely finds its way to me.
All in all, I just feel like I can accomplish more in my days now that my energy levels are so steady and reliable.
And while I still go through stressful periods from time to time, they don't affect my rest like they used to. Instead, I can sleep right through them and wake up ready to face them with a clear mind in the morning.
The takeaway.
sleep support+, a supplement featuring magnesium bisglycinate, jujube, and PharmaGABA®, has shown me how restorative sleep can really be. After two years of taking it nightly, I've noticed improvements in both my sleep tracking scores and my overall energy levels.* My sleep has always been good, but thanks to sleep support+, I can now call it great.
If you are pregnant, breastfeeding, or taking medications, consult with your doctor before starting a supplement routine. It is always optimal to consult with a health care provider when considering what supplements are right for you.

Elena Sukacheva
President of mindbodygreen
Elena Sukacheva is the President of mindbodygreen. Her career spans consumer, media and management consulting industries. Ms. Sukacheva has held various leadership roles at premier companies including President of Flywheel Sports, Chief Marketing Officer at Ferrara Candy Company, Chief Commercial Officer for the Economist Group, Head of Strategy for Beverages division at Kraft Foods, and Associate Principal at McKinsey & Co. She was named the Corporate Visionary by the Folio magazine in 2015. Ms. Sukacheva holds a B.A. from Moscow State University, M.A. from Wayne State University, and MBA from University of Chicago. Ms. Sukacheva resides in New York with her family.