Meal Plan Alert: We Tweaked The 5 Best Weeknight Dinners To Amp Up Their Gut-Healing Benefits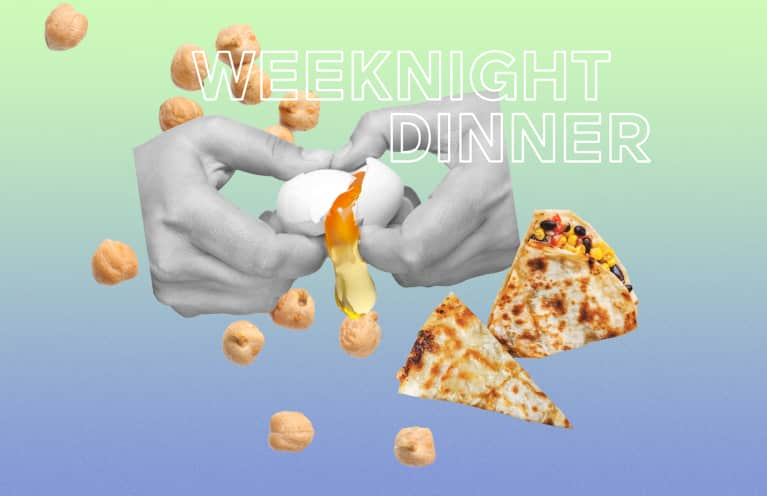 This January, we at mbg are all about cleaning up your diet, just a little bit. Instead of restricting your food to a narrow window, we're encouraging you to eat more—more plants, more fiber, more protein. We're encouraging you to sharpen your knives and dust off your pots and cook at home. We want you to reconnect with just how good healthy food makes you feel—and how fun it can be to eat. Join us for the next few weeks as we solve every problem that's getting in the way of you cooking and eating in a way that's truly nourishing for your body and your soul. You'll find recipes, tips, and tricks; advice from the world's best doctors; and more (
check out the easy-to-follow rules of the plan here
). So, what are you waiting for? Pull up a chair—we're so happy to have you at the table.
Sometimes it seems like the math simply doesn't work out: You leave work at 6:30, go to a yoga class, add in some transport time and a stop at the store, and you're home around the time you're supposed to begin going to sleep, not powering up to make a healthy meal.
You're not alone. This is why takeout soars in popularity, even as awareness about inflammatory cooking oils becomes more prevalent; this is why the Trader Joe's freezer aisles feel like an LA freeway during rush hour. I devote my life to eating well as the food director of mindbodygreen and a healthy cookbook author, and even I find myself wistfully eyeing the burrito place on my way home.
Because, however, I know how good healthy food makes my body feel (say it with me three times: I know how good healthy food makes my body feel), I've developed a few foolproof strategies for getting a homemade meal on the table during even the most hectic weeknight. And in case you, like me, spent much of December indulging in a little too much natural wine and healthy gingerbread cookies, I've added a gut-healing twist to each weeknight meal, so you can take care of your digestion and get things, well, moving right along. Here are my five favorite gut-healing weeknight dinners.
5-Minute Dinner: Scrambled Eggs
Gut-Healing Twist: Add frozen vegetables and miso.
Scrambled eggs are the quick-cooking staple of health-minded folks everywhere—myself very much included. I like to make it more of a meal by sautéing whatever frozen veg are stashed in my freezer in a bit of ghee or olive oil, with a hit of fine-grain sea salt. When the vegetables are thawed and beginning to brown, I turn the heat down super low and add the scrambled eggs, stirring them regularly until they're curdled and jammy.
When they're just set, I remove them from the heat and stir in a spoonful of miso, a probiotic-packed superfood that adds a sophisticated umami note to the dish. The sum far surpasses the individual components, tasting surprisingly elevated for what amounts to a spruced-up scramble.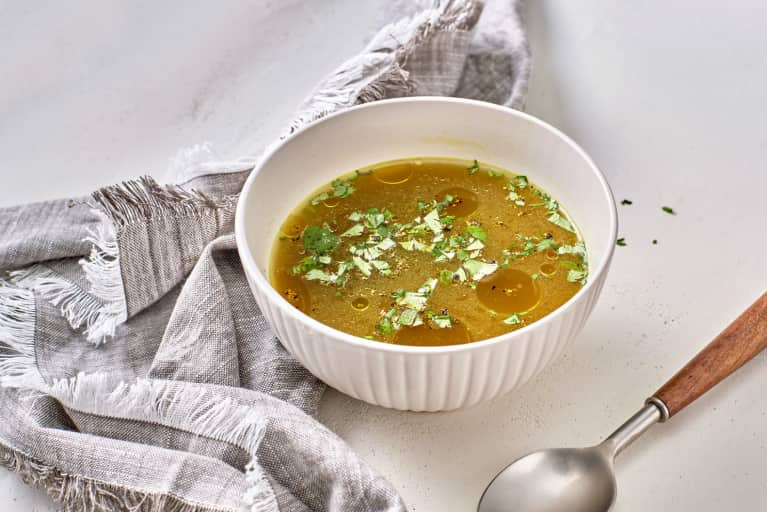 5-Minute Dinner: Freezer Soup
Gut-Healing Twist: Use bone broth as the base.
I'm constantly preaching about the joy of freezer food: It's cheaper than fresh! It's frozen at peak freshness, locking in nutrients that typically degrade in transport! You can keep a ton of it on hand, without worrying about finding swamp-creature-like broccoli behind old yogurt containers in the back of your fridge months later! My 3-ingredient freezer soup combines an onion, frozen vegetables of choice, and stock for a quick and easy dinner (if you're feeling fancy or fridge cleanout-y, you can toss in any fresh herbs you have on hand).
Swap the stock with some bone broth (I like Bonafide Provisions, which, surprise surprise, is also stored in the freezer) and you've got a perfect, customizable gut-healing meal.
5-Minute Dinner: Crispy Quesadilla
Gut-Healing Twist: Add a ton of greens.
I was raised between California and Arizona, which left me with a fear of non-flip-flop footwear and a deep and abiding love for quasi-Mexican food. My favorite pick of the genre is quesadillas, which satisfy my textural needs while providing endless opportunity for riffing on the filling. My first trick to make a quesadilla healthy is simply to upgrade all of the ingredients: the cheese becomes pastured (I like Organic Valley), the tortillas become grain-free Siete (the cassava ones work particularly well for quesadillas), and the finished product is pan-fried in a small amount of ghee, an ayurvedic superfood that tastes like toasty butter. I also pressure-cooked black beans (which I make in my Instant Pot or buy ready-made from Eden Foods) to limit consuming gut-irritating phytic acid.
I add a ton of greens, which pack the dish with cell-healing phytonutrients, and, more importantly for gut-healing purposes, add a ton of fiber, which helps move waste through the digestive tract (important to know but maybe not something you want to think about while eating the 'dilla). I sauté up some Brussels sprouts or kale and add a layer between the tortillas, or I top the finished product with a heaping ton of Romaine, which adds a cold, quenching crunch that perfectly balances the hearty savoriness of the cheese and beans.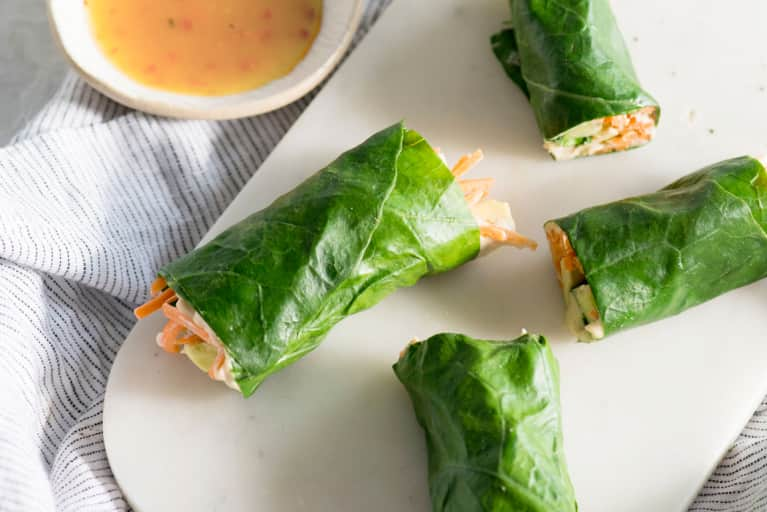 5-Minute Dinner: Middle-Eastern Hummus Wraps
Gut-Healing Twist: Make your own hummus (it's WAY easier than you think).
Hummus is the Oprah of the wellness world, eliciting sighs and hands-over-hearts from die-hard fans. It's also the perfect base for an easy weeknight meal, with a ton of protein from the chickpeas and sesame-seed-based, mineral-rich tahini. I love to turn it into a meal by wrapping it in large lettuce leaves or Siete tortillas and adding in a few sliced carrots, some cilantro, and maybe a bit of harissa if I'm feeling fancy.
While you can buy hummus at most grocery stores, you can amp up the gut-healing benefits by making your own at the beginning of the week—it takes literally three minutes (time yourself and come yell at me if you disagree) and lets you control the ingredients that go in and preserve all of the nutrients of gut-healing, anti-inflammatory foods like garlic and olive oil. To make it, just add a 15-ounce can of chickpeas to a blender or food processor (I like Eden again, to avoid the lectins!) with 2 tablespoons of tahini, 3 cloves of garlic, ¼ cup extra-virgin olive oil, the juice of 1 lemon, and ¼ teaspoon each cumin, paprika, and fine-grain sea salt. Process and blend until very smooth, then store in the fridge for up to a week. Bonus: You can uplevel your tahini by adding some seasonal vegetables or herbs like roasted butternut squash in the fall and winter, and fresh basil in the summer.
5-Minute Dinner: Asian-Inspired Stir-Fry
Gut-Healing Twist: Top it with kimchi.
Get ready—I'm gonna have you head to your freezer again. I love sautéing some frozen broccoli, water chestnuts, and red pepper in avocado oil with a generous splash of tamari and a few chopped cloves of garlic. If I want meat, I might add some pastured rotisserie chicken or leftover grass-fed short ribs; if I'm feeling more vegetarian, I might boil up some soba noodles in generously salted water to serve my vegetables over. I top the whole thing with sriracha, a sprinkle of dulse, sesame seeds, and then—here's the kicker—add a generous scoop of kimchi. The Korean peppery fermented cabbage adds a hefty dose of both fiber and probiotics, making it easy to digest the other ingredients in the meal. It also adds a kick of spicy sourness to the umami-rich meal, making it wholly more satisfying (I find I actually am full earlier when I add kimchi to my meals).