paid content
 for

Going Dairy-Free? Here's A Menu To Make It Easy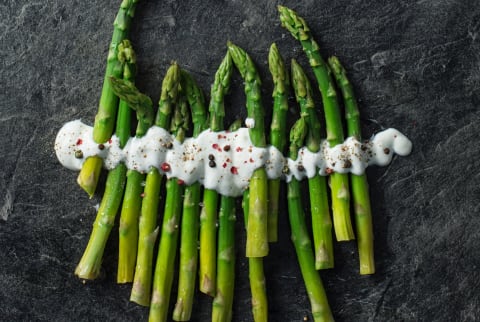 July 27, 2017
Maybe you've noticed some digestive issues, skin breakouts, or persistent brain fog. Whatever the reason, you've decided to take the plunge and try out this whole dairy-free thing. While the idea of cutting out a food group can be daunting, it's important to think about all the things you can add in rather than just what you're taking away. Finding nondairy recipes that are satisfying and simple is way less challenging than it may seem.
To prepare for life sans dairy, there are a few key items you might want to include on your shopping list. Nut and seed butters, especially almond butter and tahini (sesame seed butter), will be huge helpers in making dressings and sauces while also packing in healthy fats and plant-based protein. It's also smart to have a go-to dairy milk replacement. Dairy alternatives like the Coconut and Hemp plant-based beverages from Pacific Foods are the perfect consistency to drink alone or to add to smoothies, coffee, salad dressings, and more. Plus, they're carrageenan-free, which is important when seeking out plant-based drink alternatives.
Going dairy-free is as easy as it is tasty. Read on for a healthy, delicious, and totally dairy-free menu that will keep you satisfied from morning till night.
Breakfast: Tropical Green Smoothie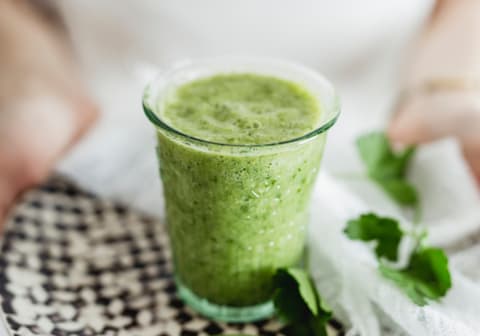 Start your day with a dose of green, plus some bright mango and banana. This creamy smoothie is packed with fiber, healthy fats, protein, vitamins, and minerals to keep you going all morning without any dairy in sight.
1 cup frozen spinach
1 frozen banana
½ cup frozen mango
½ cup frozen zucchini
1 heaping tablespoon almond butter
Suggested toppings: Hemp seeds, toasted coconut flakes
Put all ingredients in a blender and puree until smooth.
Top with hemp seeds and coconut flakes.
Lunch: Kale Cobb Salad With Tahini Hemp Ranch Dressing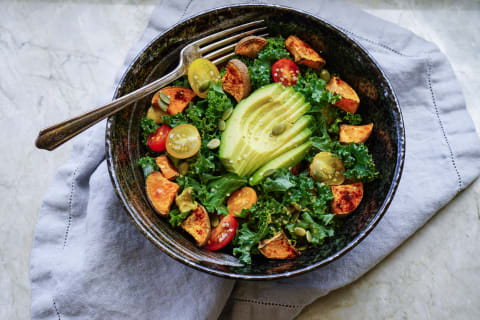 Look for a lunch that hits similar notes to breakfast with fiber, protein, and healthy fats to keep you feeling energized. Adding something on the creamy side—like a flavor-packed ranch-style salad dressing—will keep your lunch cravings in check, sans dairy.
½ bunch kale, de-stemmed, washed and cut into thin ribbons
1 hard-boiled egg (optional)
½ cup roasted sweet potato, cut into cubes
Avocado oil (enough to cover entire skillet)
½ cup organic corn kernels (if fresh, removed from the cob)
½ cup cherry tomatoes, sliced in half
½ an avocado, cut into small chunks
Sea salt, to taste
Tahini Hemp Ranch Dressing Ingredients
¼ cup tahini
Juice of ½ a small lemon
1 tablespoon fresh chives, finely chopped (or 1 teaspoon dried)
½ teaspoon garlic powder
¼ teaspoon dried dill
Sea salt, to taste
Freshly cracked black pepper, to taste
In a medium skillet or pan, heat enough avocado oil to cover the base of the skillet over medium-high heat. Add corn kernels and a generous pinch of salt. Cook for 4 to 5 minutes, stirring only once or twice, until kernels are golden and sweet. Remove from heat.
To make dressing, whisk ingredients together in a small bowl until well-combined. Taste for seasoning.
In a medium mixing bowl, combine kale and two spoonfuls of dressing. Massage the dressing into the kale for about 30 seconds.
Serve kale topped with the corn, sweet potato, tomatoes, avocado, and egg, if using (peeled and sliced into rounds). Drizzle with more dressing and season with salt as desired.
Savory Snack: Veggies & Dip
For a snack that's tangy, creamy, and crunchy, use leftover Tahini Hemp Ranch as a dip for radishes, cucumbers, grain-free chips—whatever dairy-free dippers your heart desires! Your options don't stop there, though; we also love dips like hummus and baba ganoush, which are both naturally free of dairy and can easily be found if you're too lazy to whip up homemade versions.
Sweet Snack: Chai-Spiced Energy Balls
Dinner: Veggie-Packed Pasta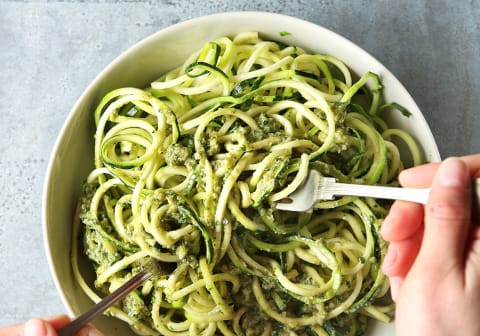 Dinner is a time to unwind with friends, family, and a little comfort food. Dairy-free pasta or vegetable-based noodles are a great way to get that same feeling without the lactose.
Here are a few of our favorite recipes:
Dessert: Banana Peanut Butter Nice Cream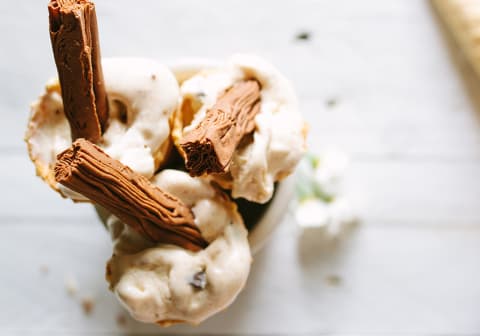 Rather than messing with ready-made dairy-free ice creams that often have a bunch of additives and sugar, opt for making your own frozen, naturally sweet (and easy!) treat.
2 frozen bananas
2 tablespoons peanut butter
Suggested toppings: Dairy-free chocolate chips, berries, toasted coconut flakes
In a blender or food processor, puree frozen bananas and coconut beverage until smooth. Add peanut butter and process until well-combined.
Serve with desired toppings.