These Chai-Spiced Energy Balls Will Be Your New Favorite Snack
For this recipe, I was inspired to pair all of my favorite chai spices with almonds, coconut, and dates to create a flavor-packed chai-spiced almond-butter bite.
The signature chai spices — cinnamon, ginger, cardamom, and black pepper — are warming, grounding, and soothing. Not only that, but many of them are thought to promote digestive health, help us balance our blood sugar, and boost our immunity.
I've enjoyed these as part of breakfast, as a snack, or for dessert. These energizing bites are packed with protein from hemp seeds, almonds, and almond butter; loaded with fiber-filled coconut, dates, and nuts; and full of warming, immune-boosting spices.
Betcha can't eat just one!
Chai-Spiced Almond Butter Bites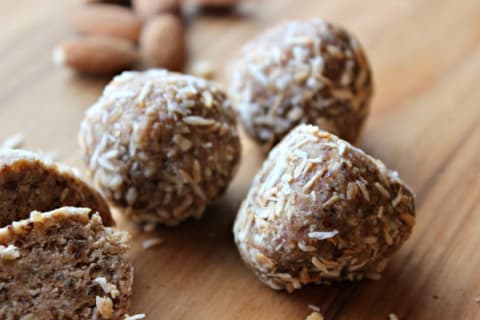 ½ cup plus 2 tablespoons shredded coconut, unsweetened
½ cup raw almonds
2 tablespoons hemp seeds
1 cup medjool dates, pits removed
1 tablespoon coconut oil
½ teaspoon vanilla extract
¼ cup almond butter
1 teaspoon ground cinnamon
1 teaspoon ground ginger
½ teaspoon ground cardamom
¼ teaspoon ground black pepper
¼ teaspoon ground cloves
¼ teaspoon allspice
¼ teaspoon fine grain sea salt
1. Toast 2 tablespoons of shredded coconut until lightly browned.
2. Pulse almonds and ½ cup shredded coconut in a food processor until completely ground (no chunks of almonds!).
3. Add the remaining ingredients, except for the 2 tablespoons of toasted coconut, and blend in the food processor until all ingredients are combined into a dough-like consistency.
4. Press chunks of the dough into a ball in your hands, then roll dough into balls with the palms of your hands. If you'd like, roll them in the toasted, shredded coconut.
Store in the refrigerator in a glass container. They will firm up in the fridge because the coconut oil will cause them to "set" at that cooler temperature.
If you want them to be a little softer, feel free to set them out on the counter for 10 to 15 minutes before eating. As you chew them slowly, they will feel like they are melting in your mouth.
Photo courtesy of the author
Rachel Druckenmiller
Rachel Druckenmiller, MS is a Wellness Director, Culinary Nutrition Expert, Integrative Nutrition Health Coach and Baltimore-based food blogger. After using food and natural medicine to heal chronic acid reflux and years of childhood illnesses, Rachel has learned that eating nourishing, real food is key to helping us look and feel our best and most energized.
In February 2015, she was recognized as the #1 Health Promotion Professional in the U.S. by the Wellness Council of America (WELCOA). In May 2015, her blog, Rachel's Nourishing Kitchen, was named as one of the Top 50 Clean Food Blogs by the Academy of Culinary Nutrition. Rachel offers a refreshing approach about what to eat and how to live in an inspiring and energizing way and provides dozens of delicious dairy-free and gluten-free recipes. She is a sought after speaker on the topic of healthy eating and workplace well-being. She teaches cooking classes and nutrition workshops and turns eating well into something we want to do instead of something we feel like we have to do. Rachel believes in "upgrading" our diet to nourish and fuel our bodies, so we can transform our lives and health.
Follow Rachel and her recipes on her blog, Rachel's Nourishing Kitchen, and on Facebook, Instagram, and Pinterest.