This One-Pot Veggie Pasta Is The Ultimate Summer Comfort Food

Contributing Food Editor
By Liz Moody
Contributing Food Editor
Liz Moody is a food editor, recipe developer and green smoothie enthusiast. She received her creative writing and psychology degree from The University of California, Berkeley. Moody is the author of two cookbooks: Healthier Together and Glow Pops and the host of the Healthier Together podcast.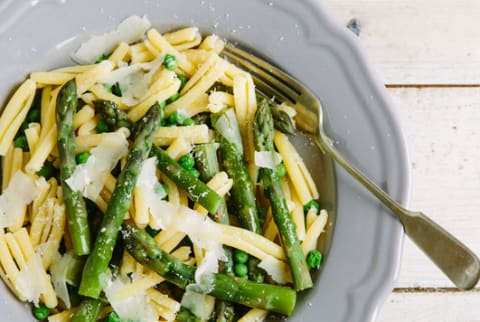 June 4, 2017
Elettra Wiedemann is a culinary it-girl, the kind who can casually whip up puff pastry with Blake Lively, launch a pop-up restaurant, and still have time to release a cookbook. Said cookbook, Impatient Foodie, has just arrived, and it's chock-full of super-fast, healthy recipes, including this vegan, super-fresh summer pasta dish. Says Elettra, "This pasta is a great way to make use of the late spring, early summer bounty you can find at your farmers market. Cooking the pasta in the sauce will give it a thicker mouthfeel, which obviates the need for cheese. The lemon-oregano oil brings a nice, bright flavor to the dish."
One-Pot Linguine With Asparagus and Lemon-Oregano Oil
1 lemon
½ cup extra-virgin olive oil
1 sprig of fresh oregano
4 tablespoons extra-virgin olive oil
2 garlic cloves, minced
3 cups cherry tomatoes, halved
Kosher salt
1 pound linguine (gluten-free if desired)
1 bunch of asparagus, tough ends removed, spears thinly sliced on the diagonal into 1-inch lengths
Kernels from 2 ears of corn
Freshly cracked pepper
With a vegetable peeler, cut two large strips of zest from the lemon. In a small skillet, combine the olive oil, lemon peel, and oregano.
Cook over low heat until fragrant, about 15 minutes. Remove from the heat and set aside. (You will be garnishing the finished dish with this oil just before serving.)
Meanwhile, prepare the pasta. In a large skillet (or a Dutch oven if you have one), heat the olive oil over medium-low heat. Add the garlic and cook until fragrant, about 2 minutes. Do not allow the garlic to brown.
Add the tomatoes and 1 teaspoon salt; increase the heat to medium-high, and cook, stirring frequently, for 2 minutes.
Add 4½ cups water, cover, and bring to a boil over high heat. When it reaches a boil, add the linguine and 2 teaspoons of salt, reduce the heat to a simmer (you may have to push the linguine with the help of a wooden spoon), and cook, stirring frequently, for 15 minutes.
Add the asparagus and corn and stir to combine. Continue cooking for 2 to 3 minutes.
Plate the linguine and drizzle with 1 to 2 tablespoons of the lemon-oregano oil. Add pepper and serve.