You Can Now Get Oat Milk At Dunkin' + 7 Other Vegan Options To Try
mbg Editorial Assistant
By Eliza Sullivan
mbg Editorial Assistant
Eliza Sullivan is an editorial assistant at mindbodygreen. She received a B.S. journalism and a B.A. in english literature from Boston University.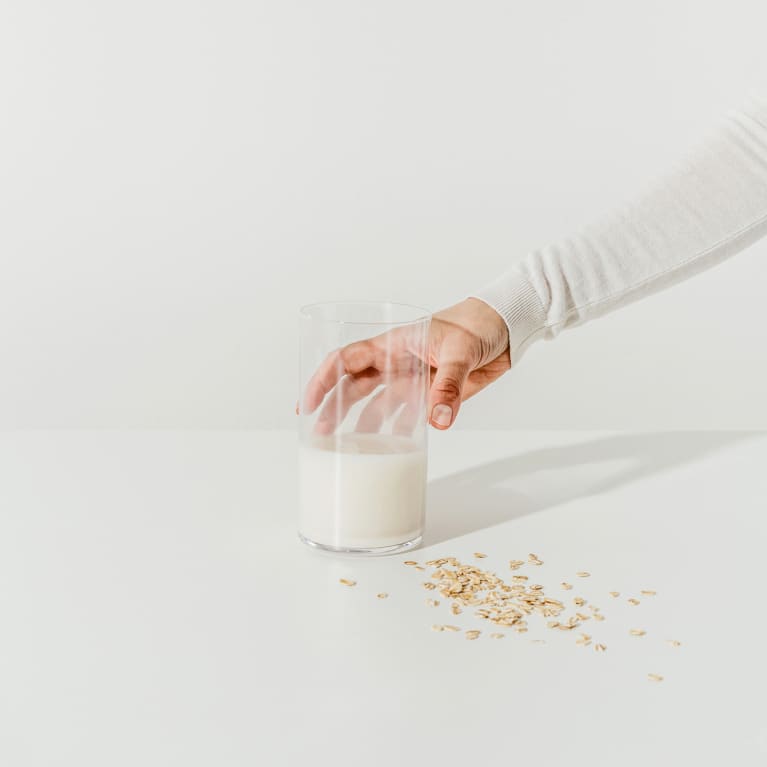 August 19, 2020 — 18:07 PM
Today in good news for vegans and alt-milk fans: Dunkin' has officially added oat milk to their menu across the country—making them the first national quick-service restaurant to do so.
For their big announcement, they teamed up with vegan icon and TikTok star Tabitha Brown, who posted a reaction to her first Dunkin' iced oat milk latte on Instagram this morning.
"Planet Oat is now available at Dunkin' starting today," she says. In the caption, she also shares "I promise you it's creamy and delicious." In the video, Tabitha calls out the brands other vegan menu items, too.
In addition to a classic iced latte, guests at Dunkin' can add the new milk option to any of the brand's wide range of drinks, including chai and matcha lattes, frozen drinks, and the full lineup of hot and iced coffee and espresso drinks.
Oat milk's popularity is attributed to its creamy texture and—compared to nut milks—lesser environmental impact. It's also a great dairy alternative for anyone with a nut or soy allergy.
As for the other vegan menu options at Dunkin'? Here are a few you can try:
Almond milk: While oat milk might be the newest vegan-friendly option, Dunkin' also offers almond milk across the chain—perfect for any hot (or iced) coffee beverages.
Beverage add-ins: According to the brand's website, many of their flavor add-ins are also vegan-friendly—including mocha swirl, which may come as a surprise. However, those flavors are often loaded with sugar, so be mindful of what you're ordering.
Beyond Meat: Earlier this year, Dunkin' made a bit of a buzz when they added Beyond Meat products to the menu at select locations. Most recently, they expanded that offering to 9,000 stores across the country. While the sandwich isn't vegan—since it comes with egg and cheese—it is a step in the vegan direction (and you can order it without those components for a vegan treat.
Bagels: Bagels are mostly fair game for vegans. It's important to know the multigrain option contains honey, so that may not fit into your personal parameters, but the other flavors will. They don't yet offer a vegan cream cheese option, though.
English muffins: While you can't enjoy a vegan doughnut at Dunkin' stores just yet (though it is, apparently, in the works), you can pair a classic English muffin with the aforementioned Beyond Meat patty for a vegan-friendly breakfast sandwich.
Oatmeal: Some Dunkin' locations offer multigrain instant oatmeal, which comes with dried fruit and nuts to add some extra nutrients to the healthy breakfast.
Hash browns: When you're looking for something that's perhaps a bit more indulgent than an oatmeal, Dunkin's hash browns are vegan-friendly. Perhaps not the healthiest option but still oh-so-good.
If you do head to your local Dunkin' to take advantage of their plant-based menu, be sure to be mindful of best practices for social distancing. Looking to skip the trip but craving an iced coffee? Here's a step-by-step guide to making flawless cold brew at home.