You Can Have Chocolate For Breakfast With These Keto Muffins
mbg SEO Editor
By Eliza Sullivan
mbg SEO Editor
Eliza Sullivan is an SEO editor at mindbodygreen. She writes about food, recipes, and nutrition—among other things. She studied journalism at Boston University.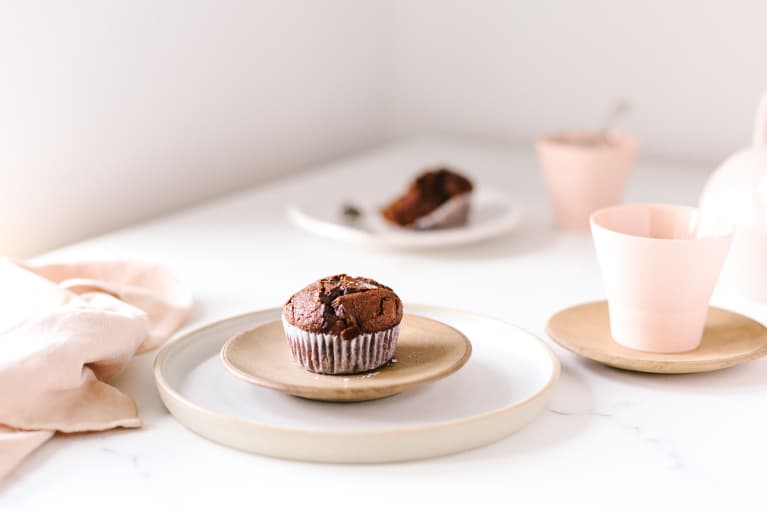 Our editors have independently chosen the products listed on this page. If you purchase something mentioned in this article, we may
earn a small commission
.
Muffins probably aren't the option that comes to mind when you think of a keto-friendly breakfast—after all, the keto diet is all about limiting carbs and refined sugars. But this recipe from The Beginner's Keto Meal Plan proves us wrong and puts chocolate keto muffins easily within reach.
Like many ketogenic baked goods, this recipe begins with almond flour. Made of ground blanched almonds, it provides some nutrients and is actually a relatively good source of vitamin E. And these may technically fit into the breakfast category as muffins; they've got plenty of chocolate, so they wouldn't necessarily feel out of place for dessert, either.
The muffins are sweetened with a type of keto-friendly powdered sugar called erythritol. "Erythritol is a sugar alcohol. These are a naturally occurring class of compounds that actually stimulate receptors on the tongue that pick up sweetness," explained Jessica Cording, M.S., R.D., CDN.
While you don't need to wait for a special occasion to enjoy this recipe, they'd be a welcome addition to a holiday spread. If you are planning to prep them for a week of breakfasts, they'll keep for up to five days in the fridge.
1¼ cups almond flour
¾ cup powdered erythritol
2 tbsp. ground flaxseed
½ cup unsweetened cocoa powder
2 tsp. baking powder
½ tsp. ground cinnamon
5 tbsp. butter, melted
1 tsp. vanilla extract
½ cup unsweetened almond milk
¼ cup sour cream
2 eggs
½ cup sugar-free chocolate chips or 70% dark chocolate, chopped
Preheat the oven to 350°F. Line a muffin tin with 10 liners and set aside.
In a large bowl, mix together the almond flour, erythritol, flaxseed, cocoa powder, baking powder, and cinnamon.
Stir the butter, vanilla, almond milk, and sour cream into the almond flour mixture.
Add the eggs to the mixture and stir gently until fully combined. Fold in the chocolate.
Fill the muffin tins one-half to three-quarters full. You can also weigh the batter on a food scale and divide by 10 to get the exact weight of the batter per cup.
Bake for 20 minutes , or until a toothpick comes out clean. Let cool for at least 30 minutes—an hour or more if possible—to allow them to firm up. Store in the fridge for up to 5 days or in the freezer for up to a month.