Wait, Will "Bruise Cream" Work For Dark Circles? Let's Investigate
mbg Associate Editor
By Jamie Schneider
mbg Associate Editor
Jamie Schneider is the Associate Editor at mindbodygreen, covering beauty and health. She has a B.A. in Organizational Studies and English from the University of Michigan, and her work has appeared in Coveteur, The Chill Times, and Wyld Skincare.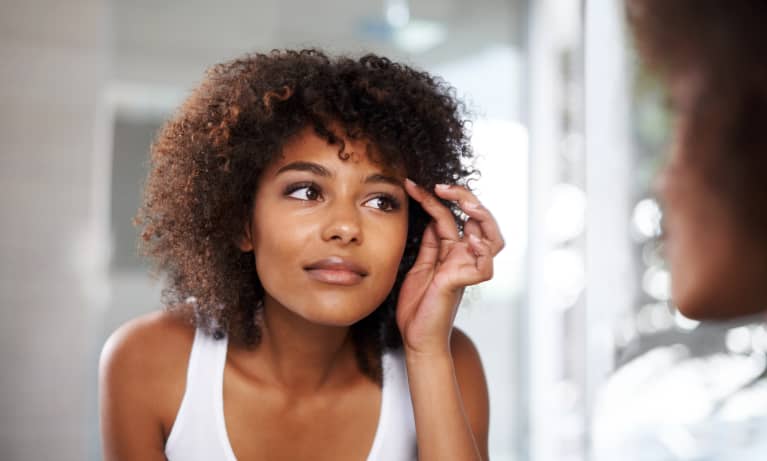 Our editors have independently chosen the products listed on this page. If you purchase something mentioned in this article, we may
earn a small commission
.
Dark circles, stubborn as they are, take tons of patience to treat. It's not impossible to lessen their appearance, but it's certainly a long and winding road for some, especially if those half-moons are influenced by aging or genetics.
So, when you finally find a fix? Well, you want to shout it from the rooftops—or in this TikTok user's case, blast it across the For You page. "For the longest time, I had genetic dark circles, and none of the expensive eye creams worked," she says in the video. "So I decided to use bruise cream and try it out." Her result? Bright and fresh under-eyes, nary a shadow in sight.
We simply had to know more, so we did a little digging.
Does bruise cream work for dark circles?
First, let's unpack this hack—what is a bruise cream anyway? By "bruise cream," she means a vitamin K cream—the lesser-known vitamin is hailed for wounds and skin injuries, as research shows that it significantly reduces healing time of skin, eases redness, minimizes swelling, and soothes inflammation. It's also been shown to help with blood clotting and reduce the severity of bruises—which is why the vitamin is formulated into many bruise-reducing balms.
So let's dive into the burning question: Can a vitamin K cream get rid of dark circles? Well, yes and no. While it seemed to work for this TikTok user in a major way, "not all dark circles have the same cause," notes dermatology resident physician Muneeb Shah, D.O., in a duet video.
Dark circles can crop up for a variety of reasons, including prominent blood vessels, increased melanin production, or fat loss as you age. And all these factors require different plans of action: Increased melanin production may respond well to brightening actives, like arbutin, kojic acid, vitamin C, and niacinamide; for fat loss, you can attempt to "plump" the hollowed area with hyaluronic acid and ceramides.
Finally, for expanded blood vessels, you'll want to look for ingredients that constrict those channels (like caffeine) or stimulate blood flow to prevent it from pooling—like, yep, vitamin K. That's why you can find the vitamin in a slew of eye creams (check out our list of favorites here), or you can grab a proper bruise cream that, as the user notes, may be a touch easier on your wallet—like this budget-friendly option.
Yes, bruise cream (or rather vitamin K cream) can work for some causes of dark circles. You'll just want to I.D. which type of dark circles you have before you go slathering on—for increased melanin production or fat loss, vitamin K may not do the trick unless it's paired with other targeted actives.