Model & Actress Denise Vasi's 5-Minute Morning Makeup Routine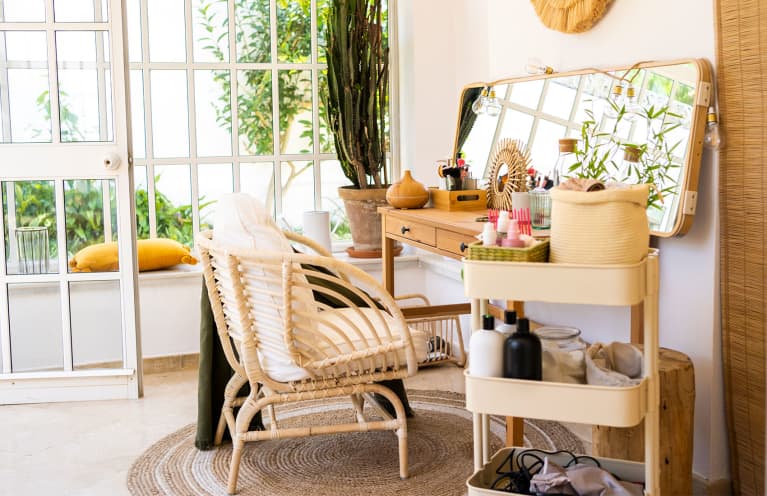 Our editors have independently chosen the products listed on this page. If you purchase something mentioned in this article, we may
earn a small commission
.
By now, we're used to celebrities entering the wellness space. Oh, and the beauty industry. And becoming content creators, too. And adding entrepreneur to their résumés. Transitioning to a multi-hyphenate career path seems to be a rite of passage nowadays. But we'd argue that Denise Vasi—who counts herself as an actress, model, influencer, and entrepreneur—not only was one of the first to do it, but she does it exceptionally.
But that also means she's busy. Like really busy. And thus has to keep a very edited daily beauty routine. "I'm a mom and I'm working all the time, whether it's with the kids, running my business, running errands, or whatever, I don't have time to sit down and do a crazy look. I need products that really perform well and I can use them very quickly," the maed founder says on this episode of Clean Beauty School. Here, her near-effortless daily routine.
No look is complete without proper sun protection, says Vasi. "I put on sunscreen every day. Like that is 101 skin care right there," she says. "You need to be wearing sunscreen every single day, even in the winter, no matter what shade of skin you have. It is a must."
We know sun and environmental exposure is one of the leading causes of premature aging and most skin care woes—and SPF is one of the best ways to protect skin from those UV-induced free radicals. So as her prep step before her makeup routine, she applies an option like Biossance Squalane + Zinc Sheer Mineral Sunscreen. Want some other solid recommendations? Check out our favorite facial SPFs for any skin type.
Use concealer instead of foundation.
Oh, boy does the internet love a concealer hack, from how to lift tired eyes to actually cover up blemishes. Here's a good one: how to apply lightweight concealer in place of foundation so it looks like you're wearing nothing at all.
"So my No. 1 favorite savior product is Kosas Revealer Concealer," she says. "It's not heavy, so you can literally do a few dots and it gives you the perfect amount of coverage where you don't feel like you're wearing any makeup, but you have some coverage."
She loves it so much, she gets them in three shades to expertly apply to her whole face: "For example, I use shade No. 6 under my eyes to lighten up my dark circles. And I use No. 7 on and around my face to fix any little imperfections that I want to cover up. And then I use No. 8 basically as a bronzer to contour and shape a little bit."
A makeup artist's favorite tip is Vasi's too: The quickest way to a polished, sophisticated face is a lip and a lash. "I really love a vibrant lip. That's kind of my secret to looking awake and put-together," she says. "I just throw on a red lipstick and the whole look just changes." She tops that vibrant pout with a swipe of her go-to mascara Ilia's Limitless Lash (which just so happens to be my favorite as well). For an extra touch, she taps on Saie Glowy Super Gel Lightweight Illuminating Serum highlighter.
But be warned, a bold lip requires regular lip care. Slipping on saturated pigment over chapped or dry lips looks less than appealing: "The only way to have the perfect red lip is if you really take care of your lips with exfoliation and making sure that you're using something at night to really hydrate and treat the lips," she says. "The lips are like the neck and hands; people forget about them."