A Concealer Trick That Makes Eyes Look Larger & Covers Circles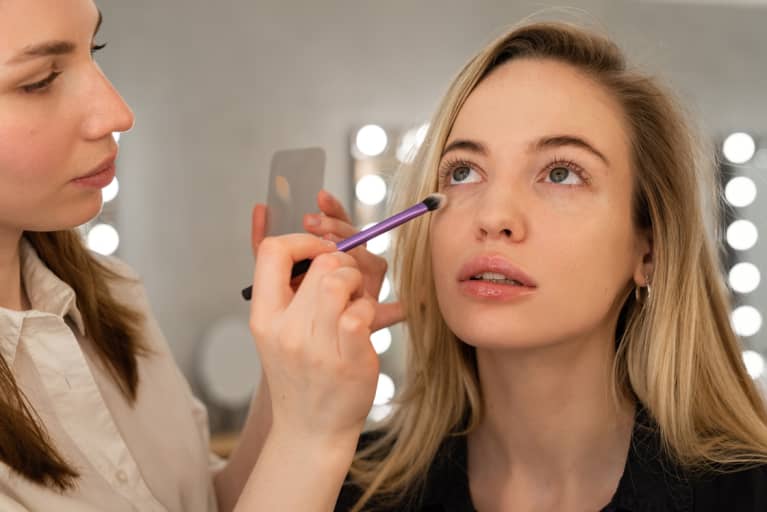 Our editors have independently chosen the products listed on this page. If you purchase something mentioned in this article, we may
earn a small commission
.
Concealer is perhaps the most versatile tool in your makeup arsenal. The workhorse, if you will. It can delicately diminish blemishes or the dark spots that appear in their wake. It can help diffuse fine lines, for a delightful soft-focus finish. It can help highlight high parts of the face—without having to reach for a shimmery powder or megawatt stick. And perhaps its most famous usage: It can cover up dark circles under your eyes.
Now, the latter use has several popular techniques—each hailed as "the best" depending on who you ask. And the thing is, there are advantages and disadvantages to each technique. Depending on several factors (concealer type, eye circle severity, eye shape, how "done" you want the final look), you may be swayed in different directions.
Well, here's one tip for those looking to make their eyes appear bigger while covering up any shadows.
The concealer trick to make your eyes look bigger.
In a video shared on TikTok, the makeup artist explains the genius tip for making your eyes look larger. She starts the video with two different concealer placements on either side of her face.
On one, her concealer is applied on a horizontal line just under her eye, blending downward. "This will give you the reverse dark circle effect. What this means is that it's going to make this area [of the face] look like it's protruding out, and this makes your eye appear a lot smaller," she says.
So now on to the handy trick you came here for: On the second side of her face, she applied the concealer in a vertical line from the corner of the inside of her eye down to about the midshaft of her nose. Additionally, she added a small dab of concealer on the outer corner of her eye. She then blends (using just her fingers) the concealer out and up toward her eye, as well as up and around the corner of the eye. "When you do this, you blend the concealer into the rest of the face and your foundation, and it helps the eye appear bigger and lifted," she says.
For this option, a dewy liquid or soft creamy option will likely do best. We adore ILIA True Skin Serum Concealer and Kosas Revealer Concealer (but you can also check out this list for our other favorites).
While concealer is a quick fix when it comes to making the delicate skin of the eye area appear healthier, nothing can replace adequate nutrition and hydration. Your body (and your skin) need antioxidants to fight off free radicals and limit oxidative stress, thus enhancing brightness.* One easy way to get a concentrated fill of antioxidants every day is by taking supplements that contain skin-loving ingredients, like mbg's cellular beauty+.
Our beauty supplement contains astaxanthin, which has been shown to improve moisture levels, especially around the eye area in studies.* Another bonus: Having hydrated skin means your concealer will go on even smoother. In fact, users have even reported their skin and makeup products go on with such ease, as the skin underneath remains dewy and even.*
We certainly love a concealer trick that checks all the right boxes: Natural-looking? Yes. Easy to do? Also yes. Gets the job done? All that and more. For those of us who want to ease the appearance of dark circles while also letting our eyes pop, this is just the tip for you. Now if you want to explore something a little bit more complex, check out this guide to color-correcting to learn how you can combat dark circles from yet another angle.