You Can Enjoy The Benefits Of Cruciferous Veggies Without Bloating: Here's How
mbg Editorial Assistant
By Eliza Sullivan
mbg Editorial Assistant
Eliza Sullivan is an editorial assistant at mindbodygreen. She received a B.S. journalism and a B.A. in english literature from Boston University.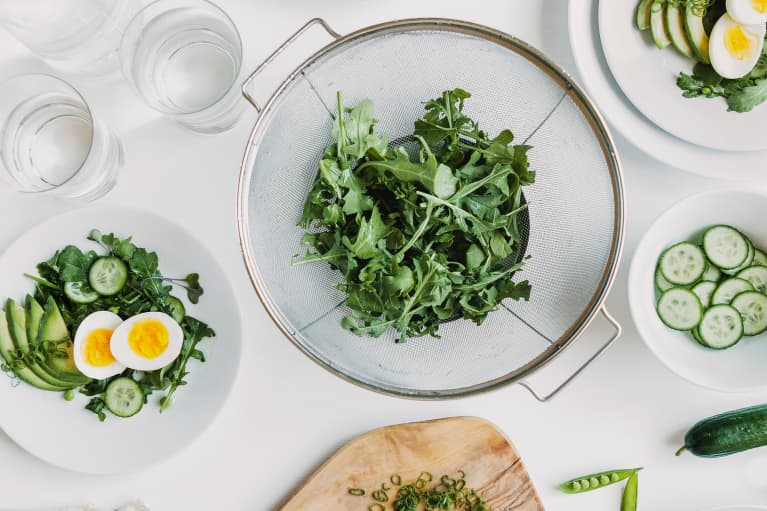 September 12, 2020 — 0:08 AM
Cauliflower is the veggie that keeps on giving: Be it a simple roasted job or disguised as gnocchi in the frozen aisle at Trader Joe's, we've gotten pretty used to seeing it as a staple in a healthy diet. But for some people, this cruciferous veggie comes with a side of unwanted bloating (as do Brussels sprouts, for good measure)—luckily, this doesn't mean those people can't reap the health benefits of including cruciferous vegetables in their diet.
While chatting with Jason Wachob on the mbg podcast, nutritionist Kelly LeVeque shared some alternative (and less bloat-y) cruciferous veggies to add to your diet and a reminder for why you probably want to include them on your plate.
A quick reminder: the benefits of cruciferous vegetables.
Among their benefits, cruciferous vegetables get a lot of buzz for their potential cancer-fighting power, which LeVeque explains: "When you eat cruciferous vegetables, sulforaphane has the ability to double detoxification," she says. "You're detoxifying every hour; that's why cruciferous veggies are linked to being anti-cancer and anti-inflammatory."
In addition to those benefits, they've been linked to aiding in supporting heart health, gut health, and thyroid health in studies. There's good reason they're considered part of a healthy diet, but that doesn't mean they come without those less ideal effects too.
How to eat cruciferous, without the bloat.
While many of the most well-known cruciferous vegetables are complex and difficult to digest, that doesn't mean they all are: "Remember that it's not just those hard-to-digest foods that can provide benefit," says LeVeque.
She recommends a simple mix for getting those benefits: "Half mixed greens and, half arugula; add radish," is her go plate to for a non-bloating portion of these powerhouse veggies.
So while you may be used to reaching for those complex veggies, you can definitely feel good about eating those alternatives: "It doesn't always have to be cauliflower rice or Brussels sprouts," she says—and if they're leading to uncomfortable bloat, then they might not be worth it all the time.
Some other options that may not lead to as much bloat? Consider watercress and bok choy. Unsure how to try these veggies? This is how Chrissy Teigen eats arugula, and it's kinda the ideal fall salad too.