4 Chia Pudding Recipes So You Don't Even Have To Think About Breakfast
mbg Nutrition & Health Writer
By Eliza Sullivan
mbg Nutrition & Health Writer
Eliza Sullivan is a food writer and SEO editor at mindbodygreen. She writes about food, recipes, and nutrition—among other things. She studied journalism at Boston University.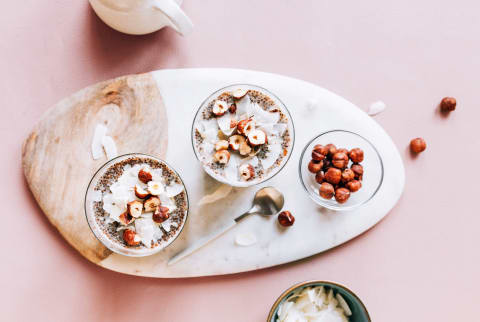 Image by Nataša Mandić / Stocksy
January 18, 2021
Making mornings flow a little smoother can start with just knowing you've got a super-tasty breakfast ready to go, no assembly required. For that purpose, chia pudding is a great option: It's super easy to make, and it's basically a blank canvas for your favorite flavors. All you really need to know to get started is the ratio of seeds to liquid: usually something like 1 cup liquid to 3 tablespoons of seeds. Once you mix it together, it's just a bit of a waiting game. That's why we love making it the night before, so our breakfast is ready in the fridge when we wake up.
The wonder of chia seeds isn't just in the way they expand to form such a satisfying, puddingy texture—it's also in all the nutrients they pack in. According to Carlene Thomas, R.D., "Two tablespoons of chia seeds come out to be about 140 calories with 4 grams of protein, 7 grams of unsaturated fat, and 11 grams of fiber." Not only that, but that small serving offers just under 20% of your recommended daily amount of calcium in addition to trace amounts of other vitamins and minerals.
So while you could just let your favorite flavors and a bit of at-home recipe testing guide you to a go-to chia pudding recipe, if you need a bit more direction, check out these simple recipes for simple, nutrient-packed breakfasts on even your busiest days:
This super fruity take on chia pudding comes from the kitchen of Ella Mills Woodward, the founder of Deliciously Ella. It uses blackberries (which are this neuroscientist's favorite brain-healthy snack), coconut milk, and just a touch of cardamom—a perfect formula for a super-flavorful final product. Coconut milk is a great liquid for making chia pudding because it also lends a bit of flavor and sweetness to the pudding.
2.
Lucuma Chai Chia Seed Pudding
If one superfood isn't enough for you, might we suggest this boosted chai-spiced recipe? Lucuma powder, which has been cherished for centuries in its native South America as a superfood, can serve as a sweetener—but one with added benefits: It's a good source of fiber and antioxidants, too. This recipe then adds ginger, black pepper, cinnamon, cardamom, and clove to lend the mixture the flavors of chai.
3.
Pumpkin Pie Chia Pudding
You may scoff since peak pumpkin spice season has well since passed, but in our eyes, that's all the more reason to enjoy it now: It's not oversaturated, so it really tastes like something special. And this chia pudding tastes pretty close to a perfect pumpkin pie filling, but instead of refined sugars, it uses dates to sweeten the mix.
4.
Superfood-Packed Chia Pudding
In this recipe, lucuma powder makes another appearance, but this time it's accompanied by maca powder and baobab powder. Baobab powder is derived from a fruit by the same name that's native to parts of Africa and Australia, and it's a great source1 of vitamin C (one serving supplies over half of the recommended daily intake) and fiber. Maca powder is a popular adaptogen derived from a plant that grows in Peru. It's a good source2 of calcium, potassium, and vitamin C and is thought to help support mood.
Looking for a different take on a make-ahead breakfast? Consider making a batch of overnight oats for a protein- and nutrient-packed start to your day.
Eliza Sullivan
mbg Nutrition & Health Writer
Eliza Sullivan is an SEO Editor at mindbodygreen, where she writes about food, recipes, and nutrition—among other things. She received a B.S. in journalism and B.A. in english literature with honors from Boston University, and she has previously written for Boston Magazine, TheTaste.ie, and SUITCASE magazine.