Casper Nova Hybrid Review — We Put This Mattress To The Test

Contributor
By Brittany Natale
Contributor
Brittany Natale has a degree in advertising and marketing communications from the Fashion Institute of Technology. Her work has appeared in SELF, Popsugar, i-D, Teen Vogue, Domino, Martha Stewart, and Eat This.

Medical review by
Scott Nass, M.D., MPA, FAAFP, AAHIVS
Board-certified Family Physician
Scott Nass, M.D., MPA, FAAFP, AAHIVS is a family physician and HIV specialist in California. He takes a holistic approach to healthcare, incorporating principles of functional medicine and using food as medicine when working with patients.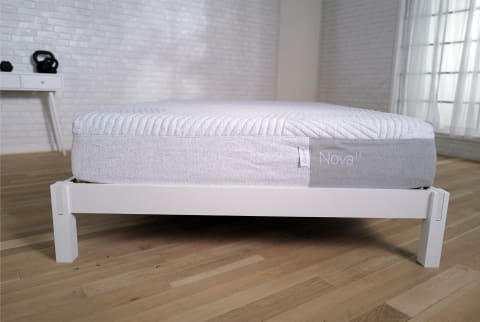 May 21, 2023
Our editors have independently chosen the products listed on this page. If you purchase something mentioned in this article, we may
earn a small commission
.
If you love the convenience of ordering a mattress online, you can thank Capser. The direct-to-consumer brand changed the way that people buy a mattress by making it way more affordable.
While the brand originally launched with one mattress—the Original—it has since expanded the lineup to include more luxury options, like the Casper Nova Hybrid.
The Nova Hybrid is the brand's softest mattress with a hybrid design that combines cloudlike comfort with pressure relief. Named one of our favorite hybrid mattresses, this plush pick is a great option for side sleepers who like a medium-firm design that leans toward the softer side.
The mattress at a glance:
Casper Nova Hybrid Mattress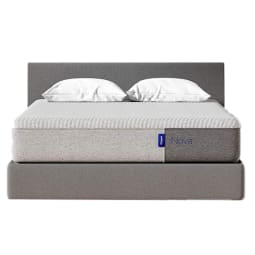 Who should try it:
We recommend thai hybrid pick for side sleepers who prefer a cushy-yet-supportive mattress. Lighter back and stomach sleepers who prefer a less firm mattress could also get away with sleeping on this model. Couples would love this design due to its impressive motion isolation.
Who should skip:
This mattress is not super responsive, which isn't ideal for those who like to switch sleep positions throughout the night. It's also not a great option for those who dislike memory foam, as the mattress feels closer to an all memory foam design than an innerspring mattress.
Casper Nova Hybrid pros & cons
Pros:
Supportive design
Cloudlike feel
Minimal motion transfer
Cons:
Comes in just one firmness option
Average level of edge support
Minimal sustainability effort
What is Casper?
Founded in 2014, Casper helped kick-start the transition from buying mattresses in store to purchasing them online. While this might seem counterintuitive for a product you sleep on, this change made it possible to purchase quality mattresses for a fraction of the price.
Like most DTC companies, Casper started with just one model. Over the past decade, the U.S.-based company has expanded its offerings to include pillows, sheets, bed frames, and—you guessed it—more mattresses.
How the Casper Nova Hybrid arrives
The Nova Hybrid is one of the brand's newer designs, which offers a softer mattress for those who like the plush feel of a luxury hotel bed. It's also one of Casper's most expensive offerings. Despite this, the Nova Hybrid arrives like the rest of the brand's mattresses: compressed in an air-sealed bed and packed in a box.
The company says the box is "about the size of a mini-fridge," though we found the mattress to be much taller. This compressed packaging makes it much easier to move around the mattress, which clocks in at 89 pounds for a queen. While this may sound heavy, it's actually lighter than many other queen-sized models on the market.
Keep in mind that the mattress's weight depends on which size you order, and it's always better to have an extra set of hands available to help you unbox and set it up.
Although the brand says you can sleep on the mattress as soon as you unbox it, you may want to give it some time. This is because the bed may take a while to expand to its full dimensions.
If you're on the fence or indecisive, then you're in luck. Casper offers a 100-night trial period for this model and a 10-year limited warranty if you do decide it's the one for you.
If you live in the United States or Canada, you can expect free shipping, although those who call Alaska or Hawaii home may have to pay additional shipping fees.
How is the Nova Hybrid Mattress made?
This 12-inch hybrid mattress is a great choice if you're looking for a medium-firm bed with lots of cushioning. Although the hybrid model combines springs and foam, we think it actually feels closer to an all-foam model.
The construction of the hybrid is responsible for this ultra-plush feel. The flexible spring base adds a touch of bounce, but it's dulled by three layers of memory foam. (You have to really push down on the memory foam layers to feel the coils beneath it.)
Each layer of foam serves a different purpose. The bottom layer is grooved, which offers zoned support to your waist, lower back, and hips.
The next layer of premium memory foam also offers zoned support, but it includes AirScape® Technology. This means the perforated form has tiny holes in it, which allows for better ventilation to help you stay cool throughout the night.
The final layer is the brand's signature foam. Like the second layer, it's perforated, but there is no zoned support. This allows for a plush foam that gives the mattress its signature cloudlike feel.
And don't worry, this layer's holes are so small that you can't detect them through the bed's knit cover. Speaking of which, the bed's cover is removable and can be thrown in the washing machine when it needs to be cleaned. (Our tester loved this feature when taking the mattress home after a few tests in our studio!)
Although Casper makes each mattress cover using recycled plastic bottles and utilizes CertiPUR-US® polyurethane foams, the brand still is lacking when it comes to sustainability. In fact, experts previously told mindbodygreen that CertiPUR-US® is the baseline standard for mattress materials.
If you're looking for a more eco-friendly mattress, check out our guide to organic and nontoxic mattresses.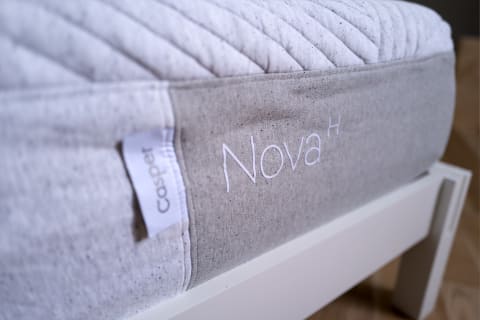 Features we love on the Nova Hybrid Mattress
Zoned Support Areas
We love that this mattress has seven targeted support areas that promote healthier spinal alignment. The softer foam around the shoulder area offers more relief to the upper body. Meanwhile, the ergonomic support spots near the shoulder, hips, waist, and lower back zones make for a more comfortable, pressure-relieving rest.
Perforated Foam Top Layer
The top layer of perforated Airscape foam naturally increases airflow as you sleep, which is great for hot sleepers. Not to mention it also feels like a dream!
How firm is the Nova Hybrid Mattress?
The Nova Hybrid mattress is only offered in one firmness option, medium-firm, which probably translates to around a 4 or 5 out of 10. You can't customize your firmness with this bed, so you'll have to go with a different model if you need something firmer or softer.
Those who prefer harder beds may also want to keep in mind that this mattress does have a plush, pillow-like feel (no rock-hard mattresses here). We strongly recommend considering another model if you like a true medium-firm feel.
Pro tip: How firm a mattress feels to someone depends on the person's size and weight. What is soft to some may feel firm to others. Knowing how you like your mattress to feel under your body (i.e., bouncy or smooshy) will help you shop online.
Casper Nova Hybrid sizes, cost & measurements
| Size | Price | Dimensions | Weight |
| --- | --- | --- | --- |
| Twin XL | $1795 | 38" W x 80" L x 12" H | 62 lbs |
| Full | $2145 | 53" W x 75" L x 12" H | 84 lbs |
| Queen | $2295 | 60" W x 80" L x 12" H | 89 lbs |
| King | $2895 | 76" W x 80" L x 12" H | 125 lbs |
| California King | $2895 | 72" W x 84" L x 12" H | 127 lbs |
The Nova Hybrid typically retails for around $2,295 for a queen. That's more expensive than similar plush hybrids, like the Winkbed. The brand often has sales, especially during holidays. You can also buy bundles to save.
The best sleeping positions for the Nova Hybrid mattress
Side sleepers: Yes
Side sleepers do best with mattresses that relieve the added pressure around their shoulders and hips. We think most side sleepers will love this design. Just be warned the foam is soft, so it may sink too much for side sleepers on the heavier side.
Stomach sleepers: It depends
Generally speaking, stomach sleepers should sleep on a medium-firm mattress since these types of beds help promote better spine alignment. This mattress is closer to a true medium, so we don't think it's the best for stomach sleepers. However, if you're on the light side, you may find that it offers just enough support.
Back sleepers: It depends
Medium-firm mattresses also work best for back sleepers, who need to keep their spine aligned throughout the night. Similar to our take for stomach sleepers, this mattress is great for people on the light side who like a softer mattress—but we wouldn't suggest it for most back sleepers.
How the Nova Hybrid performs in testing:
Motion transfer: 5/5
Testing out motion isolation allows us to understand better how much motion transfer occurs when you move around the bed. A bed with minimal motion transfer is especially excellent for light sleepers—less motion transfer makes for a more peaceful sleep.
To test this out, testers placed a glass jar of matcha on the bed as they walked on the mattress toward the glass. The more the glass is disturbed, the more motion the bed transfers. We found the Nova has excellent motion isolation.
This is great news for those who share a bed with a partner who tosses and turns or for people who allow their pets to sleep alongside them.
Responsiveness: 3/5
Responsiveness refers to how springy the mattress's surface feels, which helps show how easy it is to switch positions throughout the night. We found that the Nova Hybrid had very little bounce, which makes sense since it's crafted from layers of body-hugging foam. A less responsive mattress may be harder to move around on, but it does offer better pressure relief.
Pressure Relief: 5/5
We tested out how pressure relieving this mattress is by observing how much the 32-pound weight sinks in once placed on the bed's surface and how our testers feel when lying in different positions on the mattress.
The mattress really cradled the weight, which helps showcase how much pressure relief it offers. When our testers lay on the bed, they felt cradled and supported in all sleep positions.
Edge Support: 3/5
Good edge support makes all the difference when choosing a mattress. It helps prevent sliding or slipping off the bed and contributes to the overall longevity of the design.
To try out this bed's edge support, we had testers lie down on the edges of the mattress in a few different sleeping positions. This helped us learn whether or not the bed feels supportive when sprawling out on it.
Like other memory foam hybrids, the Nova Hybrid has OK edge support. The coils add some extra support to the edges, but the bed's soft memory foam layers are too plush to offer true support.
Why a good mattress matters for longevity
An investment in a quality mattress is an investment in your overall health and well-being. Quality sleep plays a role in your mood, cognitive function, and even your metabolic health. Research even found that those with good sleep habits live longer1 than those without.
Good sleep hygiene starts with a good sleep environment. Factors like temperature, light pollution, and sound pollution can all impact your snooze—but the most important factor is your mattress. Research found that different mattress features can have a huge impact on your sleep behaviors.That means, it's extra important to find the right mattress for you.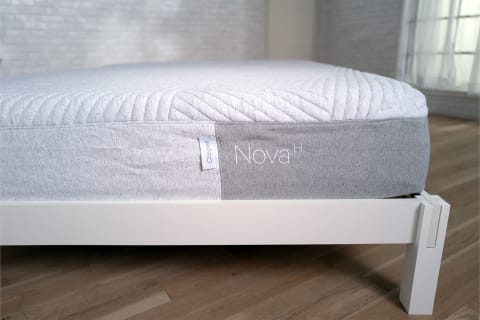 The takeaway
Overall, we discovered that the Nova Hybrid is an excellent choice for those who want a plush, cloudlike bed that doesn't compromise on support. The bed excels in pressure relief and motion isolation, but it only comes in one firmness that's not optimal for back or stomach sleepers. If you want a hotel-quality bed, the Nova delivers—but it's on the pricier side and not your most eco-friendly option.
Meet The Experts
Brittany Natale
has a degree in advertising and marketing communications from the Fashion Institute of Technology. Her work has appeared in SELF, Popsugar, i-D, Teen Vogue, Domino, Martha Stewart, and Eat This.
Scott Nass, M.D., MPA, FAAFP, AAHIVS
is a family physician and HIV specialist in California. He takes a holistic approach to healthcare, incorporating principles of functional medicine and using food as medicine when working with patients.