Nervous For A First Date? This Supplement Helps Me Stay Calm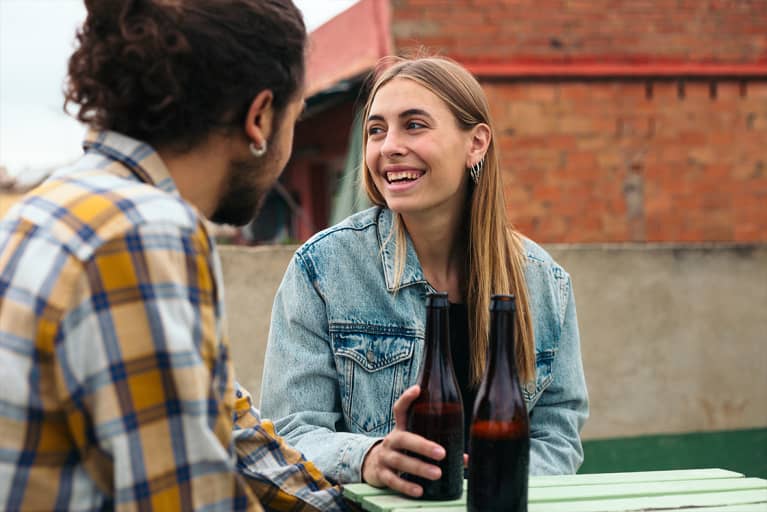 As a single woman in New York City, I'm no stranger to dating apps—or the nerves that strike right before a first date. Whether I'm testing the waters with an unlikely match or meeting someone who I messaged with for weeks, I inevitably feel butterflies fluttering around in my stomach a few hours before the date is set to start.
Initially, I hoped the first-date jitters would disappear (or at least drastically dwindle) with time. But I found even after countless first dates, the anticipation before them never really went away, even if my first-date questions had drastically improved.
Like many, I turned to sipping a glass of wine to ease my tension before a first date started, yet it never really felt like a good habit for my overall well-being. Sure, the Blue Zone diet includes wine and social interaction, but I don't think drinking a glass of sauvignon blanc alone before meeting a stranger is quite what those guidelines had in mind.
Eventually, I knew I needed another tactic, and I realized the best option for evoking calm might already be sitting in my supplements drawer: mindbodygreen's calm+.*
I had previously used the supplement as a way to support my stress management during the workday, but I never really considered the full potential of calm+. If the two-capsule dose could help keep me grounded on a busy workday, surely it could promote that same positive mood before a first date.*
Before my next date with a Portuguese man just back from Lisbon, I decided to test my theory. I took my calm+ and started my predate ritual: a shower, a fresh application of makeup, and a ridiculous amount of time selecting an outfit suitable for the location (all accompanied by my favorite tunes).
By the end of my routine, I realized that the worry I felt about impressing my date felt less overwhelming. In fact, I was giddy rather than nervous about the night, which was a huge shift in my mood.*
While there were still some nerves—I was meeting a stranger, after all—I found myself more relaxed throughout the date.* I felt more like myself and less like the alter ego that often appears on first dates: nervous, uncertain, and a little quiet.
Although I'd love to lie and say this first date turned into a second, it didn't. We simply weren't a match. But I discovered something better: a way to feel more at ease going into a first date.
It's one thing to tell you that a supplement works—it's another to explain why. The biggest thing to keep in mind is that calm+ takes a multipronged approach to easing everyday stress and fostering a positive mood with three key ingredients: full-spectrum hemp oil, Shoden® ashwagandha, and Bulgarian lavender oil.*
At the heart of the supplement is EU- and USDA-certified organic, full-spectrum European hemp oil. Made from the whole hemp plant, it contains bioactives like phytocannabinoids, terpenes, and flavonoids, which all help modulate the body's stress response and promote calm through the endocannabinoid system or ECS.* (FYI, the ECS is your body's communication network that's responsible for homeostasis—so it plays a role in quite a few vital mind and body functions.)
Add in 240 milligrams of Shoden® ashwagandha and you get yet another botanical superpower; there's clinical evidence supporting the ingredient's ability to reduce cortisol and DHEA-S.* When paired with Bulgarian lavender oil—which contains high levels of an aromatic compact that promotes calm—the supplement becomes a triple threat for evoking calm.*
While dating is a highly personal experience that everyone approaches differently, for many of us a first date can be a nerve-wracking experience. I've found that taking calm+ is one of the easiest ways to help regulate stress and elicit a calm before I head out the door to a determined location—and I'd recommend it to anyone who is still trying to navigate the chaotic world of dating.*