Tips & Recipes For A Brain-Healthy Holiday, From A Neurologist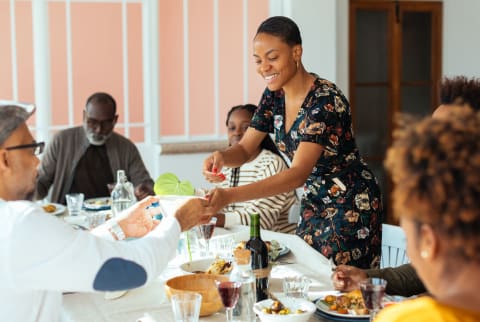 Image by BONNINSTUDIO / Stocksy
December 23, 2020
Our editors have independently chosen the products listed on this page. If you purchase something mentioned in this article, we may
earn a small commission
.
Our brain is our personality, our experiences, and who we are. It's always important to take care of our brain health, but in a time when we're all facing challenges at every level of life, it's especially crucial to set ourselves up for success to be the best versions of who we are. That sentiment particularly rings true this holiday season.
Optimizing brain health isn't magical: It's about what we put into our bodies, how we move, how we sleep, how we stay mentally active. The way we approach brain health in my practice is with a program called the NEURO PLAN which stands for: nutrition, exercise, unwind (stress management), restorative sleep, and optimization of cognitive activity. If we approach brain health in a comprehensive way like this, we not only help prevent diseases, but we improve our brain's function. We've done studies that show when people take care of their lifestyle, they can make better decisions, have better memory, and improve productivity—overall just live a cognitively vibrant life.
Advertisement
This ad is displayed using third party content and we do not control its accessibility features.
Of course, during the holidays, stress can spike more than usual, which means it's more important than ever to maintain those aforementioned lifestyle strategies and surround ourselves with the right kind of environment that allows it to thrive rather than put more stress on it (think not moving or not eating right).
First and foremost, aim to mitigate unnecessary mental stress. I should clarify that good stress exists, which includes activities you choose—things like learning a new language, trying a new technology, starting a new project or hobby—which strengthen areas of the brain. Then there's bad stress—things that are out of your control that may be imposed on you. To help minimize the latter, prioritize things that matter, and try to delegate and reduce the others that are out of your control. For things you can't do anything about? Try using positive language to put a better angle on it. Say, "This is a challenge for me" which has a completely different connotation, which is better for your performance and health.
It's also essential to keep active during the holidays, but you don't need to do vigorous exercise. Just moving your body in a natural way—like taking the stairs or going for a walk in the sunshine—can be so beneficial. Your brain cells actually make more connections with one another when you move and exercise.
Food is also incredibly important. Every morsel of food that goes into our body affects our nerve cells and the way they interact. It affects our decision making, our mindfulness, and our interactions with one another. Because holidays are a time when food is a centerpiece, a quick way to provide an environment for your body and mind to thrive is to feed it the best kind of nutrients. To help make that a little easier this year, I checked out the foods people are drawn to for comfort but aren't very nourishing. Then, I put a spin on those dishes and swapped in some brain-healthy ingredients and spices to make them a bit more nourishing. They feature greens, healthy fats, and fiber—without any processed additives.
Keep up your brain-supporting practices and try some of these delicious recipes for a happier, brain-healthier holiday season.
Cashew Kale Dip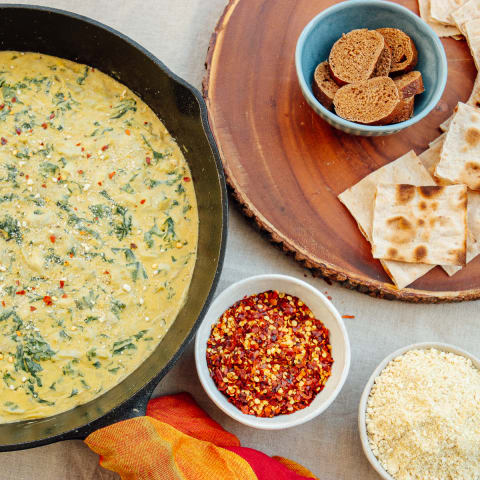 Prep time: 10 minutes
Cooking time: 20 minutes
Total time: 30 minutes
Yields 6 servings
Ingredients
Extra-virgin olive oil (EVOO)
5 cloves of garlic, minced
1 cup raw cashews, soaked 4 hours or overnight
6 tablespoons nutritional yeast
¾ cup plain unsweetened soymilk
Salt and pepper to taste
1 15-oz. can (or jar) artichoke hearts in brine (not oil), drained and chopped
3 cups kale leaves, chopped into small pieces (destemmed and tough rib removed)
¼ cup cashew Parmesan cheese (recipe follows)
Advertisement
This ad is displayed using third party content and we do not control its accessibility features.
Preheat the oven to 350°F.
Heat a large cast-iron pan over medium heat.
Add a tablespoon of EVOO and the garlic. Sauté for a minute until garlic becomes fragrant and slightly brown. Set aside.
In a strong blender, add the drained cashews, nutritional yeast, soymilk, salt, and pepper and blend until very smooth. Taste and adjust flavor–add more nutritional yeast for a cheesy flavor. Set aside.
Add the artichoke and kale to the skillet with garlic in it, pour the cashew mixture on it and mix everything with a spatula. Place the skillet in the oven and bake for 10 to 15 minutes until warm and bubbly.
Remove and sprinkle with cashew Parmesan cheese. Serve warm with seed crackers, toasted whole wheat bread, sourdough bread, sliced cucumber, or baked corn tortilla chips.
Note: You can use spinach or finely chopped Swiss chard instead of kale. Add a tablespoon of sauerkraut along with the artichoke and kale in the skillet with the cashew mixture for a tangy, complex flavor.
Advertisement
This ad is displayed using third party content and we do not control its accessibility features.
Cashew Parmesan
1 cup raw cashews
4 tablespoons nutritional yeast
½ teaspoon salt
½ teaspoon garlic powder
Advertisement
This ad is displayed using third party content and we do not control its accessibility features.
Add all ingredients to a food processor and mix/pulse until a fine meal is achieved.
Store in the refrigerator to keep fresh.
Note: Can be stored for a month in the refrigerator. Use macadamia nuts or a mix of sesame seeds and walnuts instead of cashews.
Advertisement
This ad is displayed using third party content and we do not control its accessibility features.
Panna Cotta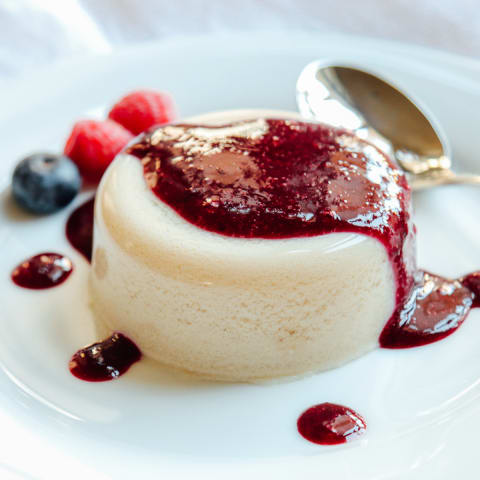 Prep time: 10 minutes
Cooking time: 5 minutes
Total time: 15 minutes plus time to chill
Yields 4 servings
Ingredients
2 cups soymilk or oat milk
4 tablespoons monk fruit sweetener (or to taste), divided
Zest of 1 lemon plus 1 tablespoon juice, divided
3 teaspoons agar powder
2 teaspoons vanilla extract
⅔ cup mixed frozen berries (or pitted frozen cherries)
1 tablespoon lemon juice
1 teaspoon arrowroot flour (or cornstarch), dissolved in 2 tablespoons water
A few fresh mint or basil leaves, to garnish
Add the agar to ½ cup of the milk and mix well. Set aside.
Heat milk, 2 tablespoons monk fruit sweetener, and lemon zest over medium heat until it just comes to a boil; stir in the vanilla. Bring the heat to the lowest setting. Add the agar mixture to the rest of the milk, and whisk vigorously to thicken. Keep mixing with a whisk for 5 to 7 minutes to ensure there are no lumps. Press any lumps with a spatula and then whisk again. Turn off heat once the mixture is smooth and thickened.
Divide the mixture between 4 ramekins. Cover with cling foil and refrigerate until set (about 2 hours).
Add berries and lemon juice to a small saucepan and bring to a gentle boil. Cook, stirring often, for about 4 minutes, until softened. Stir in the arrowroot flour and cook for 1 minute, until slightly thickened. If you prefer a smooth coulis, strain the mixture through a fine-mesh sieve. Set aside to cool. When ready to serve, place the ramekins in warm water for 2 to 3 minutes (the water should come about halfway up the sides). Run a knife around the edges to loosen the panna cotta, and invert onto serving plates. Spoon the berry coulis on top and decorate with fresh berries and mint leaves, and serve immediately.
Cauliflower Mashed Potatoes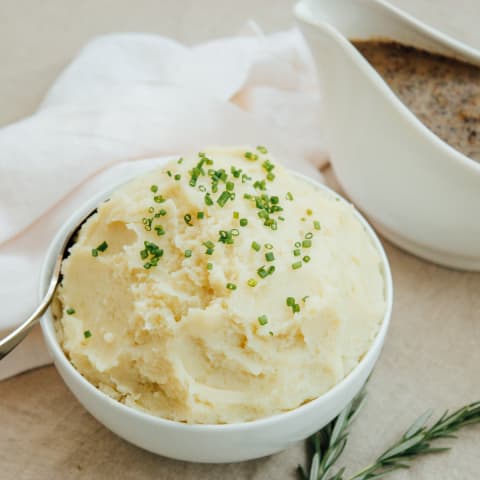 Prep time: 10 minutes
Cooking time: 20 minutes
Total time: 30 minutes
6 Yukon Gold potatoes, peeled and cut into quarters
Water to cover
½ head small cauliflower (chopped)
1 cup almond or soymilk
2 to 3 tablespoons plus 1 teaspoon extra-virgin olive oil (EVOO)
3 to 5 cloves of garlic, minced
½ teaspoon salt
Black pepper
Fresh chives for garnish
In a large saucepan, cover potatoes with water and bring to a boil. Reduce heat to a low boil, and cook until a knife inserted slides off easily.
In the meantime, add the cauliflower to a strainer or veggie steamer, and place on top of the potatoes in the saucepan to cook at the same time. Cover with a lid to steam.
While the potatoes and the cauliflower soften, in a pan/skillet, add 1 teaspoon of EVOO and add the garlic and cook for 2 to 3 minutes, until the garlic is fragrant. Don't burn the garlic, as it will impart a bitter taste to the dish.
Once the potatoes and cauliflower are soft and cooked through, transfer to a bowl and mash with a potato masher, adding soymilk, remaining EVOO, garlic, salt, and pepper. Set aside and cover to keep warm.
Note: Change the proportion of the cauliflower and potatoes—add 1 head of cauliflower and 3 potatoes.
Reset Your Gut
Sign up for our FREE doctor-approved gut health guide featuring shopping lists, recipes, and tips

Ayesha Sherzai, M.D.
Neurologist
Ayesha Sherzai, M.D., is a neurologist and co-director of the Alzheimer's Prevention Program at Loma Linda University, where she leads the Lifestyle Program for the Prevention of Neurological Diseases. Along with her husband, Dean Sherzai, M.D., PhD, she has been dedicated to educating people on the simple steps to long-term health and wellness through with patients, as well as through online writing, videos, and books.