I Was Skeptical Of Prepared Meal Delivery Services — Here's My Full Review Of BistroMD
mbg SEO editor
By Natalie Goldberg
mbg SEO editor
Natalie Goldberg is the SEO editor at mindbodygreen. She holds a B.S. in health and fitness from the University of Michigan.

Expert review by
Jaime Schehr, N.D., R.D.
Naturopathic Physician and Registered Dietitian
Jaime Schehr, N.D., R.D., is a nationally recognized expert in integrative medicine and nutrition, based in New York City. She holds dual licenses as a naturopathic physician and a registered dietitian, from University of Bridgeport and University of Nebraska respectively.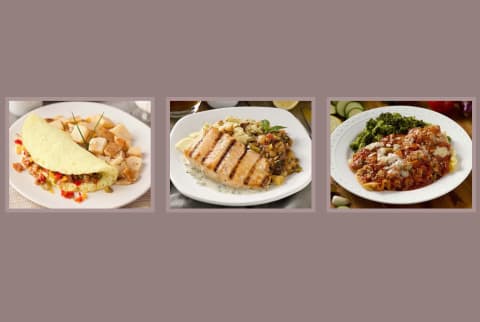 January 26, 2023
As someone who eats dinner at home an average of five nights per week (and truly enjoys cooking!), I've never been particularly drawn to meal kit services. I do love finding new recipes, though, so my interest was piqued when I heard about BistroMD's unique and customizable meals. With my busy schedule in mind, I decided to give this timesaving service a try. Below, find my full BistroMD review, with honest advice on who should try it and who should skip it.
What is BistroMD?
BistroMD is a meal delivery service focused primarily around healthy weight loss. The program was designed and founded by Caroline J. Cederquist, M.D., with the intention to provide meals that will help address metabolic dysfunction and maintain a healthy weight and metabolism. According to the brand, members who follow the plan lose an average of 1 to 2 pounds per week.
Each recipe is designed to support a healthy metabolism and heart, stabilize your blood sugar, and keep you full longer. You'll find about 20 grams of lean protein, 25 net carbohydrates, 5 grams of fiber, and 8 grams of fat in every meal, resulting in a plate with about 40% lean protein, 30% healthy fats, and 30% complex carbohydrates. While every dish varies in nutritional content, each meal contains less than 450 calories, which may not be sufficient fuel for the average adult, depending on a number of factors.
This is a subscription meal delivery service, with six programs to choose from (outlined below). Once you select your program, you'll be able to choose a full (three meals a day) or partial (lunch and dinner only) plan. There's an option for a five- or seven-day plan. One thing to be aware of is that the programs typically cap out at 1,200 to 1,400 calories, which may not be sufficient for the average adult.
BistroMD meal delivery programs:
Signature program: bestselling program with 150+ meals and no artificial ingredients
Gluten-free program: FDA-approved gluten-free to not contain wheat, rye, or barley, 100+ meals
Heart healthy program: 600 mg of sodium or less, doctor-formulated meals for heart health, less than 3.5 grams of saturated fat per meal, 100+ meals
Keto flex program: low-carb, less restrictive than keto, 85+ meals
Diabetic program: 25 grams or less of net carbohydrates, lean protein to regular blood sugar, 100+ meals
Menopause program: doctor-designed meals for hormonal balance, 100+ meals
How much does BistroMD cost?
Each of the six programs has the same cost, which ranges depending on the number of days you choose and whether you opt for the full or partial plan.
Here's a detailed breakdown of BistroMD's plans. You'll receive 25% off and free shipping on your first order:
Full program, 7 days: $164.85 first week, $239.75 regularly
Full program, 5 days: $140.51 first week, $207.30 regularly
Partial program, 7 days: $141.65 first week, $208.82 regularly
Partial program, 5 days: $112.43 first week, $169.86 regularly
The meal selection process.
At sign-up, you'll be prompted to select whether your goal is weight loss or you're simply trying to support your overall health. From there, you'll provide a bit more information about yourself, your lifestyle, and your dietary preferences. Once sign-up is complete, a registered dietitian will create a custom program based on your goals, preferences, and desired flavors. The best part? You'll have total control over the recipes in your order and will not be tied to those that are recommended.
Prior to each week, your dietitian-curated menu will be displayed in your account with pictures of each recommended meal. Once your menu is available, you can click each image to view more details on the meals. You'll be able to see a brief description, along with nutritional information and ingredients. If you don't love what you see, it's easy to swap out any meals you'd like to replace. You can also rate each meal as you try them, which will help inform your suggested menus in the future. There's an option to remove meals, too, which will keep them from showing up again.
How the meals arrive.
BistroMD ships all of its food frozen, in one large box. Each frozen meal is individually packaged and sealed in a plastic film. While I don't typically love packaging with excessive plastic, I did like that I could easily bring these meals on the go. A few days, I even tossed a meal in my work bag to have for lunch, with no worry of spillage.
Another advantage of the individual packaging is that you can thaw each meal at different times. The week I tried BistroMD, I would put a meal in the fridge before I left for work and then heat it up at the end of the day. In my opinion, the meals tasted fresher this way than if I left them fully frozen and had to microwave them for longer.
Every meal came with easy-to-follow instructions on how to heat it, with options for the microwave or oven.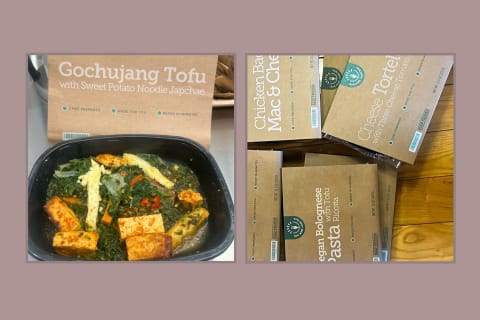 Every meal I tried.
I don't have too many dietary restrictions, but I am pescatarian (meaning I don't eat meat but do eat fish). I will say, I don't think vegetarians would have many options that are not pasta-based. Here is a list of every meal I tried:
Mediterranean Quinoa Salad
Chicken Bacon Mac & Cheese
Orange Tofu with Rice Noodles & Sugar Snap Peas
Grilled Salmon with BBQ Sauce
Vegan Bolognese Pasta with Tofu Ricotta
Cheese Tortellini with Three Cheese Tomato Sauce
Gochujang Tofu with Sweet Potato Noodle Japchae
Stuffed Shells with Vodka Marinara Sauce
All in all, I found the main dishes to be quite tasty, but the veggies were very minimally seasoned. Because of this, I added my own seasonings, which I'd recommend to anyone trying these meals. Of the meals I tried, my favorites were the orange tofu, japchae noodles, stuffed shells, and cheese tortellini.
Since the meals are frozen, they can get a bit watery. I remedied this by heating each meal for two minutes before draining the water and then heating for the remaining time.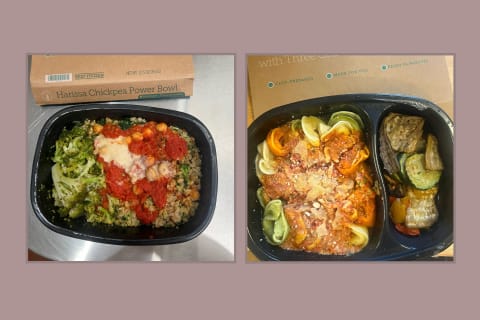 Is BistroMD sustainable?
Your food will arrive in a 100% post-consumer recycled shipping box, with dry ice and a biodegradable liner for insulation. Because the food arrives as prepared meals, there is less waste than buying all meal ingredients separately. That said, the food containers are plastic, and the ingredients are not organic.
Is BistroMD worth it?
If you don't have time to cook dinner or want to have quick, healthy options to take on the go for breakfast or lunch, BistroMD could be worth it for you.
Who should try it.
If you don't have time to cook dinner or want to have quick, healthy options to take on the go for breakfast or lunch, BistroMD could be worth it for you.
BistroMD is also a great option for people who live alone, don't like to grocery shop, or prefer not to have leftovers.
Who should skip it.
While BistroMD is one of the best gluten-free meal delivery services and does offer meals for a variety of dietary preferences, vegetarians might not find enough variety on the menu. During the week I tried BistroMD, most of the meat-free options were pasta dishes.
BistroMD is not a cheap meal delivery service, so if you are hoping to save money, this one likely isn't for you.
Since the meals are all premade and frozen, people who do not like frozen food (or who prefer to cook!) would likely not enjoy BistroMD.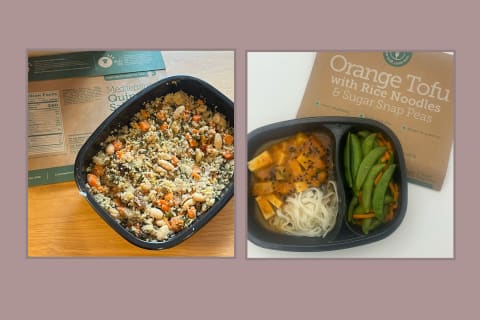 FAQ:
Is BistroMD good for weight loss?

BistroMD was designed specifically for people with weight loss goals, focusing primarily on correcting metabolic dysfunction. According to the brand, members who follow the plan lose an average of 1 to 2 pounds per week. We've also included it in our roundup of the best meal delivery services for weight loss.
Which meal subscription service is the healthiest?

There are a lot of meal subscription services available, and not all of them are healthy. Our holistic-nutritionist-approved list of the best healthy meal delivery services includes BistroMD, Home Chef, HelloFresh, Purple Carrot, Little Spoon, Factor, Blue Apron, Daily Dose, Green Chef, Fresh n' Lean, Sunbasket, and Trifecta.
The takeaway.
While I'm not giving up my love for cooking just yet, BistroMD is a great prepared meal delivery option for busy weeks or days when you're on the go. The meals are super quick and easy to reheat, and there are a ton of options to choose from. While I did need to adjust the heating process to avoid a watery meal, I found each dish to be filling and balanced—and a few really stood out in terms of flavor. Community Perk: mindbodygreen readers save 40% with code MBG40.
Natalie Goldberg
mbg SEO editor
Natalie Goldberg is the SEO editor at mindbodygreen. She earned her B.S. in Health and Fitness from The University of Michigan while also studying topics in Marketing & Data Analytics. She currently resides in New York City.