Birch Natural Mattress Review — How This Organic Mattress Performed In Our Testing Studios

Contributor
By Brittany Natale
Contributor
Brittany Natale has a degree in advertising and marketing communications from the Fashion Institute of Technology. Her work has appeared in SELF, Popsugar, i-D, Teen Vogue, Domino, Martha Stewart, and Eat This.

Medical review by
Scott Nass, M.D., MPA, FAAFP, AAHIVS
Board-certified Family Physician
Scott Nass, M.D., MPA, FAAFP, AAHIVS is a family physician and HIV specialist in California. He takes a holistic approach to healthcare, incorporating principles of functional medicine and using food as medicine when working with patients.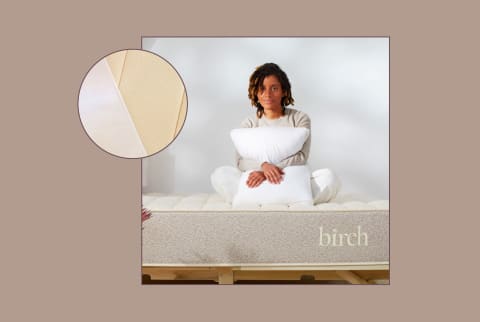 May 19, 2023
Our editors have independently chosen the products listed on this page. If you purchase something mentioned in this article, we may
earn a small commission
.
Getting a good night's rest not only feels great, it's beneficial for your health, too. And, when it comes to quality sleep, a comfortable, supportive, well-made mattress is essential.
At first glance, the Birch Natural mattress is one of the most eco-friendly hybrid mattresses you can get—it's crafted using organic materials, such as cotton, wool, and latex, and is constructed right here in the United States. In fact, this pick is made from components with a few Earth-friendly certifications like Global Organic Textile Standard (GOTS), Eco-INSTITUT, and GREENGUARD Gold, which means they've gone through testing for volatile organic compounds, pollutants, and formaldehyde. It has a medium-firm firmness level (probably more so on the firmer side) and is a pretty good match for all sleeping positions.
Scroll down to read our review of the Birch Natural Mattress, where we cover how it's made, what it's made from, how good its motion isolation is, and much more (including a video review!)
The mattress at a glance:
Birch Natural Mattress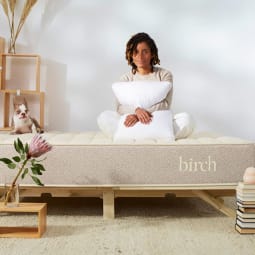 Who should try it:
Most back and stomach sleepers should enjoy sleeping on this mattress—it's firm but has a springy feel. It's also a good pick for combination sleepers who change positions throughout the night, as it's extra responsive. If you're a side sleeper on the hunt for a firmer bed, you also may want to try the Birch Natural. Its latex doesn't have the same cradling sensation as memory foam, but it's supportive enough to prevent your hips from sinking into the bed and out of alignment.
Lastly, the Birch Natural is a good bed for hot sleepers (its cooling wool provides top-notch breathability) and those looking for a mattress made from sustainable, organic materials.
Who should skip:
Those who are not fans of firm mattresses may find this bed too hard to sleep on. If that's the case, we recommend adding on Birch's three-inch plush pillow top which costs an additional $500. The pillow top cushion is made from organic cotton, wool, and latex and adds a plush, cushy feel to the bed's surface. It's pretty great.
Birch Natural Mattress pros & cons
Pros:
Made from organic materials
Breathable
Works for all sleep positions
Good edge support
Cons:
Only one firmness option
Not the best motion isolation
What is Birch?
When it comes to delivery, the Birch Natural Mattress comes compressed and rolled up in a cardboard box. Mattresses currently ship out of Birch's facilities via FedEx within 5 to 10 business days of ordering. Even better? Shipping is free to all 50 states.
The queen size weighs about 105 pounds, so you may need an extra set of hands to help you unbox it and set it up. The company recommends waiting an hour or two after unwrapping the mattress to let it expand to its full size. You also don't have to worry about any annoying off-gassing odors with this one.
Birch offers a 100-night sleep trial for you to give this mattress a spin and a 25-year warranty if you do decide to keep it. Even though its trial period is shorter than other bed brands, its warranty is exponentially longer than similar companies.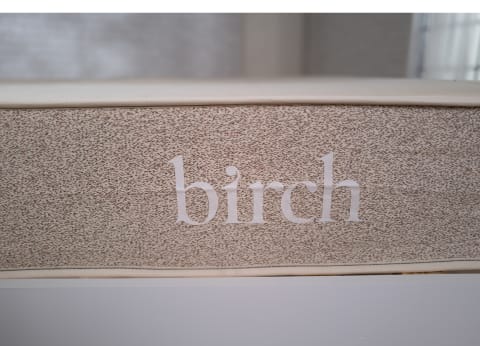 How is the Birch Natural Mattress made?
Constructed from organic materials, this mattress is an excellent pick for those looking for a breathable, sustainable bed that offers good support. This 11-inch hybrid option is made using a combination of coils, latex foam, and organic cotton and wool and has a medium-firm feel.
Its organic wool layer acts as a natural fire retardant and helps the mattress keep its shape over time, while its individually-wrapped coils (over 1,000 of them) keep your spine aligned while you sleep. For an even more luxe feel, go for the Birch Natural Luxe which includes an organic cashmere cover and more coils for even more support.
If you're looking for an organic mattress, you're in luck. This pick has a few certifications, like the Global Organic Textile Standard (GOTS) and Eco-INSTITUT. The Birch Natural is also GREENGUARD Gold, meaning their products have been tested for organic compounds, pollutants, and formaldehyde. Since the Birch Natural is made with organic materials, you can expect little to no off-gassing.
Besides being more eco-friendly, this mattress also has top-tier temperature regulation. The mixture of wool, latex, and coils helps keep you cool throughout the night and is a perfect match for hot sleepers looking for some relief.
Features we love on the Birch Natural Mattress
Natural Talalay Latex
This brand's natural Talalay latex is eco-INSTITUT certified for low emissions and has been sustainably sourced from tropical rubber trees that grow in carefully monitored farms in Southeast Asia, Africa, and Brazil. This layer cushions your pressure points while also offering some extra added support as you sleep.
Organic Cotton Cover
Each mattress comes wrapped in an organic cotton cover that is certified by Global Organic Textile Standard (GOTS). This cover is highly breathable and feels soft to the touch, but it is, unfortunately, not removable. This extra added detail gives the mattress a luxe feel.
How firm is the Birch Natural Mattress?
As for firmness, this mattress clocks in between a 6 and 7 out of 10, so it's definitely on the firmer side. Because this mattress is so firm, sleepers may feel that they are lying on top of this bed instead of lying in it. Keep in mind that a bed's firmness level may feel different depending on a person's weight and size.
Birch Natural Mattress specs
The Birch Natural mattress is offered in a wide range of sizes, including Twin, Full, and California King. See below for full size and measurement details.
| Size | Price | Dimensions | Weight |
| --- | --- | --- | --- |
| Twin XL | $1374 | 38" W x 75" L x 11" H | 63 lbs |
| Twin XL | $1462 | 38" W x 80" L x 12" H | 67 lbs |
| Full | $1749 | 53" W x 75" L x 12" H | 87 lbs |
| Queen | $1999 | 60" W x 80" L x 12" H | 105 lbs |
| King | $2412 | 76" W x 80" L x 12" H | 131 lbs |
| California King | $2412 | 72" W x 84" L x 12" H | 13 lbs |
How much does the mattress cost?
The Birch Natural mattress starts at $1,998 for a Queen size and is about $400 or so more for a King size. Birch runs tons of promotions and has sales, especially during holidays.
The best sleeping positions for the Birch Natural mattress
Side sleepers: Yes
This mattress works well for side sleepers since it offers a firm, supportive surface that also helps relieve pressure points. However, if you're a strict side sleeper, you may want to consider adding on a pillow top, as this can help make the bed feel a bit more comfy and easier to sleep on.
Ref: The best mattresses for side sleepers
Stomach sleepers: Yes
If you're a stomach sleeper, this medium-firm mattress should do the trick for you, too. It's firm enough to feel supportive but also springy enough to allow you to move around if you need to. Generally speaking, stomach sleepers should look for a medium-firm mattress that keeps their spine aligned throughout the night.
Ref: The best mattresses for stomach sleepers
Back sleepers: Yes
It's vital that back sleepers also choose a medium-firm (at a minimum) mattress as it can offer them more support for their spine. This bed is a good fit for back sleepers because of this.
Ref: Most comfortable mattresses for back, stomach, and side sleepers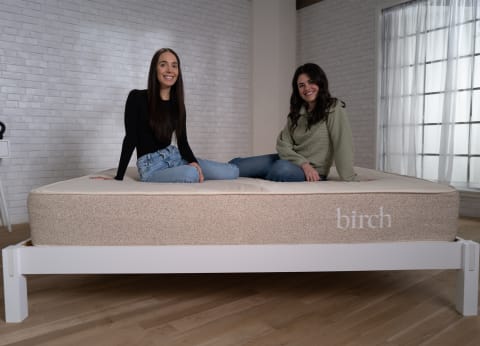 How the Birch Natural performs in testing
Motion Isolation: 3/5
We made sure to run a motion transfer test on this mattress because, by doing so, we can get a better idea of how good it is at isolating motion. A bed with good motion isolation is especially important if you share a bed with a partner who frequently stirs throughout the night or if you like to have your dogs or cats sleep alongside you.
To do this test, we placed a jar of green juice on the bed and had our testers walk on the mattress toward it. The more the juice or jar moves, the less motion the mattress isolates. Since this bed is springier than other hybrid mattresses, the motion isolation isn't too great—we noticed immediately that the green juice shifted a little as testers walked toward it. If you're easily woken at night because of movement, you may want to consider this during the bed's 100-night trial period or opt for a mattress with better motion isolation.
Responsiveness: 5/5
We also held a bounce-back test to help us see how reactive the mattress was. The first part of the test involved placing a 32-pound weight onto the mattress and observing how springy the bed's surface was. This test can help better figure out just how easy it is to switch positions when lying in bed.
We found that when we placed the weight on the bed's surface, there was a noticeable bounce. This tells us that this mattress has a springy, buoyant feel that can significantly benefit combination sleepers who frequently change positions at night. It also informs us that the Birch Natural can generally support better spinal alignment.
When we removed the dumbbell, we saw that the mattress quickly regained its shape and size. This means this mattress may hold up better over time and not sag as quickly as others. This makes sense, as latex is known for being more durable than synthetic foams.
Pressure Relief: 4/5
We test just how pressure-relieving a mattress is by using two different methods: the bounce-back test and having testers lay on the bed themselves to gauge how it feels.
During the bounce-back test, you can get an idea of how supportive the mattress is by how much the weight sinks into the bed's surface. We found that this mattress offered good support to the weight, but it didn't cradle it as much as, say, a memory foam mattress would. If you want to get that body-hugging feeling from a mattress, pick up a pillow top to place on this pick.
When testers laid on this mattress in a few different sleeping positions, they also found that the bed was supportive but they didn't experience a sinking, body-hugging feeling that other foam or hybrid mattresses have. Keep this in mind when choosing the right bed for you.
Edge Support: 5/5
Edge support is an important feature to look for when choosing a mattress, as it can prevent you from slipping, sliding, or rolling off the bed. We had our testers try out this pick's edge support by lying down on the edge of the bed in three different sleep positions. The Birch Natural has pretty good edge support since it has strong perimeter coils and supportive latex, so the testers felt safe and secure while running this test.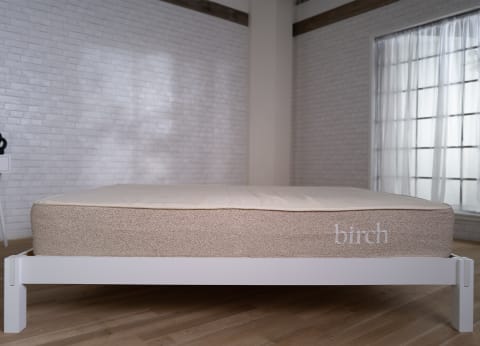 Why quality sleep is important for your health & longevity
For starters, chronic insufficient sleep is connected to an increased risk of cardiovascular disease, diabetes, obesity, and cancer, whereas short-term sleep deprivation can adversely affect physical health, mood, and mental health. Furthermore, lack of sleep is linked to higher blood pressure and other heart-related problems1.
On the flip side, high-quality sleep for the recommended amount of time each night (there is no one-size-fits-all number here2, although seven to nine hours per night for adults seems to be the sweet spot) can have positive effects on our immune systems3.
The takeaway
The Birch Natural is a competitively-priced hybrid mattress with a medium-firm feel that should work for all types of sleeping positions. Some pros include that it's made from organic materials that are sustainably sourced, offers good edge support and pressure relief, and is an ideal pick for hot sleepers as it has top-tier temperature regulation. However, those who may not be big on firm beds or need more motion isolation may want to look at some other brand reviews we've done for choices that check these boxes.
Meet The Experts
Brittany Natale
has a degree in advertising and marketing communications from the Fashion Institute of Technology. Her work has appeared in SELF, Popsugar, i-D, Teen Vogue, Domino, Martha Stewart, and Eat This.
Scott Nass, M.D., MPA, FAAFP, AAHIVS
is a family physician and HIV specialist in California. He takes a holistic approach to healthcare, incorporating principles of functional medicine and using food as medicine when working with patients.