The Best Blood-Sugar-Balancing, Ketogenic Foods You Can Buy Right Now

Contributing Food Editor
By Liz Moody
Contributing Food Editor
Liz Moody is a food editor, recipe developer and green smoothie enthusiast. She received her creative writing and psychology degree from The University of California, Berkeley. Moody is the author of two cookbooks: Healthier Together and Glow Pops and the host of the Healthier Together podcast.
March 26, 2019
Even as
the ketogenic diet
has become increasingly popular, it's faced pushback from some people worried about the convenience factor: Short of cracking open an avocado during rush hour, how is a person supposed to keto on the go? Now, a new bout of brands has made the experience streamlined and simplified, with the release of packaged products that adhere to 70-percent-plus fat profile necessary to shift the body into a state of ketosis. Whether you're actually keto or just looking for some new clean ingredient-filled, blood-sugar-balancing staples, these are our keto products on shelves today.
Super Coffee Creamy Black
Super Coffee is exactly what it sounds like—coffee made even, well, more super. These grab-and-go beverages contain a base of organic Colombian coffee, which is taken to the next level by the inclusion of MCT oil and lactose-free whey protein concentrate. The result contains the right nutrient profile to aid in achieving ketosis and also a good mix of healthy fat and protein to keep you satiated for hours and avoid the sometimes uncomfortable buzz of caffeine on its own. The brand makes four flavors: Creamy Black, Vanilla Bean, Smooth Mocha, and Maple Hazelnut. All are delicious (and sugar-free; the flavored varieties are sweetened with a blend of stevia and monk fruit), but the Creamy Black is a modern classic, perfectly poised to become an everyday staple. Creamy Black, Super Coffee ($39.99 for 12 12-ounce bottles)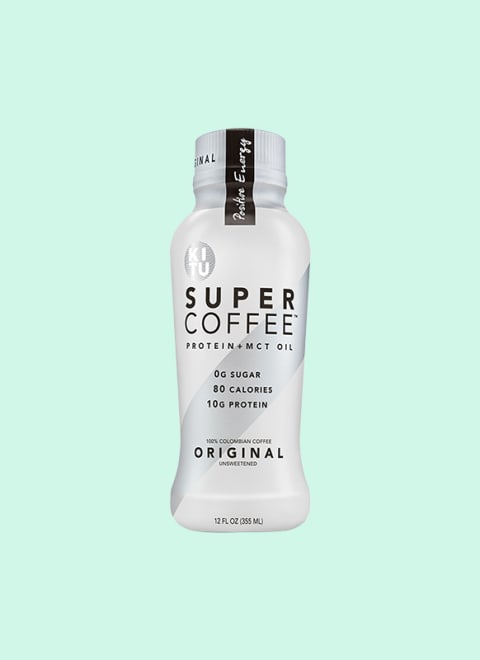 mbg creative + custom
Saigon Cinnamon Chocolate Dang Bar
Dang Foods, which is known for their Asian snacks (the rice crackers are heaven), just released their first entry into the bar category—a keto-certified, plant-based bar. Made from almond butter, cocoa butter, coconut, pea protein, sunflower seeds, and chia seeds, the gluten-free bars contains a keto-friendly ratio of 70 percent calories from fat, 20 percent from protein, with only 10 percent from net carbs. There are six vaguely exotic flavors, including a Toasted Coconut and Lemon Matcha, but our favorite is the Saigon Cinnamon Chocolate, which is gently spicy and just-sweet-enough to satisfy any dessert craving. Saigon Cinnamon Chocolate Dang Bar, Dang Foods ($2.49 a bar)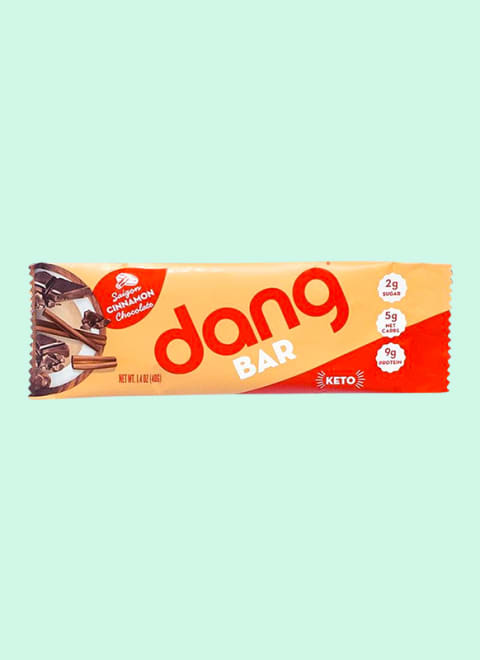 mbg creative + custom
mbg creative + custom
Garden of Life Chocolate Keto Meal Balanced Shake
Garden of Life's new keto powdered supplements line contains innovative products designed to help support healthy ketosis. We love the grass-fed butter powder (what?) but the Keto Meal powdered shake wins bonus points for convenience, with what is, essentially, a meal in a glass (plus, it contains the grass-fed butter powder, so you're not actually missing out). With 70 percent fat, 23 percent protein, and 7 percent carbs, plus 1.5 billion CFUs of probiotics per serving, this shake is perfect for having on its own mixed with water or nut milk (it dissolves shockingly well) or adding to a keto-friendly smoothie. Both the chocolate and vanilla flavors are good, but the chocolate has a rich, dessert-like flavor that's unmissable. Chocolate Keto Meal Balanced Shake, Garden of Life ($49.99 for 14 servings)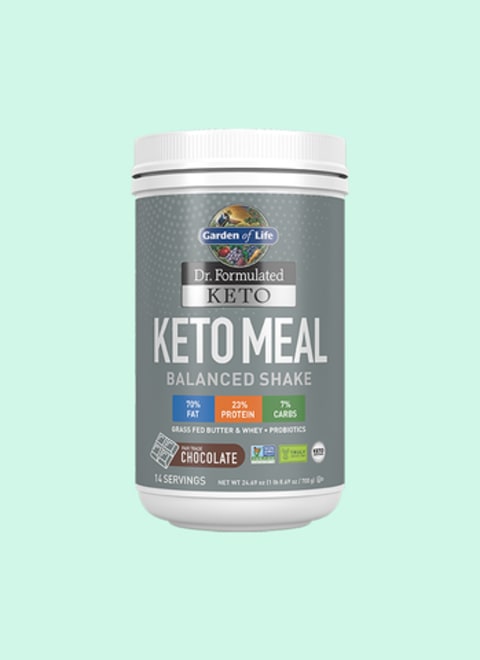 mbg creative + custom
Kettle & Fire Broccoli Cheddar Keto Soup
Kettle & Fire already sells a popular line of shelf-stable bone broths—so turning them into the base for a keto-friendly soups seems like a natural next step. The brand launched the four-flavor line with a popular Kickstarter campaign, and after that, consumers will be able to purchase the line on kettelandfire.com or in grocery stores nationwide. The soups check all the boxes: organic, gluten-free, soy-free, non-GMO, and shelf-stable. They're also boldly spiced, with a Butter Curry, Broccoli Cheddar, Mushroom Bisque, and Spicy Cauliflower blend. All are delicious, but the Broccoli Cheddar feels deliciously like the comforting, decidedly non-keto cheesy soups that are a staple comfort food, making their health qualities even more appreciable. Broccoli Cheddar Keto Soup, Kettle & Fire (6 16.2-ounce soups for $48)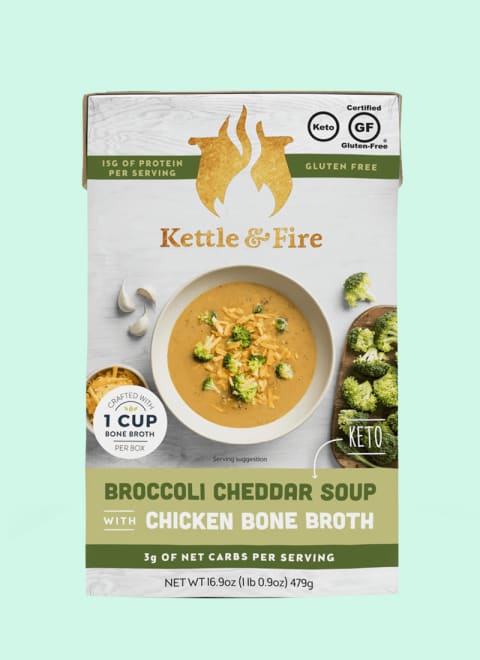 mbg creative
Know Brainer Ketogenic Coconut Milk & Collagen Creamer
Know Brainer's entire line is centered around keto-friendly products, and their newest offering might just be the quickest way to keto-fy your morning coffee on the market. The liquid creamer comes in a dairy and coconut-milk variety and is spiked with collagen for an extra dose of protein and gut-healing benefits. It also contains MCT oil to help move the body into ketosis and add a dose of non-jittery energy. Both varieties also contain absolutely no added sugar. Best of all? The creamer blends perfectly with hot beverages, without leaving the dreaded curdling chunks. Ketogenic Coconut Milk & Collagen Creamer, Know Brainer (available in Sprouts and online in April for $6.99 for 16 ounces)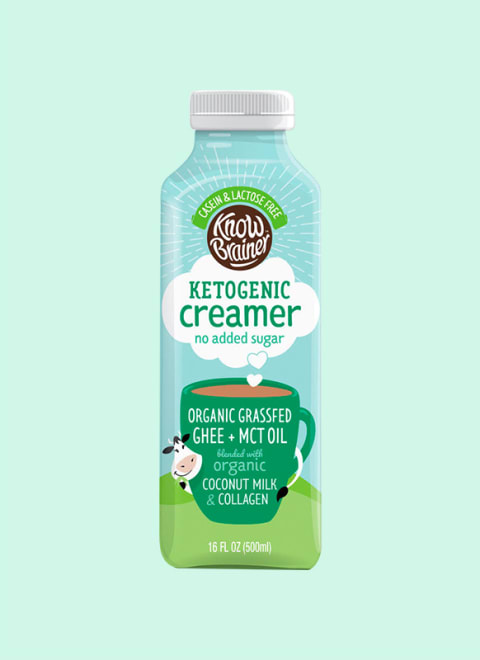 mbg creative + custom
And do you want to turn your passion for wellbeing into a fulfilling career? Become a Certified Health Coach! Learn more here.