Want Plump, Hydrated Skin This Winter? Stock Up On These 9 Houseplants
Contributing Health & Nutrition Editor
By Stephanie Eckelkamp
Contributing Health & Nutrition Editor
Stephanie Eckelkamp is a writer and editor who has been working for leading health publications for the past 10 years. She received her B.S. in journalism from Syracuse University with a minor in nutrition.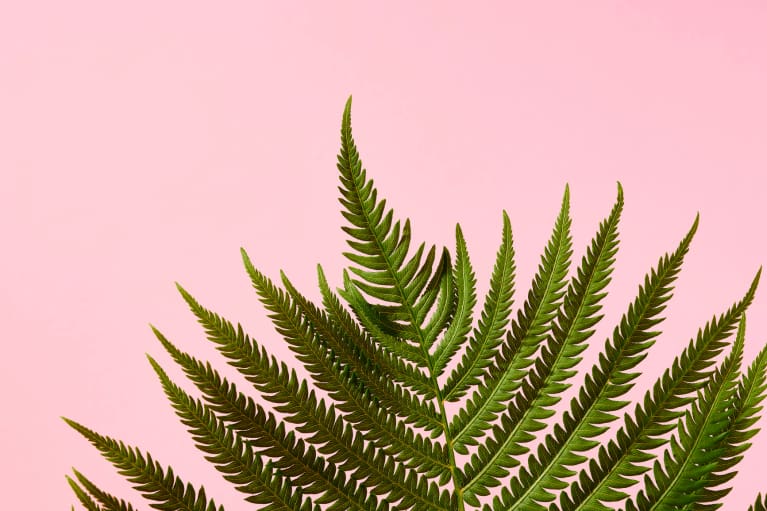 You don't have to scroll through Instagram's #JungalowStyle hashtag very long to realize that a few well-placed houseplants can transform a room from fine and functional to a transcendental green oasis. But beyond their aesthetic appeal, houseplants are a legitimate boon to our overall health, with research showing that simply being around them can decrease our pain perception and boost mood.
But the real clincher that's going to make you want to hit up a greenhouse STAT? Houseplants—not some fancy, overpriced serum—may be one of the best natural moisturizers money can buy. One recent study suggests that plants with higher transpiration rates (the rate at which they lose water through their leaves) may add enough moisture to the air to combat dry winter skin. Think of them as nature's humidifiers. A peace lily, for instance, can transpire a small teacup's worth of water in a day. So, even adding a few plant babies to your collection could make a meaningful difference.
Even cooler? The study found that plants with higher transpiration rates are often the best at purifying and removing toxins from indoor air. Additional studies reveal that plants are particularly great at reducing indoor air levels of formaldehyde and other volatile organic compounds (VOCs)—toxic compounds found in common household items (mattresses, paints, candles, etc.) that can promote oxidative stress and accelerate the aging process.
Plant enthusiasts aren't surprised by the notion that more plants equals better skin and overall health. "I get compliments on my good skin a lot, and to be honest, I have a very simple skin care routine that doesn't require 15 steps or expensive products," says Bryana Sortino, COO of Brooklyn-based plant subscription service Horti and proud parent to 100-plus plants. "And taking care of all these babies is definitely adding to my overall sense of nurture and calm."
So, what plants should you buy to boost the hydration and overall health of your skin? With the help of Sortino and Horti's CEO, Puneet Sabharwal, we've rounded up some of the most visually appealing, high-transpiration picks: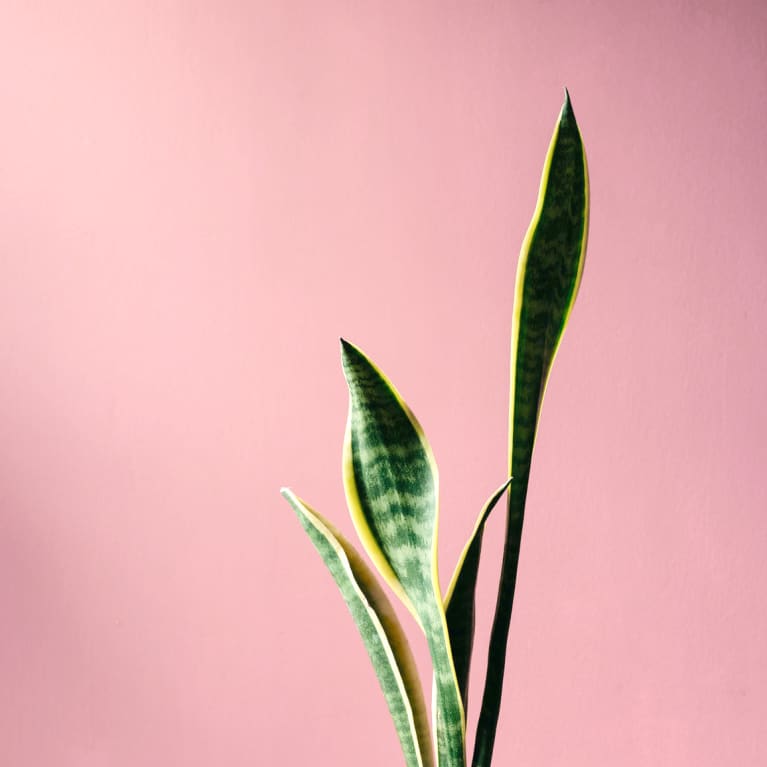 "Snake is actually an all-around winner as it does well in low light plus it's one of the few plants that releases oxygen in the night, so it's ideal for your bedroom," says Sortino. "I have one that's about 5 feet tall now!"
Snake plants are also unbelievably hardy (meaning: hard to kill!) and remove toxins like benzene, formaldehyde, trichloroethylene, xylene, and toluene from the air.
Vining Plants (Satin Pothos, Philodendron Brasil, English Ivy)
Research shows that ivy is one of the absolute best picks for increasing the relative humidity of a room. Satin Pothos and Philodendron Brasil are also great high-transpiration plants if you're into the vine-covered bookshelf look, says Sortino.
Satin Pothos thrives in moderate to low indirect sunlight, and it's actually been named "the cubicle plant" for its ability to grow in less-than-ideal environments, Philodendron Brasil thrives in moderate to bright sunlight, and English ivy prefers things to be bright.
Areca Palms + Bamboo Palms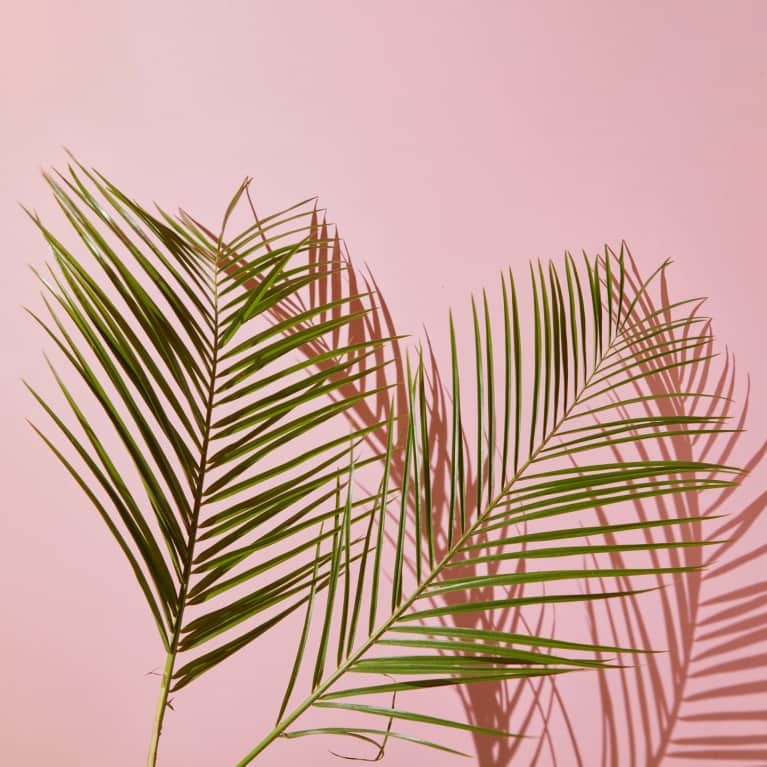 Palms tend to enjoy bright indoor areas, so they can be a bit tricky to maintain in apartments, but don't let that deter you from growing these gorgeous plants if you have some good windows. "I have a big areca palm in my living room, which is adding a lot of moisture to the otherwise dry heated air," says Sabharwal. "I also love bamboo palm, and since both areca and bamboo grow really fast, they are some of the varieties with the highest transpiration rates."
Along with English ivy, the peace lily is exceptionally good at boosting the moisture content of indoor air. Know for its signature dark-green leaves and white leaf bracts, this powerful plant has been shown to remove benzene, formaldehyde, trichloroethylene, xylene, toluene, and ammonia from the air. Peace lilies thrive in moderate to low indirect sunlight.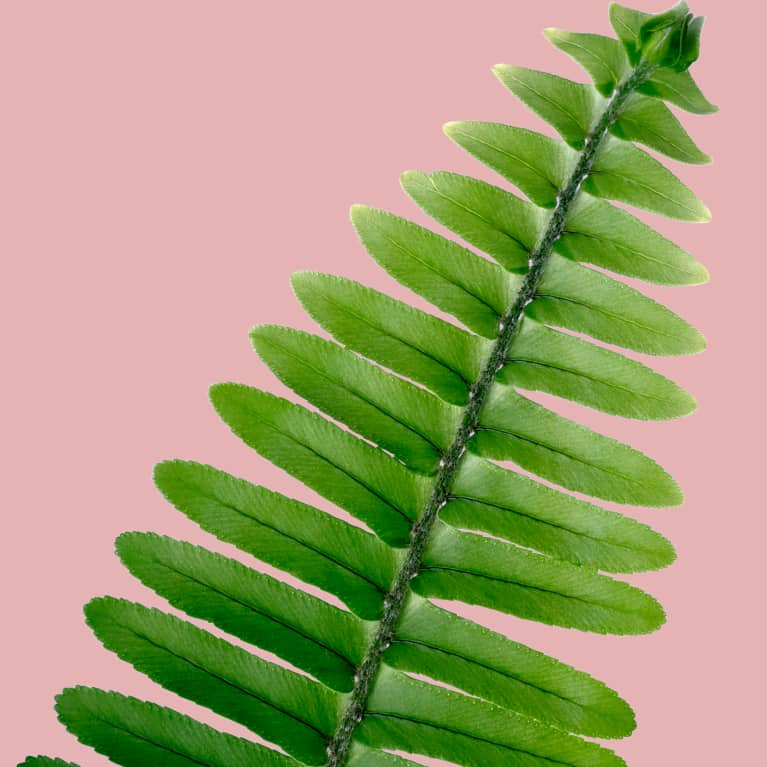 The Boston fern is ideal for hanging in a basket or in a planter on top of a shelf. It's been shown to remove the same indoor air pollutants as the spider plant and thrives in moderate, indirect sunlight and relatively high humidity (think: your bathroom).
Not only do spider plants release a decent amount of moisture, but they've been specifically shown to remove dangerous toxins like formaldehyde, xylene, and toluene from the air. Spider plants thrive in moderate, indirect sunlight and somewhat cooler temperatures. They're also great for propagating, so you can spread the love to every room in your house!
Before you get hung up on buying "just the right plants," however, you should know that the quantity of plants may be just as effective. "Grouping a few plants together—or as I like to call it, a plant cuddle puddle—is also a great way to increase the humidity in the air," says Sabharwal.