The Best At-Home Cholesterol Tests Of 2023 To Monitor Your Health From Home

Registered Nurse (RN)
By Amanda Lundberg, RN
Registered Nurse (RN)
Amanda is a registered nurse with over a decade of experience in clinical nursing and a member of the Association of Healthcare Journalists.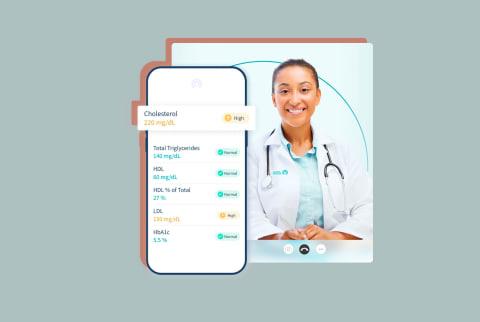 February 16, 2023
Our editors have independently chosen the products listed on this page. If you purchase something mentioned in this article, we may
earn a small commission
.
You likely know having high cholesterol is not ideal—but have you stopped to wonder why? To bust the myth: Cholesterol in itself is not bad; it's actually very good for your body and is necessary for healthy digestion, hormone production, and absorption of vitamin D. That said, too much cholesterol can absolutely become problematic. The best at-home cholesterol tests provide accurate results about your cholesterol levels without a visit to the doctor or a lab.
Spencer Kroll, a nationally recognized cholesterol and lipid disease expert, recommends healthy adults check their cholesterol every three to five years. "However, patients who have heart disease, diabetes, or a family history of high cholesterol should have their cholesterol checked, including a lipid profile, once a year," he adds.
To test your cholesterol, a doctor will run what is known as a lipid profile, which is exactly what you'll perform with an at-home test. These tests give you a better understanding of the types of cholesterol in your blood: low-density lipoprotein (LDL), high-density lipoprotein (HDL), and triglycerides. Continue reading to learn more about cholesterol and our picks for the best at-home cholesterol tests.
The best at-home cholesterol tests of 2023:
The best at-home cholesterol tests of 2023:
Show More
What is cholesterol?
Cholesterol is a type of fatty substance, known as a lipid. It travels through your blood to help perform various jobs in your body. A lipid is a kind of substance that does not dissolve in water―this means it doesn't break down and won't be absorbed into your bloodstream. Instead, it will travel through your bloodstream to get to different parts of your body that need it.
There are two types of cholesterol1: blood cholesterol and dietary cholesterol. Blood cholesterol is naturally produced by your liver and is essential for maintaining good health. It aids in digesting fatty foods and making hormones to help your body function. Your body can produce all the cholesterol it needs on its own. Dietary cholesterol, on the other hand, is found in the food and drinks we consume, such as meat, seafood, and dairy products. Typically, when someone has high cholesterol, the excess is from the increase in cholesterol levels from their diet.
Can you measure your cholesterol at home?
With advancements in technology and at-home testing, there are now ways to learn more about your cholesterol levels from home. These tests require a blood sample by pricking your finger and either using on-the-spot test strips or mailing your blood sample to a lab.
Some at-home tests come with color charts for you to match your test strip and determine how much cholesterol is in your blood. Others include an electronic meter, which works similarly to a blood glucose meter. For these, you'll insert the test strip into the meter and it will automatically measure the cholesterol in your blood.
Alternatively, many top brands offer laboratory-based at-home cholesterol tests, which include a mail-in blood sample kit with instructions. Result times vary depending on the company and lab your sample is sent to—some are ready within two to five days, while others take a week or more.
At-home cholesterol tests make it easier than ever to monitor your cholesterol as recommended (every three to five years). If you have existing health concerns such as diabetes, heart disease, or a family history of high cholesterol, you may want to check your cholesterol more often. Your doctor can perform comprehensive checks and provide you with a more personalized approach.
Signs of high cholesterol.
Having high cholesterol (total cholesterol) above 200 mg/dL is known as hyperlipidemia and can lead to serious health problems. Most unhealthy cholesterol comes from what we eat and drink. Kroll says, "LDL, or 'bad cholesterol' can be lowered with soy protein, oat bran, garlic, and plant sterol extracts."
In addition to your dietary cholesterol, there are other factors to keep in mind. Family history, age, and physical activity can all influence your cholesterol levels. Born females tend to have lower total cholesterol levels—and after menopause, LDL levels can increase, resulting in higher total cholesterol.
Unfortunately, there are no glaring symptoms of having high cholesterol. That being said, there are a few signs that may be indicators to look deeper into your cholesterol levels:
Growths or lesions on the skin. If you notice any yellowing of the skin and small bumps across your body, this may be xanthomas. These are lipid deposits that appear near the surface of your skin.
Obesity or diabetes. Those who are obese or diabetic have a higher risk of high cholesterol and should be tested regularly.
Men who experience impotence. Too much blood cholesterol can affect arteries and result in erectile dysfunction.
The best way to know if you have high cholesterol is to have your blood tested. This is why it's important to keep up with your routine checkups. If you want to check your cholesterol between trips to the doctor, these at-home cholesterol tests can help.
Who should use an at-home cholesterol test?
At-home cholesterol tests are a great option for anyone who wants to check their cholesterol levels on their own time. These tests and kits are often available at your local pharmacy or online and can range in cost from around $50 to upward of $100 or more, depending on the brand. Some are more comprehensive than others, so consider what markers you want to measure.
Frequent testing may be necessary for those whose initial results were abnormal or have preexisting concerns including:
Obesity
Diabetes
A family history of high cholesterol or heart attacks
Lack of physical activity
Smoking regularly
An unhealthy diet
Many at-home cholesterol tests are made with convenience in mind, prioritizing ease of use. Kits come with all the necessary tools and equipment, such as a lancet to prick your finger, and test strips. If your test has an electronic meter, you'll insert the test strip into the device to read your results. Otherwise, many kits contain color guides to determine your cholesterol level. It's important to follow your test instructions carefully to ensure the most accurate results.
A health care provider can give you more information regarding your test and results. Vanessa Rissetto, CEO of Culina Health and a registered dietitian, notes that there is room for error with at-home tests. "Many at-home companies will send a phlebotomist (a health care professional responsible for drawing blood) to your home in order to ensure accuracy," she says. If you prefer assistance with administering the test for the most accuracy, an at-home cholesterol test probably isn't the right choice for you.
When performed correctly, at-home tests are just as accurate as the traditional lab tests used by your health care provider. However, if you require more personal attention or further treatment, schedule a visit with your doctor.
Natural ways to lower your cholesterol.
Cholesterol levels can change over time. As you age, oftentimes your physical activity levels change, as does your diet. These factors directly impact your cholesterol, especially if you aren't practicing heart-healthy habits. The first (and most important) area to look at when trying to naturally lower your cholesterol is your diet. Trent Orfanos, director of integrative and functional cardiology at Case Integrative Health, recommends a Mediterranean diet with an "emphasis on fruits, vegetables, and healthy fats like olive oil, nuts, and seeds," to help lower your cholesterol levels. "Additionally, try to avoid overly processed foods, and excessive saturated and all trans fats," he says.
Dietary cholesterol can be managed with supplements and by taking the appropriate steps to change your diet, including the below:
Eat healthy fats―nuts, olive oil, and avocado
Limit saturated fats―beef, pork, palm oil, and full-fat dairy products (such as butter and cheese)
Eliminate trans fats from prepackaged foods
Increase your fiber intake―whole grains, beans, and vegetables
Consider a plant-based diet
To keep your cholesterol levels healthy, Orfanos suggests daily movement, such as a walk to the park or an easy yoga session. Avoid habits such as smoking, heavy alcoholic drinking, and high-stress environments. Too much coffee can also affect your cholesterol. In a 2018 study, researchers found that young adults who consumed an average of four espressos a day showed a significant increase in total cholesterol and LDL cholesterol.
How we picked:
We've taken into account the accuracy, design, and general reviews when determining quality tests. At-home cholesterol testing should be convenient and user-friendly. Our selection of products comes with all necessary tools, straightforward instructions, and is simple to use.
Clinical Laboratories Improvement Amendments (CLIA) regulate laboratory testing for patient health and safety. We prioritized brands that partner with CLIA-certified labs, to ensure safe practices throughout the process.
We considered the accuracy of each test. Most at-home cholesterol tests are fairly accurate, with a 95% accuracy rate compared to the lipid panel performed by a health care provider.
These tests range in cost, depending on what each one measures, the testing method, and other factors. We made an effort to include tests at different prices, without sacrificing accuracy or quality.
Our picks for the best at-home cholesterol tests of 2023:
Advertisement
This ad is displayed using third party content and we do not control its accessibility features.
Advertisement
This ad is displayed using third party content and we do not control its accessibility features.
FAQ:
Are home cholesterol tests reliable?

Yes, at-home cholesterol tests are reliable and present results on par with what you will find from traditional cholesterol tests conducted by your health care provider. Accuracy also depends on how closely you follow test and kit instructions.
How can I lower my cholesterol in 30 days?

Consider adjusting your physical activity and diet if you are interested in lowering your cholesterol. Daily physical activity paired with eating a balanced diet can result in lower cholesterol. Speak to your doctor before beginning any exercise program or specialized diet.
What should I avoid before a cholesterol test?

Not all at-home cholesterol tests or in-office lipid tests require you to fast before testing. Read each test's instructions carefully and consult your physician prior to administering any cholesterol test.
Do cholesterol levels fluctuate daily?

Cholesterol levels typically do not fluctuate on a day-to-day basis. If there is a change in your physical activity and diet, you may start to see changes in your cholesterol levels within a few weeks to a month.
The takeaway.
Maintaining healthy cholesterol levels can help prevent serious health problems. The best at-home cholesterol tests provide accurate results to help monitor your overall health. Just remember to keep up with visits to your doctor, too. Feel like checking out some other at-home tests? Consider these best at-home vitamin D tests, at-home microbiome tests, or our full review of LetsGetChecked home-testing kits.
Meet The Experts
Amanda is a registered nurse with over a decade of experience in clinical nursing and a member of the Association of Healthcare Journalists.
Scott Nass, M.D., MPA, FAAFP, AAHIVS
is a family physician and HIV specialist in California. He takes a holistic approach to healthcare, incorporating principles of functional medicine and using food as medicine when working with patients.