Beauty Influencer & Writer Nikita Upadhyay Shares Her Favorite Products As Of Late
mbg Beauty Director
By Alexandra Engler
mbg Beauty Director
Alexandra Engler is the beauty director at mindbodygreen and host of the beauty podcast Clean Beauty School. Previously, she's held beauty roles at Harper's Bazaar, Marie Claire, SELF, and Cosmopolitan; her byline has appeared in Esquire, Sports Illustrated, and Allure.com.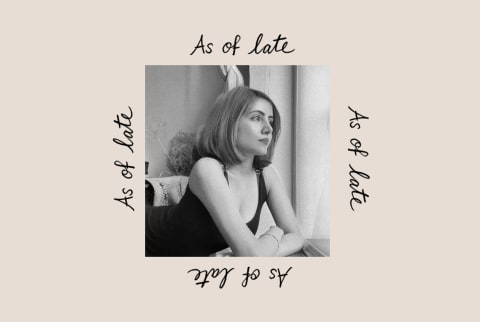 Image by mbg Creative / courtesy of source
May 30, 2023
We carefully vet all products and services featured on mindbodygreen using our
commerce guidelines.
Our selections are never influenced by the commissions earned from our links.
Beauty routines are never truly stagnant—practices evolve and change like we do. In As of Late, we chat with influential folks about their current products and rituals. Here, we get a snapshot of what they're doing right now: the sacrosanct formulas they use until the last drop, the fresh launches they've got their eyes on, and of course, the why behind it all.
I first connected with beauty expert and writer Nikita Upadhyay over my podcast Clean Beauty School. I found her takes on beauty meaningful and insightful—plus we loved so many of the same brands!
Since then, we've stayed in touch and I even had the pleasure of having lunch with her upon her recent move to New York City.
I thought she'd be perfect for As of Late for several reasons. First and foremost, she's knowledgeable about all things beauty. She also has excellent taste in products—all the things she's recommended to me in our various conversations I know to be top-notch. She also has a knack for talking about beauty in a refreshingly honest way (I'm simply tickled by her answer to "The Secret").
But I was also eager to learn about how her beauty routine evolved once moving to New York from her home in India. Moving across the world—and to a city as intimidating as New York—is no small feat. It's a journey that will certainly change you, and probably your beauty routine, too.
Here, what she's using lately.
Tried-and-true: A potent retinol
"My skin loves Sunday Riley A+ High-Dose Retinol Serum. It's stronger and more effective than a lot of other retinol out there. I've tried a lot of retinols, and there's always a little bit of pilling of the skin with other products. But not with this. My skin eats it up without the reaction.
"Out of all the ingredients that we love—vitamin C, AHAs, all of that—retinol is the ingredient that has the most amount of studies in terms of effectiveness. Plus, it works for acne but also anti-aging. All the other ingredients, I keep switching it up, but retinol is the one I keep consistent because there's so much proof of its effectiveness."
Sunday Riley
Sunday Riley A+ High-Dose Retinol Serum
$85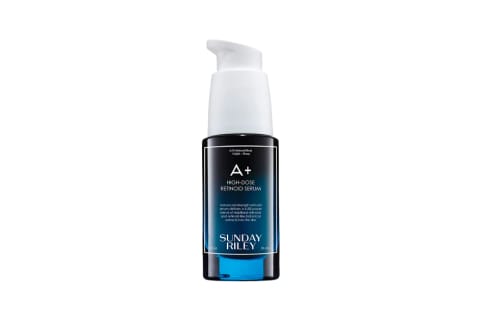 The surprise hit: Makeup finds
"I was sent some things as part of a media kit and fell in love with Wander Beauty's Nude Illusion Liquid Foundation. I mix two shades, and it looks just like my skin. One of the founders is Indian, so I think the shades just match me really well. It's also medium coverage, so I get some coverage without it feeling like too much. It's still breathable and feels natural on my skin.
"I've done one session of lip blushing. There's a woman named Savannah Marie, and her studio is called Velvet NYC. She uses organic pigments to pigment the lips, and it looks really good.
"When you are a person of color, sometimes your lips tend to have a brown line around it. If you're going to get lip blush done on that, you have to do it exactly like a corrector and concealer. That's exactly how she does it. She goes over with an orange coat, then proceeds with whatever color you want. I thought it was going to be really painful, but I couldn't really tell, and it was over in no time."
Wander Beauty
Wander Beauty Nude Illusion Liquid Foundation
$42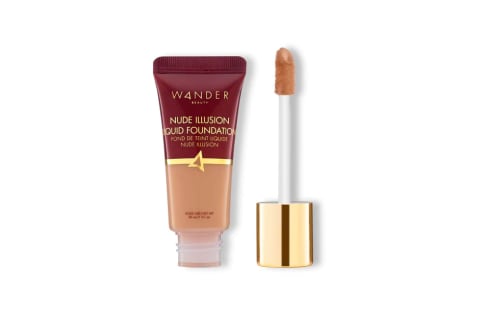 Caliray
caliray Surfproof Hydrating Setting Spray with Niacinamide
$ 35
The secret: My fragrance
"Fragrance is the only thing I'm secretive about in terms of beauty. I'm secretive about my fragrance, and my playlist.
"The way perfumes are perceived—they're synonymous with memories, with dating, with intimacy. It's just the whole aura of you. And perfume translates differently to different people. I only pick out fragrances for special people. Honestly, you're probably one of my best friends if I discuss fragrance with you.
"It's like how a playlist can reveal a lot about who you are. I think fragrance has the same thing because it speaks in a way that's not tangible."
The thing my mom taught me: Hair oiling
"My mom taught me to make a lot of hair oils. I still apply more hair oils than the average American for sure. My book has over 40 oil recipes, and 20 of them are hair oils that can be made at home.
"There's a technique that we do in India called Champi, and I think it's something that every Indian household does. It's a ritual. It's so relaxing and beats the stress out of you."
The carry-on: A brush-on SPF
"I love this tinted brush-on SPF powder. You just apply it like makeup—brush it on all over your face. The powder, which has SPF in it, comes up from within the tube. This way, you can keep up your sun protection throughout the day."
The splurge: Sophisticated cut & color
"I go to Courtney Gratzer (colorist) and Vennela Chamarti (hairdresser) for hair at Blandi On 5th. The biggest reason I go there is that they maintain a sheet of my hair history and remember everything they've done to my hair over the years and have managed to give my hair a refreshing touch each time. It's just nice to be around artists who know exactly what you need help with in terms of styling.
"Funny story, the last time I got my hair done from there, I stepped out and bumped into Diddy at the Bergdorf's entrance."
Alexandra Engler
mbg Beauty Director
Alexandra Engler is the beauty director at mindbodygreen and host of the beauty podcast Clean Beauty School. Previously, she's held beauty roles at Harper's Bazaar, Marie Claire, SELF, and Cosmopolitan; her byline has appeared in Esquire, Sports Illustrated, and Allure.com. In her current role, she covers all the latest trends in the clean and natural beauty space, as well as lifestyle topics, such as travel. She received her journalism degree from Marquette University, graduating first in the department. She lives in Brooklyn, New York.