This Day-To-Night Serum Duo Amps Your Skin's Natural Glow

mbg Beauty Director
By Alexandra Engler
mbg Beauty Director
Alexandra Engler is the Beauty Director. Previously she worked at Harper's Bazaar, Marie Claire, SELF, and Cosmopolitan; her byline has appeared in Esquire, Sports Illustrated, and Allure.com.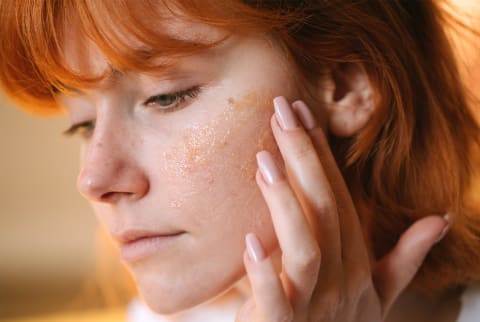 Image by Ani Dimi / Stocksy
Our editors have independently chosen the products listed on this page. If you purchase something mentioned in this article, we may
earn a small commission
.
March 22, 2022
I've been thinking about my circadian rhythm and my sleep schedule a lot lately. Between the current fascination with chronotypes and my own struggles to become a morning person, when I rest and to what quality have been top of mind. But I also think about sleep as a beauty editor. When I talk to experts, one of the topics that comes up the most is how important sleep hygiene is for your skin's health. When we don't get as much rest as we should, our stress hormones spike—cortisol is notorious for breaking down collagen, elastin, and disrupting the skin barrier. Not to mention the REM cycle is the skin's most important recovery time: It's when it rebuilds and rejuvenates the precious skin cells. Without it, your skin doesn't have time to reach its full potential.
So, yes, sleep is important for skin for all those critical internal reasons—but there are also topical matters to consider. There's a reason skin care experts often have separate morning and night routines—because not only does your skin have different needs depending on the time of day, but it also acts differently.
Advertisement
This ad is displayed using third party content and we do not control its accessibility features.
That's what intrigued me about Amy Shah, M.D.'s newest skin care launch AMY.M.D.'s AM/PM Super Glow Serums, two formulas designed to work with your skin during the two parts of the day. It's part of her "Circadian Skincare System," and the ingredients work synergistically to nurture, rejuvenate, and help protect your skin at all hours of the day.
Once I got my hands on the set, I knew I had to give it a go.
How these two formulas work together, day and night. 
After a long day, I took a shower, washed my face, and was ready to crash—but not before slathering on my nightly tonics and creams. And that's when I applied a thin layer of AMY.M.D.'S PM Super Glow Serum. The serum itself is quite dewy and silky, and the soft subtle smell of lavender put me at ease. I suspect the cushiony texture came from the hyaluronic acid (HA) and vitamin B5 (also called panthenol), both superstar hydrators in their own right. Hyaluronic acid is a natural humectant that attracts and holds water in the skin, helping hydration levels throughout the day as well as subtly plumping the skin in the process. Panthenol is another natural humectant that can help restore and strengthen the barrier.
But the star of the show is the retinol, in the form of retinyl palmitate. Retinol is known for its ability to increase the rate of cell turnover, reduce blemishes, fade dark spots, and increase collagen production. But if you're a skin care fanatic, you know that it's also very potent and can be irritating. That's why you can choose gentler versions of the ingredient, like this retinyl palmitate. While it's a less irritating form of retinol, I do know my skin well enough to pace out my use. I have very sensitive skin, and even though I love retinol's effects, I can't use it nightly. Instead, I used this every third night, which gave me the skin-smoothing benefits I was after while leaving my complexion irritation-free.
It's important to use this ingredient in the evening for a few reasons: First, your skin is more permeable at night, so the serum can be more effective. Second, it increases photosensitivity of the skin; therefore, you don't want to use it and then step out into the sunshine.
That's where the day serum comes in.
The day serum, which is infused with mica so it quite literally makes your skin glow, was my go-to on makeup-free days. AM Super Glow Serum goes on with a subtle sun-kissed golden hue and provides the skin with the most delicious wash of shine. But as with all formulas, it all comes down to the actives: The HA and panthenol base is topped with a blend of vitamin C, rose, and turmeric for antioxidants galore. These can ease inflammation, encourage collagen production, and improve overall tone. Then the vitamin D3: Medical studies support good absorption through the skin, and it reduces free radical damage that causes aging.
The takeaway.
A good night's rest is the cornerstone of any wellness routine—and skin care routine. Not only is sleep critical for skin function, but how you use skin care during the morning and evening can optimize the effectiveness. That's the intention behind this morning and evening duo, which contain targeted ingredients that work with your sleep schedule. For more beauty sleep tips, check out our guide.
Advertisement
This ad is displayed using third party content and we do not control its accessibility features.

Alexandra Engler
mbg Beauty Director
Alexandra Engler is the Beauty Director at mindbodygreen. She received her journalism degree from Marquette University, graduating first in the department. She has worked at many top publications and brands including Harper's Bazaar, Marie Claire, SELF, and Cosmopolitan; her byline has appeared in Esquire, Sports Illustrated, and Allure.com. In her current role, she covers all the latest trends and updates in the clean and natural beauty space, as well as travel, financial wellness, and parenting. She has reported on the intricacies of product formulations, the diversification of the beauty industry, and and in-depth look on how to treat acne from the inside, out (after a decade-long struggle with the skin condition herself). She lives in Brooklyn, New York.