The Beauty By Earth Self-Tanner Never Streaks & Gives Me The Ultimate Sun-Kissed Glow
Our editors have independently chosen the products listed on this page. If you purchase something mentioned in this article, we may
earn a small commission
.
As an avid self-tanner, I've experienced the not-so-pretty results that can come from using the skin-staining product. Think orange hands, a patchy finish, or my personal nightmare, streaks.
Streaks happen when your self-tanner is applied unevenly, which is all too easy to do (even for self-proclaimed pros like me). However, I finally found a product I can trust to use before a big event that turns out perfect every time: the Beauty By Earth Self Tanner Lotion.
The self-tanning lotion I swear by.
My love of a sun-kissed glow has led me on a hunt for the best self-tanners, and I've easily tested more than a dozen formulas. The biggest issue I run into time and time again is a streaky tan—a huge no-go before a big event.
Of course, you can fix the streaks by applying product to the missed areas, but you likely don't have six to eight hours to spare for the formula to dry. That's why I've completely fallen for the Self Tanner Lotion from Beauty By Earth.
The lightweight formula is slightly tinted, so I can easily track where I've already applied it. This helps ensure I get an even, streak-free tan every single time, especially when prepping for an important event.
Plus, the self-tanner boasts clean and natural ingredients, unlike some tanners, which contain lilial and Benzyl salicylate. Instead, it contains beet-derived DHA to give that subtle golden glow, as well as moisturizing additions like aloe vera, shea butter, and green tea.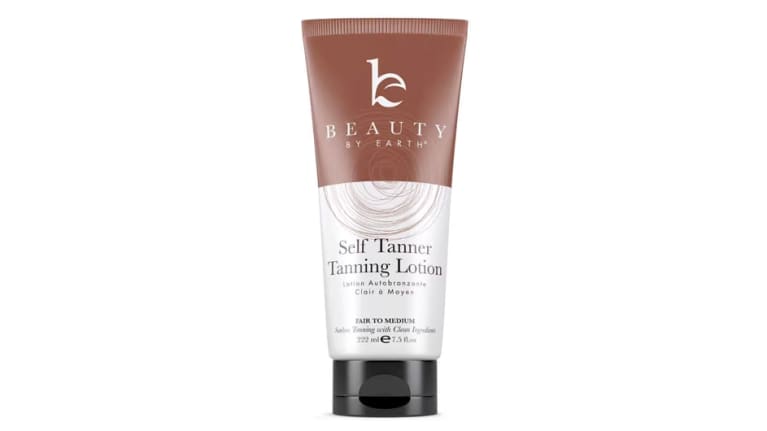 Beauty by Earth
Beauty by Earth Self Tanner Lotion
$NaN
How to apply self-tanner.
The application process is the same as for any other self-tanner. Exfoliate, shave (if you want to), and dry your body completely beforehand. Then use a tanning mitt to apply the lotion, which prevents orange-tinted palms. As the formula starts to try, look out for missed patches, which will feel dry rather than moisturized from the lack of lotion.
The tanner takes six to eight hours to set, so I prefer to apply it before bed. Beauty by Earth's formula doesn't transfer color to clothing or sheets, so you're safe to settle into your linens worry-free.
Pro Tip:
Apply regular body lotion to the hands, feet, knees, elbows, and ankles before applying your tanner. These areas have more crevices where excess tan can settle.
Not sure which shade to buy?
The tanner comes in two shades: fair to medium and medium to dark. Not sure which one is best for you? Here's a quick way to find out:
Fair to medium: If you tend to burn easily, freckle often, or have cool undertones, this one is best for you. It offers a lighter tan that will better complement your complexion. However, coverage is relatively light, so you'll need to switch to the medium to dark shade for a deeper tan.
Medium to dark: Meet the perfect pick if you have warmer undertones or tan easily. The final shade is a bit darker, so it's more noticeable on your skin if you're already naturally tan.
Not sure which undertone you are? Here's a quick quiz to find out. Of course, you can use whatever shade you prefer and experiment with the two to find your perfect fit. The formulas are designed to work on skin tones and complexions of all kinds.
At the end of the day, it's all about personal preference. Just ask the more than 12,000 shoppers who gave it a perfect rating.
Nobody wants to have a streaky tan, especially on the day of an important event. After trying out countless tanning lotions, the Beauty by Earth Self Tanner has to be the best for a streak-free, glowing finish—and it's currently $10 off on Amazon. (FYI, there are a few ways to extend the life of your tan that you'll want to know, so check those out here to make the most of your new product.)