The Inability To Balance On One Leg May Be An Indicator Of Longevity, Says New Study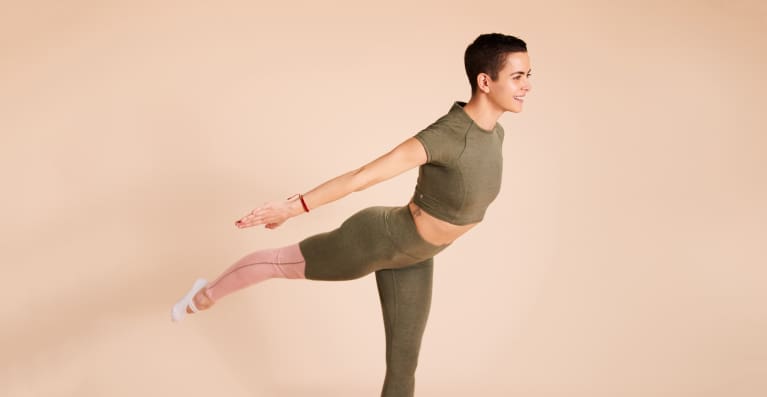 How long do you think you could stand on one leg for? Five seconds? Thirty seconds? As you get older it may not seem like having great single-leg balance would matter that much, but a new study from the British Journal of Sports Medicine says otherwise. According to the research, the ability to stand on one leg for 10 seconds or longer can actually be an indicator of your life span.
How balance and longevity connect.
According to the study, balance begins to significantly decrease as people approach middle-age, leaving them more susceptible to falling. However, it's not taking a tumble that can affect your longevity but rather what these incidents indicate about your overall health.
In the study of 1,702 participants (of which 68% were men), individuals between the ages of 51 and 75 were assessed throughout the years 2008 to 2020. During this time they were directed to engage in a 10-second one-legged stand test (10-s OLS test) and whether or not they were able to complete it was noted alongside data of their BMI, other comorbidities, age, and sex.
In the culmination of data across the years, 20.4% of participants were not able to complete the 10-second single-leg stand. With this data, 7.2% of participants died after the "median follow-up of 7 years," leading the authors to determine that those who had better balance also lived longer lives.
While not being able to stand on your leg for 10 seconds or longer does not guarantee a shorter life span, it can indicate your overall health and "there is potential benefit to including the 10-s OLS as part of routine physical examination in middle-aged and older adults," according to the study authors.
Although this study did include a number of factors such as age, sex, and BMI, it was a largely male study. Therefore, a broader, more diverse group of participants may offer a clearer picture of the correlation between balance and longevity. It's also important to note that this study is not saying that poor balance actually affects your life span in the long run.
When you go to the doctor they often check on a variety of health factors to determine your overall well-being. This may include your weight, blood pressure, etc., but the study authors suggest balance as a helpful criteria when evaluating overall health.
Along with practicing your balance (tree pose, anyone?), eating a nutrient-rich diet, supplementing with longevity-supporting bioactive botanicals, like those in mbg's ultimate multivitamin+, and spending time around loved ones, can all go the distance in supporting a long, healthy, and happy life.*