Close Banner
Advertisement
This ad is displayed using third party content and we do not control its accessibility features.
The Beauty & Wellness Routine Herbalist Rachelle Robinett Has Been Using As Of Late
Assistant Beauty & Health Editor
By Hannah Frye
Assistant Beauty & Health Editor
Hannah Frye is the Assistant Beauty Editor at mindbodygreen. She has a B.S. in journalism and a minor in women's, gender, and queer studies from California Polytechnic State University, San Luis Obispo. Hannah has written across lifestyle sections including health, wellness, sustainability, personal development, and more.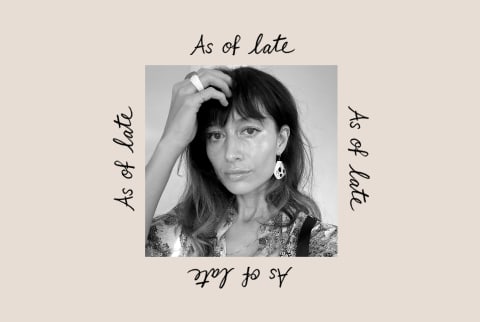 We carefully vet all products and services featured on mindbodygreen using our
commerce guidelines.
Our selections are never influenced by the commissions earned from our links.
Beauty routines are never truly stagnant—practices evolve and change like we do. In As of Late, we chat with influential folks about their current products and rituals. Here, we get a snapshot of what they're doing right now: the sacrosanct formulas they use until the last drop, the fresh launches they've got their eyes on, and of course, the why behind it all.
In her Instagram bio, Rachelle Robinett describes herself as a "botanical creative," and that title couldn't be more fitting. As a registered herbalist through the American Herbalist Guild, Robinett uses her wealth of knowledge of both historical and modern herbal techniques to enhance her wellness routine and share with her thousands of followers.
Robinett is also the founder of Pharmakon Supernatural, a modern brand focused on creating no-fuss herbal remedies. From premixed teas to pocket-size functional gummies, Pharmakon Supernatural makes consuming good-for-you herbs just a bit easier, without compromising on quality.
Robinett has a large and devoted following that looks to her for advice on all things herbs, and she communicates with her community through social media posts, virtual office hours filled with Q&A's and teachings, and she even sends out an educational newsletter called "Supernatural News," described as "Herbalism for modern lives."
Robinett is a master of step-by-step guides of all kinds—from tinctures for easing headaches, teas to encourage better sleep, herbs for stress relief, and even the best blends for glowing skin.
Apart from her expertise in the herbal realm, Robinett's skin is glowing beyond belief, and her bright fuchsia lipstick has everyone asking for the link. Luckily for all of us, Robinett shares her cult-favorite lip shade and a few of her best wellness practices below.
The tried-and-true: Nars Lipstick in Funny Face.
"There's a lipstick that I wear all the time that people are obsessed with. The one is Funny Face by Nars. I wear other Nars lips, but that's the one that everybody asks about. And that's how I was when I first discovered it.
"I was working in advertising and my co-worker at the time wore it, and I was like, 'Oh my god, what is that color?' and I bought it on my way home from work. Ever since then, it's been my color. That was probably almost 10 years ago."
The surprise hit: Co-washing. 
"When I stopped using traditional shampoo—that was huge for my hair. I have naturally very curly hair, and I will not wash it more than once a week for sure. If I get a blowout, it will last me even longer than that. Using traditional shampoo was terrible; it made my hair so dry and frizzy.
"I use Sachajuan Cream Shampoo now, and I use a really heavy-duty hair mask as a conditioner every time I wash my hair."
The secret: A simple, no-frills skin care routine. 
"The secret might be that I don't have a really complicated skin care routine. I love all of the things—gua sha is so cool, but I don't know how to do it, so I don't. Masks—love them but I never do them. Facials? Can't remember the last time I had one.
"I will wash my face before bed every night no matter what. I use a toner, and I really like the Dr. Weil for Origins mushroom toner—that's one part of my routine that has pretty much not changed over the years.
"I then use a serum, vitamin C or sometimes retinol, and always a heavy moisturizer or sleeping mask—and that's it. It's not crazy, but it's definitely thoughtful."
What I always keep on hand: Digestive herbal bitters and chews. 
"Digestive herbal bitters are a thing that has the potential to grow. I wish it would go where mushrooms and adaptogens have gone because it's so, so, so phenomenal for our gut health and digestion, which so many people struggle with. Obviously, that is directly linked to skin.
"They're great especially right before you have meals because they instigate natural digestion. They're so easy to use, and they sync up with this sober-curious, non-alcohol movement because they're such a great way to make nonalcoholic cocktails. I've been a pro-bitters cheerleader for a long time, and I'm going to stay there."
HRBLS
The pleasure: A healthy dose of sunshine. 
"I love the sun. That's a great indulgence. It is a little guilty because you're out in the sun, but nothing compares to a run in the sun, a day at the beach, or a bike ride in the sun.
"Going outside just feels like 'the point' to me. It's why we do the rest of this."
The seasonal staple: Dry brushing & body oil.
"I love herb-infused body oils. It can be essential oils or different formats. After dry brushing, that can be very grounding. I tend to get cold in the winter, and improving my circulation and then putting on a nice oil helps me feel a little cozy."
The travel staple: Calming herbal tinctures and chews. 
"Kava kava is an herb that's great for tension, anxiety, nervousness, and any time you need to relax. It helps relax your physical body but not be cognitively drunk. It's definitely one of my top three herbs for sure, and it's my favorite travel buddy."
What my dad taught me: The importance of tuning in to your surroundings. 
"My dad taught me how to pay attention in a way that has totally shaped my life. Paying attention to both what's happening inside the body, what's happening in my natural environment, what's happening in the world; that attention and that practice practically defines me, and it came directly from a teaching from him. Constantly just 'tune in, tune in, tune in.'
"When we're talking about the environment, it could be asking questions like, 'Is the sun out?' 'What are the trees doing?' or 'What do you hear?'
"For example, being in touch with the fact that the sun is going down can then inform what we're doing [and] how we're treating ourselves. Are our indoor environments matching the outdoors?
"We are natural creatures, so being in touch with that natural world is a great way to be more human, be healthier, be well, be more balanced. Basically, just more in touch with our being as creatures."
Hannah Frye
Assistant Beauty & Health Editor
Hannah Frye is the Assistant Beauty & Health Editor at mindbodygreen. She has a B.S. in journalism and a minor in women's, gender, and queer studies from California Polytechnic State University, San Luis Obispo. Hannah has written across lifestyle sections including skin care, women's health, mental health, sustainability, social media trends, and more. She previously interned for Almost 30, a top-rated health and wellness podcast. In her current role, Hannah reports on the latest beauty trends and innovations, women's health research, brain health news, and plenty more.