Uh, Canned Beans Might Not Be Vegan: Use This MD's Tip To Parse Your Staples

mbg Beauty & Wellness Editor
By Jamie Schneider
mbg Beauty & Wellness Editor
Jamie Schneider is the Beauty & Wellness Editor at mindbodygreen. She has a B.A. in Organizational Studies and English from the University of Michigan, and her work has appeared in Coveteur, The Chill Times, and Wyld Skincare.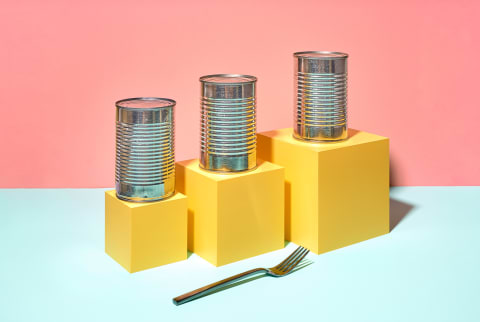 Image by Suzanne Clements / Stocksy
October 13, 2020
If you follow a vegan or vegetarian lifestyle, chances are beans make it to the dinner menu more than a few times each week. For good reason: They're stellar for longevity and full of plant-based protein and flavor (our co-CEO, Jason Wachob, has a thing for the refried variety—perfect for impromptu quesadilla nights).
So when we heard this little tip from board-certified family physician Cate Shanahan, M.D., we were floored. Dumbfounded. Betrayed by our bountiful beans.
Advertisement
This ad is displayed using third party content and we do not control its accessibility features.
"Check your labels," she says on the mindbodygreen podcast. "They could be in lard or traditional fat," which is decidedly, uh, not vegan.
Time to check your labels. 
OK, not all canned beans are floating in lard, but it's an incredibly easy thing to overlook. Especially for those beloved refried beans (sob), as these are typically cooked with onion and garlic, then cooked again in pork lard—hence, refried.
Even if you don't reach for refried beans, Shanahan says many prepared beans (read: canned) may also contain animal lard. "Think of it as filler," Shanahan notes. "It's nearly free, and it acts as a preservative and helps fill you up."
The solution? Shanahan recommends looking for cans with "fat-free" on the label. While it's still a bit tricky to navigate (it's a pretty loose term, so trace amounts of fat could still make its way into the can), it may be far healthier than the former. You can also search for "vegetarian" refried beans, which promises zero animal lard in the process. Although, they might use butter as an alternative, so if you're truly vegan, you might want to take a closer look at those cans as well—perhaps reach for options that use only olive or avocado oil to achieve a rich, fatty flavor.
The takeaway.
Beans are a staple in many plant-based pantries, but it's important to make sure the beans you're buying truly match up with your vegan values. In the case of some canned and refried beans, animal lard may make a sneaky presence. Not to fret: Just check up on your labels, as always, perhaps reading between the lines.
Want to turn your passion for wellbeing into a fulfilling career? Become a Certified Health Coach! Learn more here.
Advertisement
This ad is displayed using third party content and we do not control its accessibility features.