Soccer Superstar Alex Morgan Shares Her Nutrition Philosophy, Recovery Routine & How She Stays Grounded
mbg Health & Fitness Director
By Kristine Thomason
mbg Health & Fitness Director
Kristine Thomason is the health and fitness director at mindbodygreen.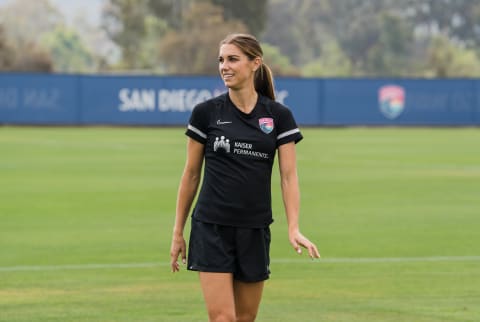 July 31, 2022
A month ago, I found myself sitting knee-to-knee with soccer superstar Alex Morgan. We'd just spent the last 30 minutes running through conditioning drills and exercises led by her coach—and I was quickly reminded exactly why my soccer career ended at age 6.
No, I wasn't sharing field time with Morgan because I was trying out for a spot on San Diego Wave FC (because I'm sure that's where your mind went). Instead, I had the chance to see her play on the Wave home field and experience a glimmer of how she trains. Plus, I got to sit down with the soccer icon to chat all things personalized nutrition, recovery, and staying mindful through even the highest-stress times.
Advertisement
This ad is displayed using third party content and we do not control its accessibility features.
As you might expect, as a pro athlete, fueling up optimally is important to Morgan—but I soon learned she has a very refreshing, down-to-Earth mindset around her food choices. At 33, she's steadfast and confident in who she is—as a mom, pro soccer player, wife, and a fully actualized individual—she's not afraid to make her own rules, and we can all certainly learn a thing or two about how she puts those strong principles into practice.
On finding an eating style that really works.
"Growing up, I always really thought that meat was supposed to be the core part of your plate, especially as an athlete. And as I grew older, I realized I'm not just a soccer player, I'm also a human—so I have to follow what I really feel true in my heart. So I became plant-based five years ago and actually noticed that it had really great recovery benefits for me.
"That said, I'm not extremely strict about it all the time—I give myself grace and know that if I want to have a piece of pizza once in a while, that's totally acceptable because I make my own rules.
"But overall, as I've gotten a little older and still am training next to a 22-year-old, I realized that I could be a good example for them. I know my body so well now, and I know what I need."
On finding a healthy balance with nutrition.
"I've been a lot better at getting organized with my grocery shopping, and knowing exactly what I need and what my family needs for that week. Admittedly, we get takeout a lot because I'm training, then I have a lot of meetings, and then like the time gets away from me.
"Overall, I've gotten better at understanding what my body really needs and also how to feed my family. Knowing that all my daughter's nutrition needs are being met, as well as mine, is a great feeling. Orgain has really helped with that—they have different kinds of protein shakes for both adults and kids, which has been really nice for our family needs.
"But in general, it's kind of been a lot of trial and error. As a soccer player, I used to be very habitual with what I ate—on game day and postgame and leading into the game. But now, what I have in my pantry is what I'm going to eat, and I try not to stress out about the small things. I think that mindset has really helped, as well, just not being overly prescriptive about my diet or what I need to eat.
"I've come to realize that stress is something that can really weigh on your body and your mind. Of course, I think it's important to be mindful of diet, self-care, nutrition, and physical recovery. But if you just have a good general guideline, versus something too strict, overall you're going to be happier and be healthier."
Advertisement
This ad is displayed using third party content and we do not control its accessibility features.
On how she recovers physically & mentally.
"It's a lot of different things condensed: a little bit nutrition, some mental health, and physical recovery. As an athlete, you have to look at recovery from all sides.
"By the end of a game, I've run almost 6 miles and I haven't really eaten anything for six hours—because I have to eat four hours before game time to digest food and feel ready to play. So afterward, I usually just try to get anything in my body to help recover the muscles—it's not even necessarily that healthy. Last night, for example, I had rice and beans and a quesadilla. But ideally, I'll also have a time-based protein shake right after the game. The morning after a game, I'll usually have something like oatmeal with banana—something to help me kick-start the day.
"Directly after the game last night, I did an ice bath, and I'm going to get a massage later today. I'm doing cryotherapy and red light therapy, as well, along with a little bit of meditation. And then, I'll enjoy getting dinner with friends tonight—maybe even have a glass of wine!"
On staying centered through mindfulness practices.
"I love to do guided meditations whenever I do red light therapy or infrared sauna. I'm usually in there for 10, 20, or 30 minutes anyway, so it's just really easy for me to do it in that moment. And, let me be clear, it's in no way easy for my mind to turn off. But it's a practice and that's one important thing I do for my mental health.
"I also wake up every day with a positive outlook and think: 'How can I do something that challenges me? Or how can I be like the best mom?' Then, knowing at the end of the day that there are some things I did that are great, and some that may be not so great, but that's OK. Ultimately I try to never look down on myself because I know self-talk is so important.
"I've noticed that on the field, as well. Now, I have a lot more positive self-talk. For example, when I take a shot, and I miss, I try to think 'it's all good, I'll get it next time' rather than 'oh wow, you're so bad.' I think shifting that negative self-talk has been a huge help."
Advertisement
This ad is displayed using third party content and we do not control its accessibility features.
On staying in touch with herself.
"As a mom, I don't always get as much 'me time' as I sometimes need—but I try to find moments of it where I can.
"I recognize it's important to make time to step away and be with myself—whether that's having a coffee or going for a walk—I know that I need to fit that time in, and I have to give myself permission to do it.
"I think that's really important, having that balance and understanding that like, every person is different. Every person's needs are different. Knowing that I'm doing the best I can to bring my best self, as a mom, as a wife, as a soccer player—I think that's really helped shift my state of mind to be more confident and at peace with myself."
Want to turn your passion for wellbeing into a fulfilling career? Become a Certified Health Coach! Learn more here.
Advertisement
This ad is displayed using third party content and we do not control its accessibility features.
Kristine Thomason
mbg Health & Fitness Director
Kristine Thomason is the health and fitness director at mindbodygreen. Kristine is a New York University graduate with a degree in journalism and psychology, and also a NASM-certified personal trainer. She has spent her editorial career focused on health and well-being, and formerly worked for Women's Health and Health. Her byline has also appeared in Men's Health, Greatist, Refinery29, HGTV, and more. In her current role she oversees, edits, and writes for the health, food, and movement sections of mindbodygreen.