Close Banner
Advertisement
This ad is displayed using third party content and we do not control its accessibility features.
3 AAPI Beauty Founders Share How Their Culture Inspires Their Brands
Assistant Beauty & Health Editor
By Hannah Frye
Assistant Beauty & Health Editor
Hannah Frye is the Assistant Beauty Editor at mindbodygreen. She has a B.S. in journalism and a minor in women's, gender, and queer studies from California Polytechnic State University, San Luis Obispo. Hannah has written across lifestyle sections including health, wellness, sustainability, personal development, and more.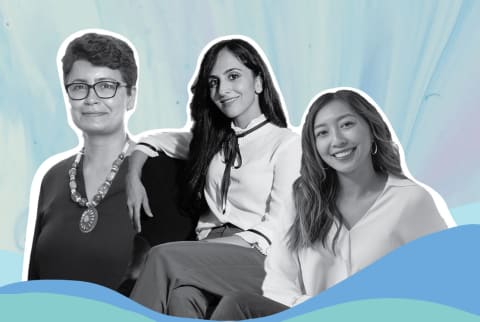 Image by mbg creative / mbg creative
We carefully vet all products and services featured on mindbodygreen using our
commerce guidelines.
Our selections are never influenced by the commissions earned from our links.
May is Asian American Pacific Islander (AAPI) Heritage Month, an annual celebration that recognizes the historical and cultural contribution of those of Asian and Pacific Islander descent to the United States. To honor the occasion, we're speaking with three incredible female brand founders in the beauty space about how their culture inspires their brand philosophies and product development. After all, the beauty industry would not be where it is today without Asian influence: Just think about how centuries-old traditions, like traditional Chinese medicine and Ayurveda, have shaped the beauty zeitgeist.
Without further ado, allow us to introduce these founders: Anisha Khanna, Connie Lo, and Michelle Ranavat. Follow them, learn from them, and support their work—way beyond the month of May.
Meet Anisha Khanna, co-founder & CEO of Sonäge Skincare.
On entering the skin care space.
As a 19-year-old, Anisha Khanna made the move from India to New York City, only to be met with difficulty adjusting to the dramatically different lifestyle. "My body just blew—I had abnormal weight gain, my immune system was shot, and I was breaking out," she explains.
Khanna wasn't used to looking to Western medical professionals because her family approached health in a completely different manner. "Growing up in India, there's a remedy for everything," and Westernized medicine wasn't called upon except for in the case of serious health concerns, she says. And further, natural options were always a priority, whether to combat an oncoming cold or soothe irritated skin.
Khanna soon realized that reverting back to natural foods and a slower lifestyle reflective of her upbringing was the only way to truly heal her body. After that realization, Khanna was determined to fuse the power of botanical ingredients her family and culture had used for generations with modern technology—and thus, Sonäge Skincare was born.
On culturally inspired products.
Khanna explains that some products carry more meaning to her and her heritage than meets the eye. The Tulsi Soothing Tri Clay Mask, for example, was inspired by the hot Indian summers Khanna experienced as a child that led to skin flare-ups, sunburns, and breakouts for many. This mask is packed with soothing, anti-inflammatory ingredients like turmeric, rose, and Triphala, all whipped up in a blend of powerful clays that detoxify the skin.
As a child, Khanna would spend the hot summer evenings in her backyard to escape the indoor heat, surrounded by the scent of jasmine plants that filled her outdoor space. Now, jasmine is a go-to natural fragrance and ingredient used in Sonäge products. When Khanna would struggle with breakouts as a young girl, she would be given eucalyptus oil (a powerful antiseptic) to heal the blemish. Now, she uses eucalyptus oil in many of the acne-fighting products she creates.
Though inspiration is taken from core memories of her childhood—like hot Indian summers or floral fragrances—incorporating these ingredients into regulated products was a significantly different process than what Khanna experienced growing up. "We are inspired by Indian formulations, but we have access to get the best ingredients," she says.
What does this look like? It means replicating precious natural resources in a lab to ensure those sources don't become depleted. It means putting products to the test through rigorous clinical trials. It means staying up to date with discoveries and innovations in the skin care industry to ensure the products are better for your skin and the planet.
Meet Connie Lo, co-founder of Three Ships Beauty.
On learning to love her heritage.
"I grew up as an Asian American, and for the longest time when I was a kid, I didn't really love my Asian background. I was kind of ashamed of the background that I had," Connie Lo, co-founder of Three Ships Beauty shares with mbg.
For years, Lo felt disconnected from her heritage and yearned for something she saw at the time as "normal." To her, this meant anything different from the natural practices her mother had taught her. "When I was a kid, I thought that was really frustrating, because I was like, 'just give me normal medicine,' or 'just let me use normal shampoo,'" Lo says.
When she began struggling with acne as a teenager, Lo was faced with two options: She could take her mother's advice and opt for all-natural remedies, or she could try to figure it out herself and seek out other resources. She chose the latter.
Lo set out to the drugstore and bought every acne-fighting product she could find, only to be met with irritation and dryness. The store-bought items that promised to clear her skin had done the opposite and created even more problems for her skin barrier.
After a while, Lo decided to give natural options a shot—and to her surprise, her skin reacted with grace. One hero ingredient she used was green tea, which she notes is significant within Asian cultures for all sorts of purposes. This transition is where Lo began exploring natural remedies as an individual and started to love her heritage as a Chinese woman.
Now, as a co-founder of a natural-first skin care company, Lo calls upon her mother's wisdom of natural remedies to create effective yet gentle skin care products for all. One product that has a special place in her heart is their Dew Drops Mushroom Hyaluronic Acid and Vitamin C Serum because of an aha moment she experienced during formulation.
Lo sat down with her mother to chat about the new serum that she and Three Ships co-founder Laura Burget had in the works. When she shared that the hyaluronic acid in the new serum was sourced from tremella mushroom, her mother was taken aback. Little did Lo know, her mother had been using these mushrooms in recipes since Lo was a baby. Her mother proceeded to pull out a huge bag of tremella mushrooms from the kitchen cabinet: "See, look!"
On representation in the beauty space.
As a female co-founder of an AAPI-owned brand, Lo is committed to being the inspirational figure she yearned for as a young adult. "If you don't see someone up there that looks like you, then you don't really think that's a future path that's available to you." To her, this means taking her position as a co-founder seriously and speaking up about the importance of representation in the worlds of beauty and business.
Meet Michelle Ranavat, founder of RANAVAT.
On merging science and tradition.
With a Bachelor of Science in industrial engineering, a Master of Science in engineering management, and a background in pharmaceuticals, Michelle Ranavat was after one thing: creating high-quality skin care products that harnessed her Indian culture. She knew there was a space for something new and innovative, and she soon created RANAVAT.
Ranavat's mission was to create beautiful, luxurious products that represent the history and culture she grew up with. "The essence of the brand is truly very personal. It comes from not only my background as a first-generation South Asian American but also through my background in the sciences," she says.
Ranavat wanted to utilize modern research and testing to prove the efficacy of her products and ensure the same ingredients that have been relevant in her culture throughout history deserved a spot in a modern skin care routine. So she decided to clinically test her top-selling products as well as run consumer trials, all of which provided glowing results. This helped bridge the gap between products she knew had strong historical significance and modern industry standards.
The ingredients Ranavat uses in her products don't just enhance skin health—they also have deep cultural significance. Saffron, for example, has been used for centuries in Ayurvedic medicine and is the star ingredient in the Brightening Saffron Serum and Resurfacing Saffron AHA Masque.
"When you go into an Indian temple, saffron fills the air. It's a very calming and meditative ingredient, and it actually has those same properties for your skin," Ranavat says. Although this ingredient has been used for centuries, she felt that it deserved a larger spot in skin care than she had seen in recent years.
Throughout history, ingredients like saffron have been seen as inaccessible for most people and reserved for an elite few, but Ranavat wanted to change that. She developed the phrase, claim your crown, for the brand's messaging to encourage anyone who uses these products to feel empowered by their skin care ritual.
"We are all royal," Ranavat says. "And I really felt like claim your crown took away the aristocratic nature of this whole luxury and royalty position."
On connecting people across cultures.
Another reason Ranavat decided to create her brand was to connect people from different cultures through the ritual of self-care. "I want people to realize that you don't have to be Indian to use turmeric on your skin, and it's actually really great for you," she says, explaining that the act of self-care has the ability to bring people together.
Using the power of modern research to learn more about ingredients used for centuries inspires Ranavat to continue creating. "If you're South Asian, you grew up with this. You knew there was a reason that people were into it. But now being able to communicate that in a way we understand skin care today feels really empowering," she says.
The takeaway. 
Centuries of wisdom and tradition have gone into choosing the ingredients used in so many skin care products today. It's important to learn about the history behind these ingredients to honor their significance. Here, you've learned a little bit more about three brand founders whose cultures inspire their skin care companies at every stage. If you're curious about the history of AAPI Heritage Month or other ways to support AAPI individuals, check out this website.
Watch Next
Enjoy some of our favorite clips from classes
Watch Next
Enjoy some of our favorite clips from classes
What Is Meditation?
Mindfulness/Spirituality | Light Watkins
Box Breathing
Mindfulness/Spirituality | Gwen Dittmar
What Breathwork Can Address
Mindfulness/Spirituality | Gwen Dittmar
The 8 Limbs of Yoga - What is Asana?
Two Standing Postures to Open Up Tight Hips
How Plants Can Optimize Athletic Performance
What to Eat Before a Workout
How Ayurveda Helps Us Navigate Modern Life
Messages About Love & Relationships
Love & Relationships | Esther Perel
Love Languages
Love & Relationships | Esther Perel
Related Videos (10)
What Is Meditation?
Box Breathing
What Breathwork Can Address
The 8 Limbs of Yoga - What is Asana?
Two Standing Postures to Open Up Tight Hips
How Plants Can Optimize Athletic Performance
What to Eat Before a Workout
How Ayurveda Helps Us Navigate Modern Life
Messages About Love & Relationships
Love Languages
Advertisement
This ad is displayed using third party content and we do not control its accessibility features.
More On This Topic
more Lifestyle
Advertisement
This ad is displayed using third party content and we do not control its accessibility features.
Advertisement
This ad is displayed using third party content and we do not control its accessibility features.