Swollen Under-Eyes? Try This Upgraded Cucumber Trick From An MD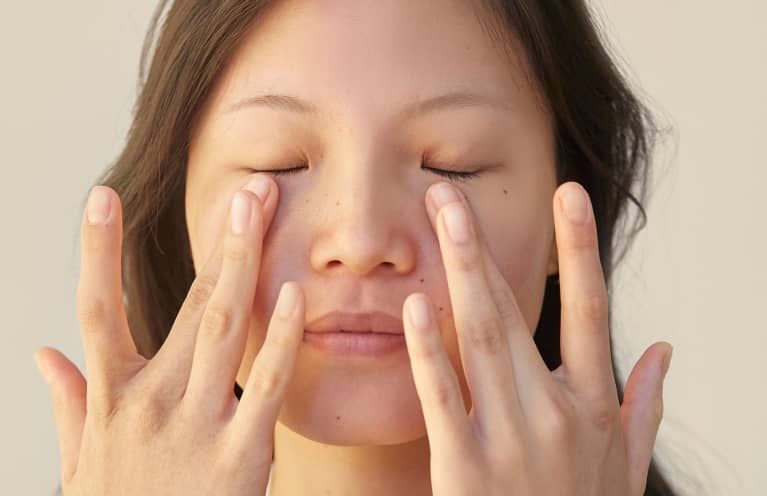 No matter how painstakingly you care for the area, it's still pretty common to wake up with tender, swollen under-eyes. This bloating can happen for myriad reasons (namely, allergies, diet, lack of sleep, and even stress), but regardless of the origin, you likely want to soothe the puffiness as soon as it strikes—and fast.
Both short- and long-term methods for puffy eyes range far and wide, from targeted eye creams to sleep-enhancing tips to DIY remedies. Within that last category, cucumbers earn honorable mention—after all, they've been a cooling, spa-day must-have for centuries.
If you don't have time to marinate your eye sockets with the refreshing fruit (sounds dreamy, but let's be realistic), here's a clever trick to help the puffiness subside almost instantly.
A cucumber trick for puffy under-eyes.
Cucumbers can double as a DIY depuffing tool. No, you don't need to place slices over your eyes like an at-home spa day, but you can achieve a similar effect elsewhere. Take this video by board-certified internal medicine physician and skin care expert Zion Ko Lamm, M.D.: She calls it her "Korean mom's depuffing cucumber trick."
Wash 1 large cucumber, and cut it in half.
Place both halves in the freezer and chill overnight.
In the morning (or whenever you're feeling swollen), grab one half in each hand and swipe under the eyes. With light pressure, glide in upward and outward motions.
Feel free to slide the cucumbers around the perimeters of your face, sending extra love to the jawline (another common area for puffiness).
Two reasons why this works: First, cucumbers themselves are incredibly hydrating and cooling. "The cool flesh, along with vitamin C and caffeic acid in the cucumbers, helps soothe irritated skin and reduce swelling," integrative medicine physician Bindiya Gandhi, M.D., once told us.
But the chilled temperature also helps recede a ballooned area: Ice is a known vasoconstrictor—meaning, it helps constrict the blood vessels in the skin, which can dial down inflammation (and puffiness, too, as a result). As Gandhi continues, "If you have only five minutes and can place a couple of ice cubes or frozen bags of veggies or the back of spoons on your eyes—this instantly decreases inflammation." The bottom line? An icy cucumber ticks both boxes.
Seems like a pretty easy hack to attempt on a puffy morning. Although, you might want to let the cukes thaw a bit before sliding them across your delicate under-eye area: Too icy of a temperature can shock the skin and actually lead to more inflammation, sometimes even broken capillaries for some. Best to wait until they're chilled (not ice-cold) or have some sort of barrier (like an eye mask!) so it's not too frigid on your skin.
If you want to help puffiness subside, stat, cucumbers are a quick, low-lift way to soothe the area. With naturally soothing, anti-inflammatory properties and a chilled temperature, the trick works twofold. Swollen skin is no match for the DIY hack.