5 Ways To Make Your Underarms Smoother & More Even-Toned
Assistant Beauty & Health Editor
By Hannah Frye
Assistant Beauty & Health Editor
Hannah Frye is the Assistant Beauty Editor at mindbodygreen. She has a B.S. in journalism and a minor in women's, gender, and queer studies from California Polytechnic State University, San Luis Obispo. Hannah has written across lifestyle sections including health, wellness, sustainability, personal development, and more.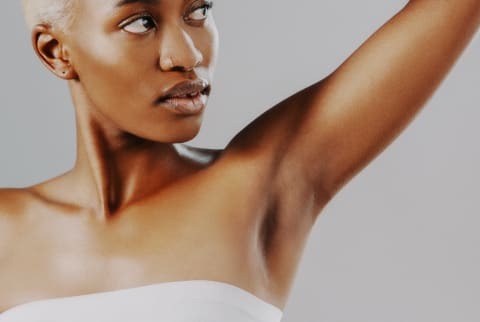 Image by Delmaine Donson / iStock
August 28, 2023
We carefully vet all products and services featured on mindbodygreen using our
commerce guidelines.
Our selections are never influenced by the commissions earned from our links.
Underarms seem to be a new focus point for skin care fans, with many folks incorporating additional serums, moisturizers, and shaving tools in pursuit of smooth, bright pits.
Even as a skin care lover myself, I have to ask: Do we really need a skin care routine for our underarms? I passed this question to dermatologists for their best tips so you can reap these benefits in a minimalist fashion:
1.
Prioritize a fresh, sharp razor
This tip isn't new, but it's something every expert has told me: You need to prioritize a clean, sharp razor. "The sharper the blade, the cleaner the cut, which prevents any bumps," says board-certified dermatologist Margarita Lolis, M.D.
You'll know your razor is too old if it scratches against your skin, or if it's been more than three or four weeks since you've swapped the blade.
You should also actively clean your razor after every use, Lolis says. Cleanse it with soap, pat it dry with a towel, and store it in a dry environment (read: not in your steamy shower). This prevents rusting, dullness, and microbial growth that could lead to infection, she notes.
2.
Experiment with shaving creams, lotions, and oils
While you may be used to switching up your facial skin care routine, you might ignore emerging products in this niche area of body care. However, many modern formulas cushion a shave better than fluffy creams of years past.
One of my favorite methods: using a shave bar or shave stick, like the WYOS Shaving Suds or Hanni Shave Pillow. The formula acts like a rub-on shaving cream for a no-mess experience.
You can also try using simple oils, like jojoba, grapeseed, or rosehip oil, in the shower to shave if you want even more slip.
Extra tip: Shave at the end of your shower
"Additionally, I tell my patients not to shave as soon as you jump into the shower. Giving your skin ample time to sit in a warm moist environment, opens up hair follicles from the steam and softens the hair, giving you a cleaner shave," Lolis says.
Which format you use (spray, serum, stick, etc.) is up to you, but try to avoid super-heavy deodorant formulas, as they may clog your pores and result in more unwanted texture.
4.
Give glycolic acid a try to lighten hyperpigmentation
For those concerned about underarm hyperpigmentation, let's talk about the viral glycolic acid hack: a process that entails applying a glycolic acid toner (most often The Ordinary Glycolic Acid 7% Exfoliating Toning Solution) to lighten hyperpigmentation and exfoliate the underarm area.
According to Lolis, it's a worthy addition. "[Glycolic acid] works by breaking up dead skin cells and lowering the pH of the skin, which decreases the bacterial load," she explains. And reduced bacteria often means reduced underarm odor.
Plus, "Glycolic acid has the added benefit that it reduces hyperpigmentation," she says. But here's the thing: You shouldn't use just any product out there. Lolis recommends seeking a glycolic acid product with a less than 10% concentration, making the viral product above a worthy investment.
Use this toner under your arms once or twice a week (rather than daily) to minimize the chance of irritation from over-exfoliation. Of course, if you're sensitive to the potent AHA, feel free to skip this step.
5.
Apply a post-shave oil right after you rinse
Finally, consider an aftershave product if you don't use one already. "Applying moisturizer to the area can help overall skin health. The underarm skin is a sensitive area, so it's best to give [it] extra care," Graf explains.
Be sure to skip anything with too much fragrance, any kind of exfoliant, or retinol, as that will irritate your freshly exfoliated skin. Instead, keep your moisturizer simple and hydrating.
My favorite product for this purpose is the mindbodygreen dry body oil, because you can use it on sensitive areas, and it helps to prevent razor bumps and ingrown hairs—plus, it sinks into the skin in seconds. You can also use a lightweight body lotion or a simple noncomedogenic botanical oil, like jojoba, grapeseed, etc.
Wait for that product to dry, then follow up with your deodorant. Otherwise, you'll be left with a creamy mess begging to transfer onto dark-colored clothing.
Beyond that, any serums or tricks may be considered extra. Still, go with what works for your own skin, and remember: You don't have to do any of these steps if you don't want to. Your underarms will remain in good health with a simple daily wash, too.
The takeaway
If you want smoother underarms, it starts with using a clean razor. Be sure to exfoliate, apply a pre-shave moisturizer, hydrate the skin afterward, use clean deodorant, and consider a glycolic acid treatment for occasional use. In search of a new razor? Check out our curated list of the best blades for sensitive skin here.
Hannah Frye
Assistant Beauty & Health Editor
Hannah Frye is the Assistant Beauty & Health Editor at mindbodygreen. She has a B.S. in journalism and a minor in women's, gender, and queer studies from California Polytechnic State University, San Luis Obispo. Hannah has written across lifestyle sections including skin care, women's health, mental health, sustainability, social media trends, and more. She previously interned for Almost 30, a top-rated health and wellness podcast. In her current role, Hannah reports on the latest beauty trends and innovations, women's health research, brain health news, and plenty more.