5 Easy Ways To Add More Protein To Your Daily Smoothie

Contributing Food Editor
By Liz Moody
Contributing Food Editor
Liz Moody is a food editor, recipe developer and green smoothie enthusiast. She received her creative writing and psychology degree from The University of California, Berkeley. Moody is the author of two cookbooks: Healthier Together and Glow Pops and the host of the Healthier Together podcast.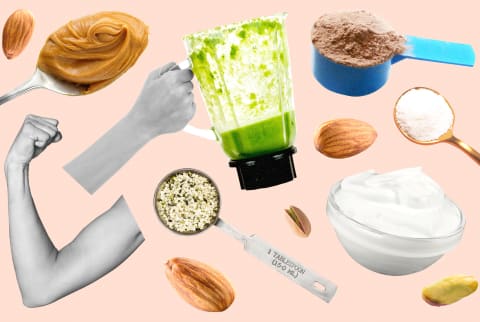 Last updated on May 1, 2020
Our editors have independently chosen the products listed on this page. If you purchase something mentioned in this article, we may
earn a small commission
.
While smoothies are undoubtedly a great way to pack in a ton of nutrients at the start of your day, they can also leave you feeling ravenous and hangry by 10 a.m. One of the biggest reasons for their lack of staying power? Not enough protein. Adding 1 to 2 tablespoons of protein to each serving of smoothie along with a good dose of healthy fat and fiber will elongate your blood sugar curve and ensure that you're satiated through lunchtime. Here are a few of our favorite ways to amp up the protein in each glass:
Advertisement
This ad is displayed using third party content and we do not control its accessibility features.
1. Add nut and seed butter.
Two tablespoons of peanut butter contains 8 grams of protein; 2 tablespoons of almond butter contains 7 grams. Nut butter will also help your smoothie have a creamy, thick texture and can do wonders for the flavor—with some cacao powder, for instance, peanut butter becomes a chocolate peanut butter cup smoothie. We love Justin's Nut Butters (the packs are especially great for making smoothies on the go), and Nuttzo, which contains seven types of nuts and seeds for a powerful blend.
2. Add nuts and seeds directly.
If you have a powerful blender, you can actually get away with adding nuts and seeds directly to the mix—the blades will blend the nuts and seeds right up with the rest of the ingredients. Hulled hemp seeds are one of our favorite ways to add protein (10 grams per 3-tablespoon serving) because they're fairly soft and can be tackled by almost any blender. They also provide complete protein, with the full range of amino acids. Manitoba Harvest is our go-to brand. You can play around with all sorts of nuts, though, including pistachios, macadamias, almonds, walnuts, and more!
Advertisement
This ad is displayed using third party content and we do not control its accessibility features.
3. Add yogurt.
Yogurt adds a one-two punch to smoothies, with tons of protein and probiotics, plus a rich and creamy ice-cream-like texture. Look for a brand that's low in or free from added sugar, like siggi's no-sugar-added line, which has 10 to 11 grams per container and fun flavors that add punch to the smoothie's base, like Raspberry & Apple and Banana & Cinnamon. Kefir is also a great protein-rich base—use it instead of a liquid like water or milk for a megadose of protein. We especially love Lifeway's new plant-based Plantiful line, which boasts 10 grams of protein per cup.
4. Add collagen supplements.
While collagen peptides are great for your gut and skin, they also pack in a ton of protein—in fact, collagen is the most abundant protein in the human body, comprising 30% of its total proteins.* A serving of grass-fed bovine collagen powder contains a whopping 20 grams of protein (although it is an "incomplete" protein, missing one amino acid).* It's also flavorless and dissolves incredibly easily in any smoothie. Just make sure you go for a brand that's lab-tested and grass-fed.
Advertisement
This ad is displayed using third party content and we do not control its accessibility features.
5. Add protein powder. 
And, of course, you can always go for the classic way to add protein, via a protein powder. We recommend looking for a brand that's third-party tested and organic. We love NOW Sports Nutrition Organic Pea Protein Powder, which packs in 15 grams of plant-based protein per serving. If you do tolerate dairy, NOW's grass-fed whey protein is also a great complete protein option. We also love all of the Garden of Life protein powders, which are quadruple certified by third parties. The SPORT Organic Plant-Based Protein contains probiotics, glutamine, and more, in addition to 30 grams of protein per serving. The Vega One Organic All-in-One shake is also a great option, with an organic pea protein base, 50% of your daily value of eight vitamins and minerals, probiotics, and a delicious, not-at-all chalky flavor.
If you are pregnant, breastfeeding, or taking medications, consult with your doctor before starting a supplement routine. It is always optimal to consult with a health care provider when considering what supplements are right for you.