3 Tried & Tested Ways To Reapply Sunscreen Over Makeup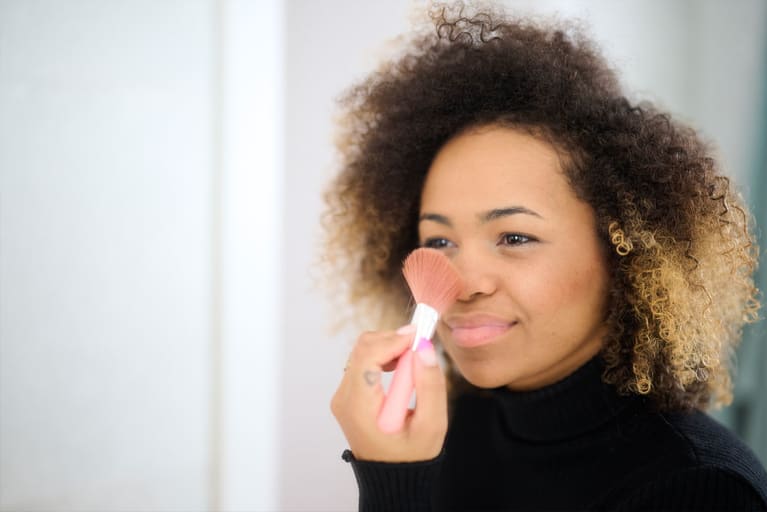 Our editors have independently chosen the products listed on this page. If you purchase something mentioned in this article, we may
earn a small commission
.
Every beauty professional has their non-negotiable steps. In our series,
Like A Pro
, we tap experts for the top three techniques they absolutely swear by. Here, you'll hear from a variety of industry insiders on the fail-safe tricks they always keep in their back pockets. We're all about simplifying your beauty regimen wherever you can, and sometimes the best routines are as easy as 1, 2, 3.
It's essential to wear sunscreen every single day—especially with scorching, sunny days ahead. If you are spending time outside and particularly if you're swimming, reapplication is a must as well. Experts recommend reapplying sunscreen every two hours, regardless of daily activities, and after you get wet (even if your SPF says it's waterproof).
If you regularly wear makeup, this likely poses a problem: A goopy sunscreen can easily smudge your immaculate blush placement or wash of concealer. Though SPF moisturizer may be the best call pre-makeup, there are a few other effective ways to protect your skin without redoing or messing up your glam. Here's exactly how to reap continuous sun protection and keep your makeup intact:
Setting spray is a great final step in any makeup routine, especially for the summer months. These mists can help your makeup stay in place all day long without smudging. What's more, some of these sprays contain SPF, too. If you're looking for an easy, quick, and refreshing way to reapply SPF, give this tip a whirl. It won't replace using a base sunscreen with a higher SPF, but it can certainly offer adequate protection for the re-up.
This one from Coola is an ideal match. You'll definitely want to layer on a higher SPF underneath, but this setting spray is great to have on the go. It also contains aloe vera and coconut water, which help soothe the skin, especially on those hot summer days.
Coola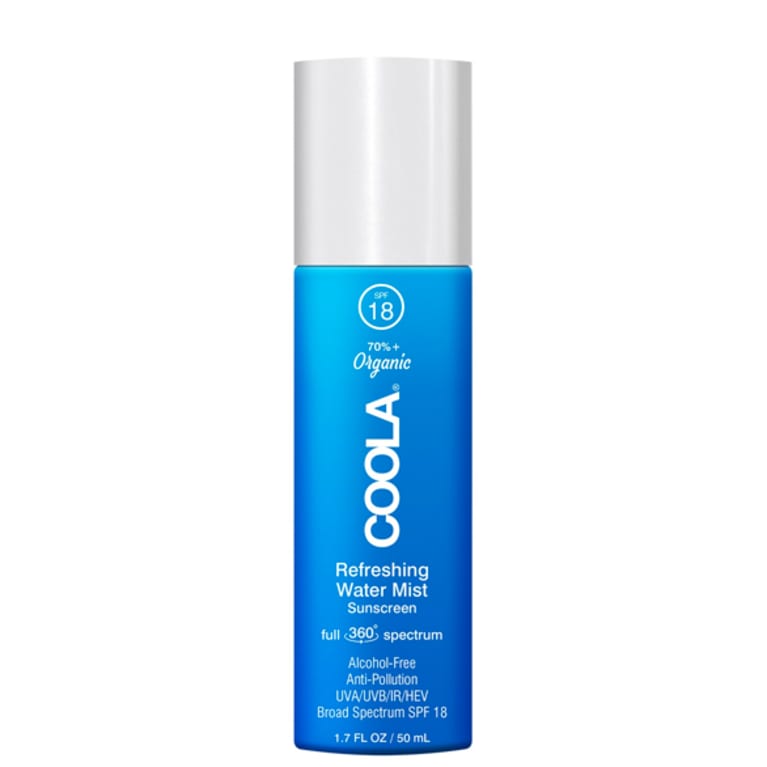 Coola
Organic Refreshing Water Mist Face Moisturizer with SPF 18
$36
So you've heard of spray-on SPF and sunscreen lotion, but did you know that there are powdered forms of sun protection, too? If you frequently dab on setting powder throughout the day to absorb oil and touch up your makeup, you might as well swap it out for something with added SPF benefits for days spent in the sun. Be sure to apply the powder to the whole face (not just where you're most oily), and reapply every two hours.
On the hunt for a brush-on SPF? Here's a list of a few of our favorite powdered sunscreens.
If you're not wearing powdered products, then you have the freedom to go in with another layer of your cream or liquid SPF. Rather than using your hands and messing up any cream blush or liquid highlight, you'll want to use a beauty sponge. In this Instagram tutorial, drug-research scientist and beauty blogger Hannah English gives a step-by-step demonstration:
English suggests using a dry microfiber sponge (like this one from June & Co.) rather than a regular beauty sponge. This way the SPF won't be absorbed by the blender's tiny pores and instead transfer directly onto the skin.
You'll want to use at least ¼ teaspoon of sunscreen and dab it into your face gently.
You can then go ahead and reapply blush, bronzer, highlighter, or whatever makeup products you want to touch up.
It's essential to reapply sunscreen throughout the day, even if you are wearing makeup. Luckily, there are countless products created for this exact mission, so you have some options. You can cool off with a refreshing SPF setting spray, absorb oil with powdered sunscreen, or reapply your favorite lotion with a microfiber sponge. Once the sun has set, be sure to follow a proper after-sun skin care regimen, too.