3 Nonnegotiable Skin Care Staples For Those In Their 20s, From A Doctor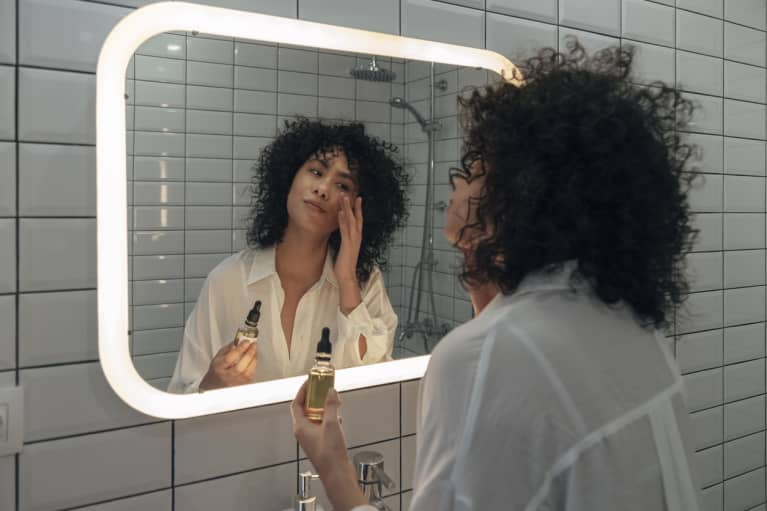 Our editors have independently chosen the products listed on this page. If you purchase something mentioned in this article, we may
earn a small commission
.
What are your nonnegotiable beauty tips? In our series,
Essential Beauty
,
we tap experts for the top three techniques they absolutely swear by. Here, you'll hear from a variety of industry professionals on the fail-safe tricks they always keep in their back pockets. We're all about simplifying your beauty regimen wherever you can, and sometimes the best routines are as easy as 1, 2, 3.
If you're a 20-something or know one looking for a staple skin care routine that encourages healthy skin aging without overdoing it, you've come to the right place.
Internal medicine doctor and skin care expert Chisom Ikeji, M.D., took to beauty TikTok to share her three nonnegotiable skin care tips for people in their 20s—and given her literally glowing results, I'm scribbling down notes. Not to mention, there's robust science to back up each of her tried-and-true steps. Here, find her essential tips and why they work:
When it comes to active ingredients, Ikeji swears by retinoids. (She specifically mentions retinoic acid, a natural derivative of retinol; retinol converts to retinoic acid when applied topically.) This ingredient speeds up cell turnover, which will encourage healthy skin aging. Research has even shown that retinoids hold the power to stimulate collagen production in the skin, which is key to keeping a youthful appearance, given that your natural collagen production decreases with age. More specifically, this production decreases by 1% each year after you hit a certain threshold in your 20s (although, the exact age depends on genetics).
What's more, studies show that retinoids may be helpful in treating acne as well, a condition many 20-somethings struggle with. So think of this step as a two-in-one: It can set you up for healthy skin aging long term, and it can help keep pesky breakouts at bay.
Just know that those with extra-sensitive skin may not be able to tolerate prescription-grade retinoids like tretinoin and Tazorac, as they can cause irritation. Find the best retinoid for your skin type, and consider it a skin care staple for your 20s and beyond. You can read more about the difference between retinol and retinoids here, and find our go-to retinol products here.
This one is key for keeping your complexion bright and protecting it from oxidative stress. Whether it be from pollution, UV rays, or chronic emotional stress, free radicals can wreak havoc on your skin health and lead to accelerated skin aging. On the inside, this means a loss of collagen and elastin fibers. On the outside, this looks like skin sagging, fine lines, wrinkles, and textural changes. It can also trigger dark spots and other forms of discoloration.
Enter, vitamin C: Topical vitamin C has been shown to diminish hyperpigmentation, brighten the complexion, decrease moisture loss, and overall visibly reduce the appearance of UV-induced photodamage. (Vitamin C supplements might also be a good idea since these can promote your natural collagen production, which keeps your skin firm and taut.) Here, you can find an in-depth guide to vitamin C in skin care, including the best products.
"It sounds like a broken record," says Ikeji, but you need to be wearing sunscreen. Even if you haven't been diligent with SPF throughout the years, it's never too late to start.
A recent survey showed that Gen Z adults (aka, individuals between the ages of 18 and 25) are especially likely to sunbathe compared to other generations and lack general sun care knowledge; meaning, the importance of SPF may not be as widespread as it should be, especially for those in their 20s.
Even though it may not be the buzziest topic for 20-somethings, sun damage is a significant contributor to skin aging. In fact, 80% of visible signs of skin aging come from UV damage, so wearing sunscreen is essential for a younger-looking complexion. Of course, there's so much more to sun care than slathering on a sunscreen—check out this breakdown to learn more.
Ikeji's three nonnegotiable skin care steps for 20-somethings are backed by loads of research. The combination of retinoids, vitamin C, and sunscreen can (when used consistently) contribute to a healthier, younger-looking complexion for years to come. If you want to take 20-something skin care to the next level, consider adding a collagen supplement—experts say in your 20s is the best time to start.