Beauty Editor Review: 111 SKIN Reparative Collection
Assistant Beauty & Health Editor
By Hannah Frye
Assistant Beauty & Health Editor
Hannah Frye is the Assistant Beauty Editor at mindbodygreen. She has a B.S. in journalism and a minor in women's, gender, and queer studies from California Polytechnic State University, San Luis Obispo. Hannah has written across lifestyle sections including health, wellness, sustainability, personal development, and more.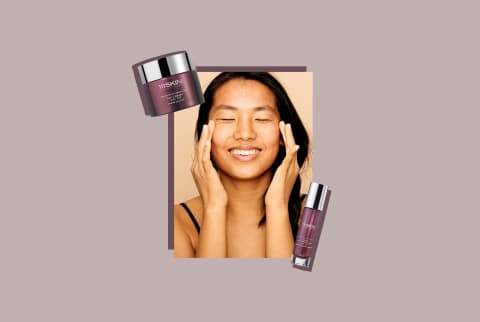 July 29, 2023
We carefully vet all products and services featured on mindbodygreen using our
commerce guidelines.
Our selections are never influenced by the commissions earned from our links.
Skin care science is growing at a rapid rate, with many innovators looking to repair the damage of beauty trends past. Gone are the days of destroying the skin barrier with exfoliants and retinol—and cheers to mainstream beauty finally focusing on barrier repair and skin longevity.
One of these innovators is the expert-founded luxury skin care brand 111 SKIN. Developed by a plastic surgeon who wanted to speed up patient recovery, 111 SKIN focuses on repairing and soothing skin with a patented hero ingredient: NAC Y²™.
The one-of-a-kind antioxidant complex is at the heart of the brand's Reparative Line (and the unlikely superhero when it comes to supporting skin longevity). It supports the production of glutathione, a powerful antioxidant that fends off free radicals.
If you're not thinking about free radicals with your skin care routine, you should be. An overload can cause oxidative stress, which in turn can speed up the skin aging process by contributing to the loss of collagen and elastin fibers. The end result? Fine wrinkles, sagging, texture changes, and even dark spot.
As a beauty editor who is already planning ahead to protect and nourish my complexion, I was eager to test out a few best-sellers from the Reparative line—and the results were shocking.
Meet 111 SKIN
111 SKIN was founded by globally-renowned plastic and reconstructive surgeon Yannis Alexandrides, M.D., FACS and entrepreneur Eva Alexandrides. He wanted a better way to help his patients recover post-surgery and turned to two space scientists.
These unlikely collaborators studied the well-being of astronauts in space, which included finding ways to protect against skin aging from cosmic radiation. Together they developed NAC Y²™, which was used in the company's first product: the Y Theorem Repair Light Serum.
What is NAC Y²™
NAC Y²™ is the key patented ingredient in many 111 SKIN products, including the Reparative line. The trio of skin-loving ingredients include NAC, escin, and vitamin C.
NAC works by promoting your skin's natural production of a master antioxidant, glutathione. The unique ingredient also helps to support collagen production, contributing to healthier skin in the long run and fewer fine lines brought on by collagen degradation.
Escin is an anti-inflammatory compound from horse chestnut extract that has been supercharged in the NAC Y²™ formula to be even more potent. This one is essential for soothing the post-surgery swelling and puffiness.
Vitamin C is a unviersal skin hero. This is key for sustaining the benefits that ingredients like NAC bring and supporting collagen and elastin production. It's also a well-known skin brightener, which is great for anyone concerned with dark spots or a dull complexion.
How I tested the 111 Skin Reparative Collection
These products came to me just in time, as my complexion was feeling rough and dehydrated, even in the peak of New York City summer humidity. If I ran my finger over my cheeks I'd feel tiny bumps of texture, and my skin drank up moisturizer leaving my complexion dull an hour after application.
With the dryness and dullness combined, I looked more tired than I felt. While this was a less-than-ideal skin state to have, it was the perfect time for me to test these reparative products. My goals were softer skin and a healthy glow—safe to say, these products delivered.
After just two weeks of using the products, I look like I drank two liters of water and slept for 10 hours, and that glow is replicated every single day. I was impressed by how quickly this duo took action on my skin, as many formulas take a month or more to truly show tangible results.
The texture on my skin is gone and has been replaced with soft, touchable skin that feels as healthy as it looks. I've gone many days with tinted moisturizer alone, if that, because my complexion looks that good. With this duo, every day is a good skin day.
111 SKIN REPAIR SERUM NAC Y²™
Key ingredients
NAC Y²™
Pink rock rose extract
Centella asiatica
Clinical study results
Proven to reinforce skin barrier for up to 48 hours*
Proven to instantly improve hydration by 165%†
Proven to restore healthy skin in two weeks‡
When you first apply this serum you're hit with a light fragrance that I can only describe as clean laundry. The texture is a rich gel that sinks into your skin quickly, leaving the surface silky smooth—you can actually feel it plump your skin in seconds.
It doesn't leave that uncomfortable burning or tingling feeling that many serums do because it's been precisely formulated to soothe irritation, not incite it. It's so gentle that it can be used post-procedures like microneedling, laser treatment, etc. to bolster quick healing.
Apart from the ingredients listed above, this serum also contains soothing calendula extract, niacinamide for gentle skin brightening, and aloe vera to restore hydration.
Inside this beautiful purple bottle, you'll find the highest concentration of NAC Y²™ that 111 SKIN offers, so you'll want to apply this to freshly cleansed skin with nothing else applied so your complexion can soak up the full product both morning and night.
111 SKIN REPAIR DAY CREAM NAC Y²™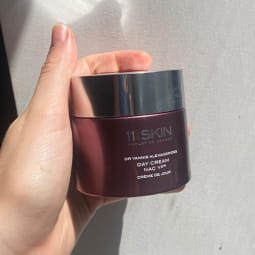 Key ingredients
Yeast extract
Pink rock rose extract
Multiple molecular weight hyaluronic acid
Clinical study results after four weeks of use
Reduce the amount of fine lines by 35%
Improve skin elasticity by 39%
93% agree skin is left soothed and calm
If you've ever gotten a facial then you know your complexion when you leave is next-level dewy and plump—that's how I look after applying this moisturizer.
This skin-protecting cream helps to smooth fine lines, rehydrate a dry skin barrier, and provide long-lasting hydration. The latter benefit is something I find quite unique. As someone with dry skin, I'm constantly applying moisturizer and face mist throughout the day to ease irritation and dehydration, but I could go from morning to night with just one layer of this cream.
At the same time, it doesn't feel heavy or weigh down my skin like some ultra-thick moisturizers, hence why it's so perfect for daytime. Plus, you only need a pea size amount for your entire neck and chest because it's so easily spread.
The base of this nourishing moisturizer is castor oil, aloe vera, hyaluronic acid, and olive oil, which provides humectants, emollients, and occlusives to plump, nourish, and retain moisture in your skin. The yeast extract and pink rock rose extract keep your skin feeling tout but simultaneously relaxed and comfortable.
Advertisement
This ad is displayed using third party content and we do not control its accessibility features.
Need another reason to try 111 Skin?
If my results with 111 SKIN weren't enough to convince you, then the brand's current sale should be. All masks and boosters are buy-one-get-one free through July 30 with code JULYTREAT. As someone who is already eyeing the Y Theorem Bio Cellulose Facial Mask, this flash promo was the perfect excuse to finally make the splurge.
The takeaway
I tested the 111 SKIN Reparative Collection to be met with soothed, plump, and beaming skin after just two weeks. I'm equally obsessed with the serum and moisturizer as they provide a noticeable hydration boost while also supporting my skin health and longevity on a cellular level. Cheers to science-backed products that help your skin right now and prepare it for graceful aging.
Meet The Experts
Hannah Frye
is the Assistant Beauty Editor at mindbodygreen. She has a B.S. in journalism and a minor in women's, gender, and queer studies from California Polytechnic State University, San Luis Obispo. Hannah has written across lifestyle sections including health, wellness, sustainability, personal development, and more.