Whether you're a diehard football fan or not, there's a good chance you'll be celebrating the Super Bowl (or Puppy Bowl) in some way. At the very least, it's a good excuse to get some friends together to share some snacks and drinks on a Sunday night.
And if you're looking to host a party with a healthy (more plant-centric) twist, we've got you covered. Consider these elements to make your party delicious and simple, and emerge without a big processed-food hangover the next day.
Organic beer, wine, and cider all have less processed junk and artificial chemicals in them than conventional kinds, which some say, can help you avoid a hangover (when enjoyed responsibly, of course).
Don't forget about a good mocktail, either. Citrus, sparkling water, and fresh juices are all great mix-ins for a mocktail bar.
The real key is making sure everything is at the ideal serving temperature, so make sure to grab extra ice for drinks and coolers.
Make a big pot of chili and serve it with an array of toppings like guacamole, sliced green onions, hot sauce, cheddar cheese, plain greek yogurt (instead of sour cream), and maybe some crumbled chorizo as a warming, meaty option.
Team jerseys? Sure. Your favorite hoody, sweats, and fuzzy socks? Definitely. Insist everyone wear their favorite comfy clothes for a totally relaxed night.
No need to go overboard, especially if your team isn't playing this year, but a few elements can add to the fun. Maybe use napkins with the colors of both teams or use some potted wheatgrass as a centerpiece to echo that football field vibe.
Make sure there's buffalo sauce something
Let's face it, the Super Bowl and buffalo sauce go hand-in-hand.
Maybe the buffalo cauliflower idea is a little tired, but it can be a delicious and fun alternative to wings. Maybe buffalo chickpeas or buffalo brussels sprouts with blue cheese sound like more your speed this year.
Serve updated versions of classic party food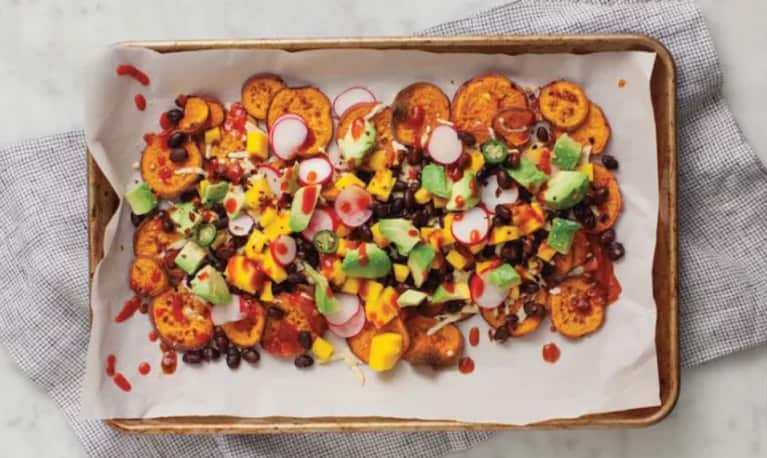 Think of adding flavorful vegetables to your normal plate of nachos—like cubes of roasted butternut squash or some seared mushrooms. For an another twist, try these Loaded Sweet Potato Nachos that swap the chips for slices of sweet potato, or these Apple + Peanut Butter Nachos for a sweet version.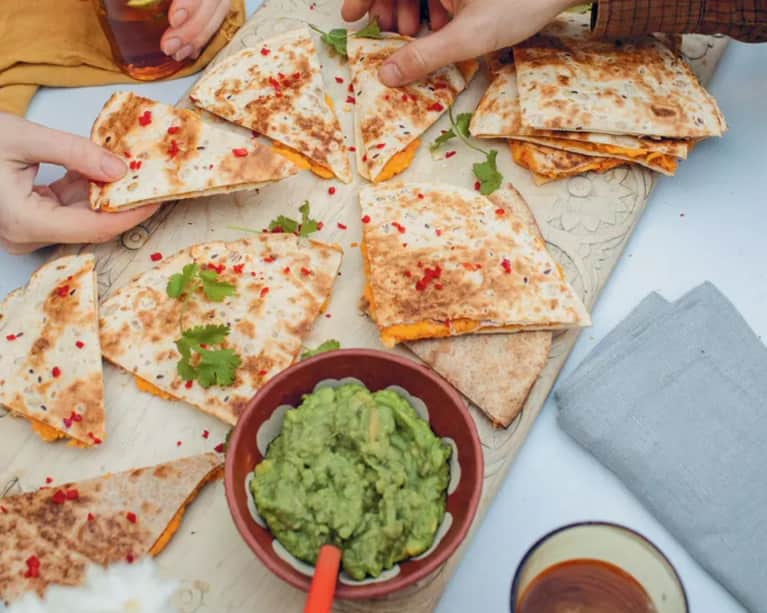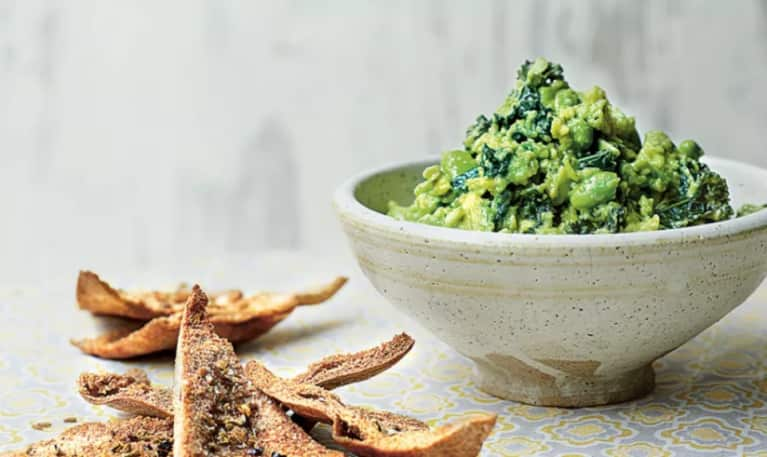 Load up on irresistible toppings like olive oil, melted ghee, sea salt, rosemary, cayenne pepper, and Parmesan and/or nutritional yeast. Let guests mix and match their own combos in individual bowls.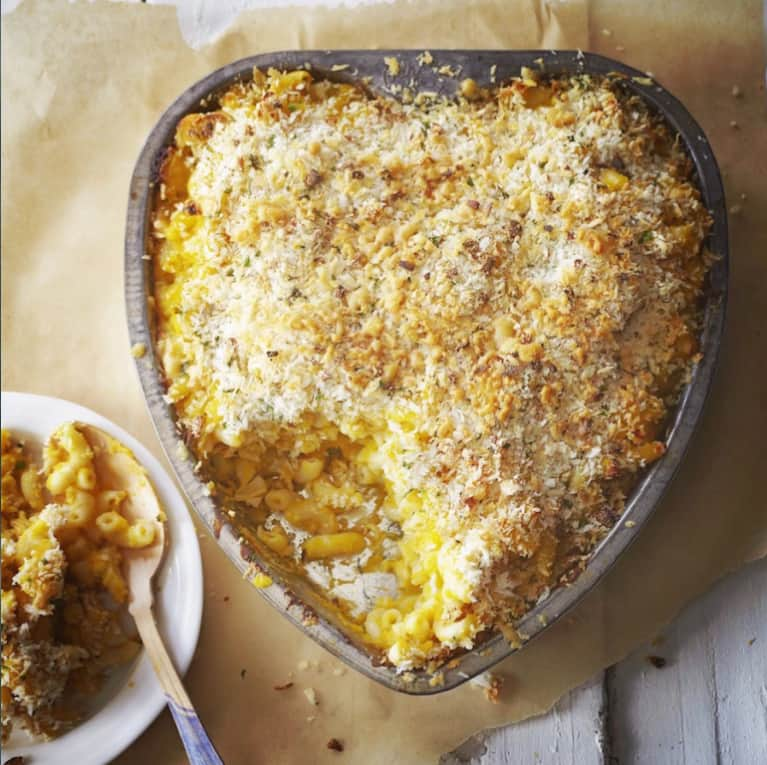 Coconut, butternut squash, and nutritional yeast are the keys to this creamy macaroni, but even just adding some butternut to your favorite cheese-packed recipe will give it a fiber and vitamin A boost.
Straight-up potato fries are great, but try mixing it up vegetable-wise and making your own fries in the oven. Grab a couple of large sweet potatoes, cut into uniform-size fry-like strips or thick-cut wedges, season, and roast with some avocado oil until crispy on the outside and soft on the inside.
Parsnips, carrots, zucchini, and asparagus fries are all great options (and prime for dipping), too.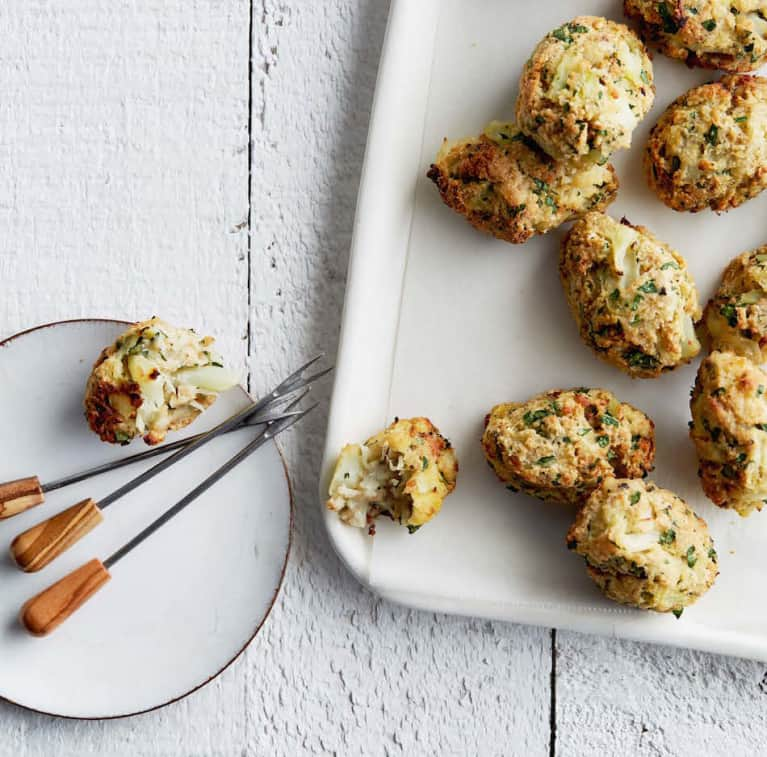 There's a new tot in town: baked, crispy, and unexpectedly addictive—you won't regret making these Cauliflower Parmesan Tots.
Perhaps the most important aspect of game-day snacking is a good selection of dips. Here are a few of our favorites: