This Is How Much Green Tea You Should Be Drinking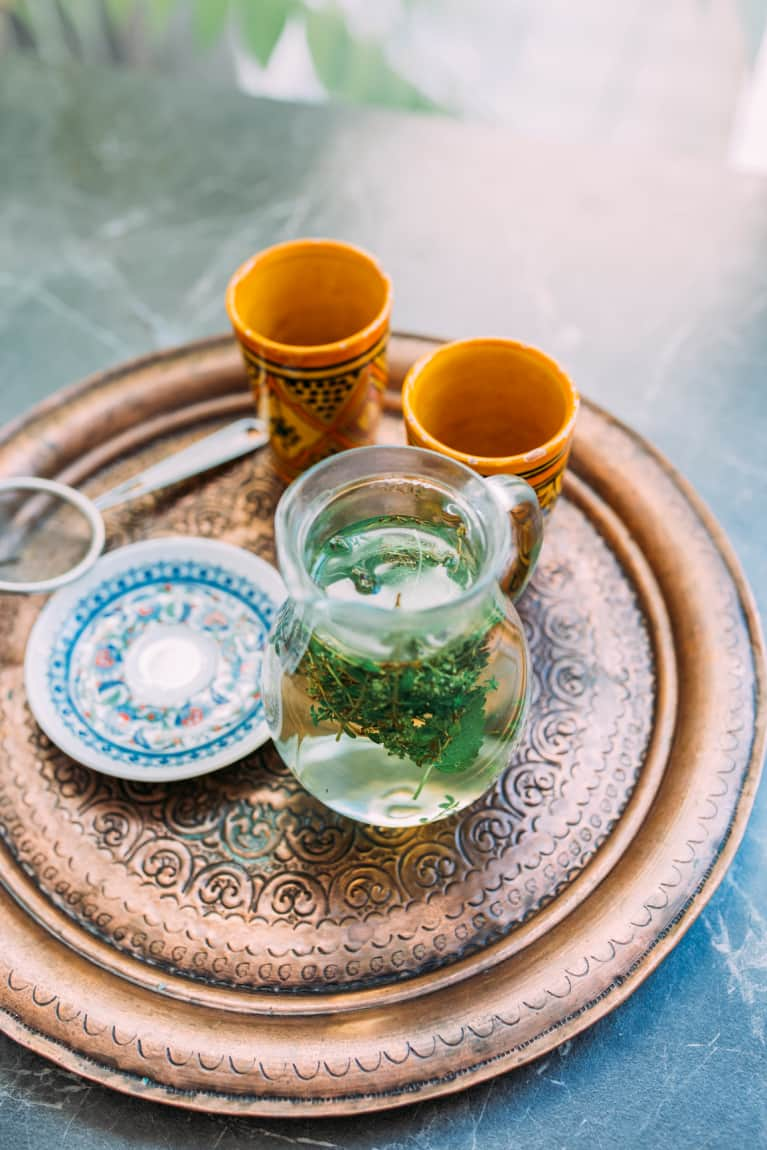 Green tea's disease-fighting abilities were first spotted in Japan, when people in one specific region—where green tea was popularly grown—had surprisingly low rates of cancer. Since then, studies have suggested that drinking green tea can help prevent a wide range of cancers by protecting cells from toxic agents, causing cancer cells to die, and inhibiting the growth and metastasis of tumors.
Research has shown that green tea can also lower 'bad' LDL cholesterol, reduce inflammation, and reduce the risk of diabetes. It also works like an all-natural antiviral and antibiotic, killing pathogenic bacteria without harming our friendly flora. And in case we needed more convincing, green tea has been found to boost metabolism and aid in weight loss.
How much green tea do you need to prevent disease?
Green tea's secret to fighting disease is its high content of epigallocatechin-3-gallate, or EGCG, an ingredient with 100x more antioxidant power than vitamin C, and 25x more than vitamin E. EGCG isn't particularly well-absorbed, so we need a specific amount to really reap the benefits.
Based on the research, in order to have a statistically significant anti-cancer effect, we need to drink at least five large cups daily (around 250 ml each). Depending on the quality of the tea, this will give you around 300-400 mg of EGCG, which is also the amount used in most laboratory studies.
This seems a lot of tea for the average Westerner, so even if I don't have the five cups daily that we statistically need reduce the risk of cancer, I'm confident that having a cup or two each day is beneficial to my health and a fantastic addition to an already-healthy diet. And as a nutritional therapist, I've found there are some specific ways to maximize the taste and health benefits of green tea.
15 tips for drinking green tea:
Avoid pesticides by choosing an organic green tea option.
The content of EGCG varies widely between green tea products, so check the web for information on different brands, or you can try asking the manufacturer.
It is said that the ancient Chinese felt green tea should be picked from the rainforest and sipped in a pavilion next to a lily pond. If that option isn't available to you, try to to sit down with your cup and use it as an excuse to relax and really enjoy the moment.
When making your tea, use water that is not quite boiling to prevent a bitter flavor from developing.
Drink green tea slowly, even holding it in your mouth for a second if you can, as this has been found to enhance the delivery of EGCG.
Steep tea for 3-5 minutes—less if the tea you are using starts to taste bitter.
Personally, I think loose leaf green tea tends to taste better, but you can get some excellent-tasting bagged green tea as well.
Try adding a squeeze of lemon, the acid from citrus fruits makes EGCG more bioavailable.
A fresh batch of tea should be brewed after the third cup (when drinking leaves from a pot) as EGCG levels will drop thereafter.
Avoid drinking tea late in the day. It does contain some caffeine and can keep you awake.
If green tea makes you feel nauseous, this could be due to stomach acid, so try drinking it with meals.
Drink green tea as part of a nutritious diet; their effects should enhance each other.
Avoid taking green tea supplements or weight loss products as they have been reported to cause liver damage; if you feel ill after regular consumption of any green tea product stop using it immediately and seek medical help.
Matcha green tea is higher in EGCG than ordinary green tea so avoid taking very large amounts of the powdered form as this may pose a similar risk to liver health.
Limit green tea consumption during pregnancy, since EGCG is thought to reduce the use of folic acid in cells.
Personally, I feel a strong sense of well-being after drinking green tea that I don't get from coffee or other kinds of tea. These tips will ensure that you have the best—and healthiest—experience.