How To Take Your Epsom Salt Bath To The Next Level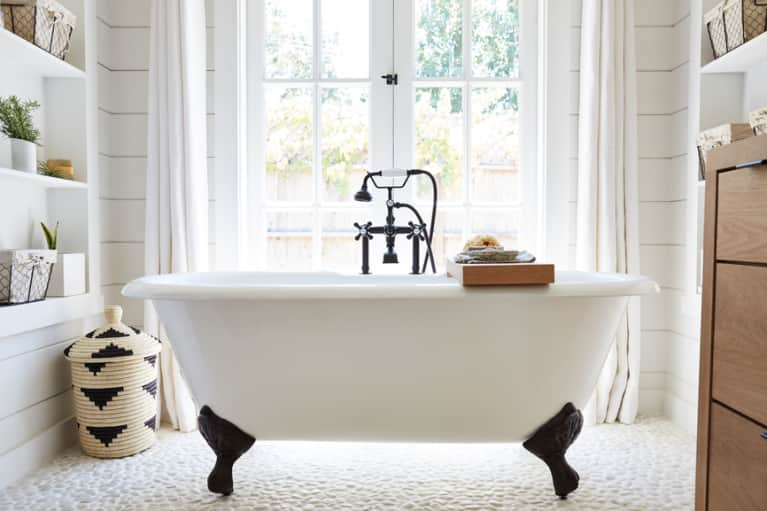 An age-old healing tradition, epsom salts are one of our favorite ways to relax, ease muscle pain and tension, and soothe damaged or dry skin. Taking a bath is a great way to pack a lot of health benefits into one simple ritual—but does the fun have to end there? We didn't think so, so we tracked down some great alternative uses for Epsom salts and compiled our favorite ways to step up your bath game this winter.
Ahem, but what is Epsom salt exactly?
Epsom salt is a mineral compound (magnesium sulfate) that is absorbable through the skin. Magnesium is essential for maintaining normal cardiac activity, immune system, and general muscle function. In fact, magnesium supplements are used to treat a wide variety of ailments including PMS and airway constriction.
There are a ton of reasons to establish a regular bath ritual, but the idea that we can reap the benefits of a magnesium supplement by absorbing Epsom salts through our skin takes this wellness staple to a whole new level. This got us thinking: What other ways could we add a medicinal spin on this evening ritual? As it turns out, the possibilities are endless.
Here's how to layer medicinal healing into your salt bath time:
1. Add mud to your bath to relieve pain.
In a small study on patients with osteoarthritis, a series of mud bath treatments with added sulfate-calcium-magnesium-fluorides mineral water was effective at relieving pain and stiffness. So try adding bentonite clay and Epsom salts to your bathwater and let the pain relief begin.
2. See your bath as an opportunity to detox.
If you indulged a little too much last night, grab some ginger, Epsom salts, baking soda, and a few drops of your favorite essential oil and sweat out all those toxins with this detox bath. Magnesium is a known headache treatment, and this natural remedy will leave you pain-free and reinvigorated.
3. Treat your bath like an herbal remedy.
Try adding a few drops of lavender or chamomile to a nighttime soak session for even deeper relaxation. Studies have shown that chamomile can improve sleep quality and help with symptoms of depression, and other research suggests that lavender can calm the nervous system and promote a more uplifting mood. Plus, the smell is naturally intoxicating!
4. Fend off a cold with therapeutic bath ingredients.
Cold and flu season is upon us; if you are feeling under the weather, add green tea and some eucalyptus to your bath. Green tea is a potent antioxidant and eucalyptus acts as an expectorant that will help improve breathing and sinus or chest congestion. You can also use this as a preventive treatment during the colder part of the year.
5. Make your own milk bath.
We love this option for dry, itchy skin during the winter months. Grab some powdered coconut milk, coconut oil, and any essential oil of your choice and soak away in custom milk bath. This soothing take on a traditional bath will leave your skin feeling soft, silky, and hydrated.
The smell of roses is one of the most traditional and alluring scents out there. Why not inject a little self-love into your bath time? Throw in some rose petals or add a bit of your favorite rosewater to the tub.
Other ways to use Epsom salts
As much as we love our bath time, sometimes our self-care rituals need to fit into our busiest days. Don't worry, you don't have to give up the benefits of an Epsom bath altogether. Try adding Epsom salts to your hair conditioner for an oil-busting hair treatment. You can also create your own face mask using Epsom salts and egg whites whisked together with a fork. To exfoliate dry winter skin, add some salts to your favorite body oil and create your own salt scrub. Last but not least, if you're on deadline and can't take a bath, try doing an Epsom foot bath before bed. Your feet can absorb the magnesium, but you'll have your hands free to multitask if needed.
By incorporating any of these into your beauty routine, you can benefit from the healing properties of Epsom salts without the long soak time.