5 Surprising Ways To Use Epsom Salt Every Day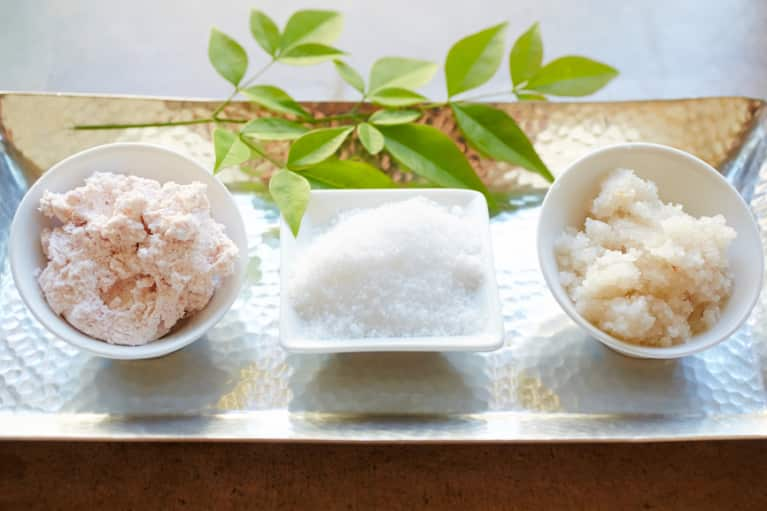 By now you've heard of Epsom salt—the stuff has been used to help flush out toxins and soothe sore muscles for years (and enjoying a warm bath in it after a long day is super relaxing). But you shouldn't limit its use to your tub, because the magnesium and sulfate it contains also plays a key role in your beauty routine. So add an extra bag to your bathroom cupboard and you'll always have some on hand to net these major benefits:
Adding Epsom salt to conditioner helps nix excess oil that all too often leaves hair looking weighed down, greasy, and flat. DIY a bottle by combining equal parts Epsom salt and your favorite conditioner. Once a week, work the mix into your hair after you shampoo, then let it sit for 20 minutes before rinsing (consider it a great time to shave your legs). And if you're looking for more texture, adding Epsom salt to a salt-water spray can give your hair a lift to help you get those beachy waves everyone wants in warm weather.
At the end of a long week, it's smart to use a face mask to help get rid of any gunk that may be clogging your pores. Using Epsom salt in a DIY mask can be your new, easy-to-make go-to. Simply mix a pinch of Epsom salt with egg whites and beat with a fork. Apply it to your face and leave on for 10 minutes before rinsing with a lukewarm washcloth.
3. Exfoliate, exfoliate, exfoliate.
Whether you need to zero in on some trouble spots (like dry knees and elbows) or want an all-over scrub, mixing Epsom salt with a palm-size amount of your favorite bath oil can basically feel like magic thanks to the gentle abrasion of the salt. Once you scrub down your areas of concern, leave it on for five minutes (so try to stay out of the shower spray). The steam will open up your pores, helping your skin to absorb the products.
The anti-inflammatory properties Epsom salt is known for means the stuff is great for relieving sunburn irritation. If you've stayed in the sun for too long without protection (though here's 10 ways to keep your skin safe), mix 2 tablespoons of Epsom salt with 1 cup of water in an empty spray bottle. Spray the affected area, and wait for the deep sigh of relief that's coming your way.
Of course, you can always work the tried-and-true Epsom salt bath into your routine, as it'll leave your skin feeling rejuvenated and hydrated, and one study shows the magnesium within the salt can help lower your levels of the stress hormone cortisol. Add 3 to 4 cups of it into a hot bath, along with 10 drops of essential lavender oil to encourage a better night's sleep.
Related Reads: