The Healing Turmeric Tea New Moms Should Drink Every Day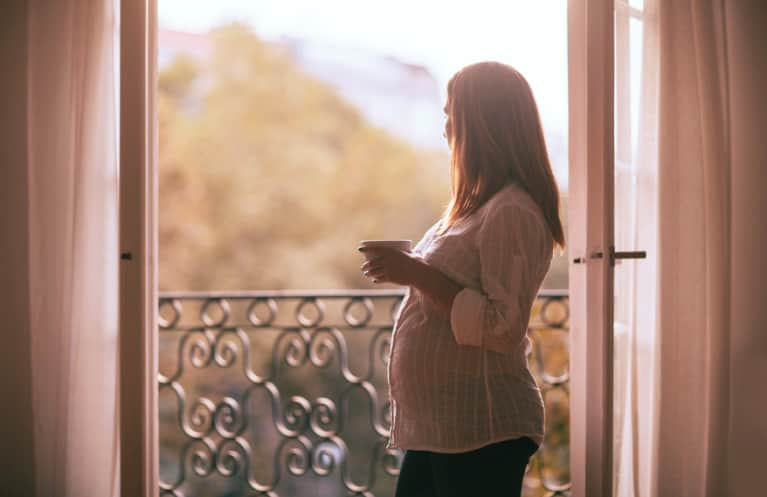 The kettle has a starring role in traditional zuo yuezi—the Chinese practice of staying at home for a month after giving birth—because teas are integral to the postpartum protocol. The new mom sips hot or warm drinks all day, the way many of us in the West swig cool water.
It's not simply for hydration, which is super-important in the postpartum period. Tea is also the first and most obvious way to bring heat to your insides; hot water settles the "wind" that can get into the now-vacant baby room—your womb—and that can then whip through the whole house of your body to cause discomfort and distress. Then, of course, there are the ingredients steeped in the water that are chosen for their therapeutic effects.
Gathering supplies of herbs and brewing them with boiling water is such an ancient and feminine art.
The wise women who traditionally surrounded a woman during pregnancy, birth, and over the days and weeks that followed knew that Mother Nature has special gifts to offer the childbearing woman. Her leaves, fruits, roots, flowers, and weeds can be used to relax or rebuild a new mother's depleted body, to help her breasts lactate, and to settle the mind or even to energize her when fatigued. These natural wonders are the ultimate folk medicine—cheap to source and safe to use.
During the first 40 days, reframe the cup of tea from a once-a-day beverage to an all-day affair. Let warm tea be your companion from dawn to dusk (and through to dawn again). Or let it cool to room temperature and sip it from a canteen instead of plain water.
Gathering supplies of herbs, sorting and storing them in Mason jars, and brewing them with boiling water is such an ancient and feminine art. It is an earthy ritual that will move you with its mystery—the wisps of aromatic steam and the sensations in your stomach, or breasts, or mind—even if you are the most urbane type of woman.
As you practice tuning into how your body responds to different brews, you don't just get the benefits of, say, greater lactation or sweeter sleep. You are developing that intuition, that listening within, that will be your greatest tool as a mother.
Steeping herbs in hot water is the simplest way to experience the healing power of herbs. When a small amount of an herb is steeped for just a few minutes to extract the plant's beneficial oils, it is a tea, with mild but palpable therapeutic effects. When a large amount is steeped for several hours, it becomes an infusion, more potent and more medicinal in effect. You'll enjoy these teas' harmonious flavors and may find infusions to be more intense. Herbalists say that infusing herbs unlocks the minerals, vitamins, and even proteins in the leaves for deeper nourishment of the whole body.
Here's one of my favorite teas to drink postpartum, from my new book, The First Forty Days: The Essential Art of Nourishing the New Mother.
Ginger, Turmeric & Honey Tea
1-inch (2½-cm) knob of fresh ginger, peeled and grated (about 3 tablespoons)
1-inch (2½-cm) knob of fresh turmeric, peeled and grated (about 3 tablespoons)
2 tablespoons apple cider vinegar
¼ cup (60 ml) honey, or to taste
Bring 5 cups (1.2 L) water to a boil in a medium pot. Turn off heat, add the ginger, turmeric, and vinegar. Let it steep, covered, for 10 minutes.
When you are ready to drink, stir in the honey. Leftovers keep in the fridge for up to 1 week.
Tip: You can purchase fresh turmeric in Asian groceries and some natural foods stores, but if you cannot find it, a teaspoon of powdered turmeric can be used instead.
Related reads:
Reproduced with permission from First Forty Days; Abrams; Spring 2016