5 Recipes To Lower Inflammation & Heal Your Adrenal Fatigue
Functional Medicine Practitioner
By William Cole, D.C., IFMCP
Functional Medicine Practitioner
Dr. Will Cole, D.C., IFMCP, is a leading functional medicine expert who specializes in clinically investigating underlying factors of chronic disease and customizing a functional medicine approach for thyroid issues, autoimmune conditions, hormonal imbalances, digestive disorders, and brain problems. Cole is also the bestselling author of Ketotarian and The Inflammation Spectrum.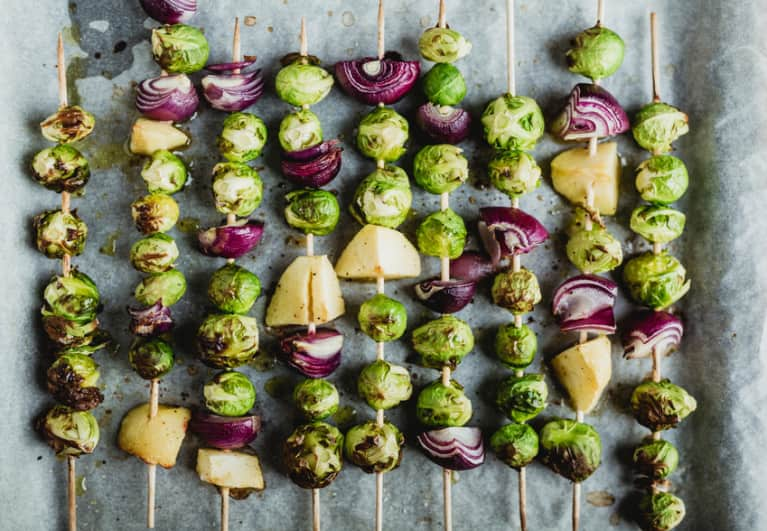 William Cole, DC, a functional medicine practitioner, is an expert at identifying the underlying factors of chronic conditions. Join Dr. Cole for an exclusive webinar on May 24, 2016, and learn how to uncover your food intolerances, heal your gut, and feel your best again. Check out his mindbodygreen course, The Elimination Diet: A 60-Day Protocol to Uncover Food Intolerances, Heal the Gut, and Feel Amazing.
Do you ever feel like your life is on fast-forward and autopilot? Like the days are whipping past you like a raging river of time and events? In our modern, fast-paced, overstimulated world, it's no wonder that fatigue is extremely common to see.
Adrenal fatigue is one of the most common forms of fatigue that I see in patients. But just because something is common doesn't make it normal.
Adrenal fatigue is when the brain isn't speaking well to the adrenal glands. The adrenal glands release several hormones, and one of them is your stress hormone cortisol. Cortisol is supposed to be higher in the morning to wake you up and lower in the evening for you to get an amazing night of sleep.
The adrenal glands are just doing what the brain tells it to do and waiting to do their job. Adrenal fatigue is when the brain is either screaming at your poor adrenals, whispering to them, or speaking at the wrong time. This causes your cortisol to be either too high, too low, or erratic.
Take my adrenal fatigue quiz to see where your adrenal health adds up.
This will make you feel drained, inflamed, anxious, or depressed. You will probably sleep poorly and struggle with brain fog with adrenal fatigue. It can cause blood sugar roller coasters, making you crave sugary and salty foods.
Let's rehab your energy levels.
I've struggled with adrenal fatigue, too. As a practitioner, dad, husband, brother, friend, I am easily pulled in different directions. I was exhausted, anxious, running on green tea and adrenaline, until I healed myself naturally.
My passion and joy is to help others with the power that I found in functional medicine and healing foods. We can kick adrenal fatigue's butt with some awesome food medicine.
Let's rehab your energy levels and get you sleeping well at night and waking up ready to conquer your day.
Healing from adrenal fatigue has to be focused on healing the brain-adrenal communication (HPA axis). Here, I've carefully put together five nutrient-packed, yummy recipes to start reversing your adrenal fatigue.
The foods here were all intentionally picked to optimize brain function, decrease brain inflammation, heal the brain-adrenal axis, and promote healthy hormone balance.
1. Brain-Adrenal Balancing Smoothie
12 ounces full-fat coconut milk
1 tablespoon coconut oil or MCT oil
1 scoop collagen peptides
1 teaspoon ashwagandha powder
1 teaspoon rhodiola powder
1 tablespoon maca powder
1 cup frozen organic berries
1 drop stevia
1 cup spinach
5 Brazil nuts
Preparation
Combine everything in a blender until smooth.
Adrenal rehabbing benefits:
This smoothie is rich with adaptogenic herbs that promote balanced cortisol levels whether they are high or low. The healthy fats in the coconut milk and oil are extremely stabilizing to the brain. The collagen is great for your gut, your "second brain," which is essential to brain and hormone health.
2 tablespoons coconut oil
1 pound grass-fed beef liver (cut into 1-inch pieces)
1 large white onion, sliced
1 1-inch piece fresh ginger, grated
2 cloves crushed garlic
1 teaspoon turmeric
1 cup sprouts
3 tablespoons coconut aminos
Preparation
1. Heat coconut oil over a medium-high heat and sauté the liver for about 3 to 5 minutes, until cooked.
2. Remove the liver from the pan and add in the onions. Cook over medium heat for 3 minutes until slightly softened.
3. Add ginger, garlic, and turmeric, and cook for 2 minutes.
4. Add sprouts and cook, stirring until slightly softened.
5. Add the liver, coconut aminos, and additional coconut oil if needed. Cook on a high heat for 2 minutes. Voilà.
Adrenal rehabbing benefits:
Organ meat like liver is the planet's most nutrient-dense source of activated B vitamins, which are essential for healthy methylation pathways, which makes for a healthy brain and hormonal system!
On top of this, the sulfur-rich vegetables such as onion and garlic give methylation an extra boost. Take away: great for healthy brain-adrenal function.
3. Salmon With Avocado Sauce + Brussels Sprouts
Ingredients for the Salmon
2 pounds salmon filet, cut into 4 pieces
1 teaspoon ground cumin
1 teaspoon paprika powder
1 teaspoon onion powder
1 teaspoon chili powder
½ teaspoon garlic powder
Himalayan sea salt and freshly ground black pepper
Ingredients for the Avocado Sauce
2 chopped avocados
1 diced small red onion
1 minced garlic clove
1 tablespoon extra-virgin olive oil
1 tablespoon fresh minced cilantro
1 lime's worth of juice
Himalayan sea salt and freshly ground black pepper
Preparation
1. Combine paprika, cumin, onion, garlic, and chili powders, and season with salt and pepper to taste in a bowl.
2. Put dry rub on salmon, and refrigerate for 30 minutes.
3. Mash the avocado until you get a smooth texture in another bowl.
4. Add all the remaining ingredients for the avocado sauce, and stir until mixed.
5. Remove the salmon from the fridge.
6. Grill the salmon on the preheated grill around 5 minutes on each side, depending on grill.
7. Drizzle avocado sauce on salmon.
Ingredients for the Brussels Sprouts
3 pounds Brussels sprouts, trimmed
½ cup melted coconut oil
½ cup balsamic vinegar
¼ cup raw honey
1 cup dried cranberries
Himalayan sea salt and ground black pepper
Preparation
1. Preheat oven to 375°F.
2. Mix Brussels sprouts in the coconut oil and season to taste with salt and pepper.
3. Put Brussels sprouts on a baking sheet and roast until brown for about 30 minutes.
4. Combine the balsamic vinegar and honey in a saucepan. Bring mixture to a boil, lower to a simmer, and cook until thickened.
5. Drizzle glaze over the sprouts. Sprinkle the dried cranberries over the sprouts. Enjoy!
Adrenal rehabbing benefits:
Where do I begin?! The omega fats found in wild-caught fish are needed for a healthy brain and hormones. Avocados provide more healthy fats and B vitamins, needed for healthy neurotransmitters. Brussels sprouts are rich in sulfur groups, which again enhances methylation.
4. Hormone-Balancing Granola
⅔ cup Brazil nuts
⅓ cup pumpkin seeds
2 tablespoons chia seeds
⅓ cup ground flaxseeds
⅔ cup pecans
¼ cup coconut flakes
⅓ cup raisins
5 tablespoons coconut oil, melted
4 tablespoons maple syrup
1 teaspoon vanilla extract
2 teaspoons cinnamon
Preparation
1. Preheat oven to 180°F.
2. Chop Brazil nuts and pecans in a food processor. Mix in a bowl with all the other nuts, seeds, and coconut flakes.
3. Combine melted coconut oil, maple syrup, vanilla extract, and cinnamon. Pour into the dry ingredients and mix until everything is well-coated.
4. Place in the oven to cook for 30 minutes.
Adrenal rehabbing benefits:
Magnesium is nature's chill pill and is found richly in these healthy nuts. Selenium is also abundant in this snack, which is needed to make active, healthy hormones. This granola is also rich in healthy omega and coconut fats needed for healthy brain, hormone, and cell function.
5. Adrenal Calming Elixir
1 quart spring water
2 tablespoons apple cider vinegar with mother
2 tablespoon organic lemon juice
1 tablespoon magnesium citrate powder
1 drop stevia
Preparation
Mix in water bottle, add some ice, and shake together.
Adrenal rehabbing benefits:
This powerful elixir supports healthy detoxification pathways, which helps balance hormone levels. Magnesium helps calm a stressed-out brain.