The Dirtiest Spot On Your Desk, According To Research — And How To Clean It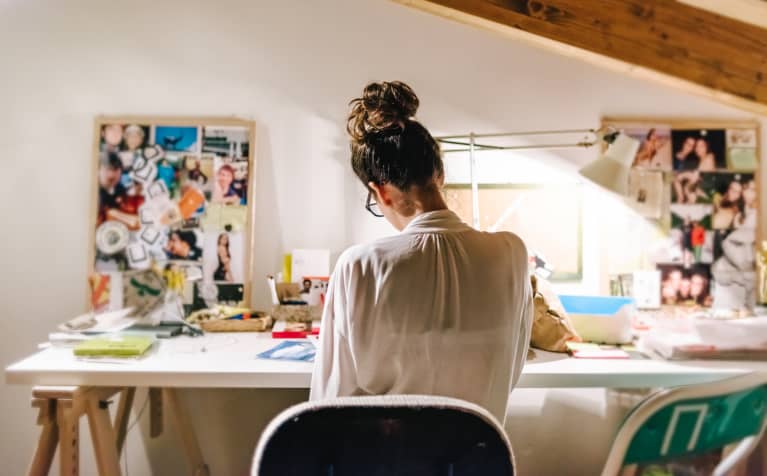 Our editors have independently chosen the products listed on this page. If you purchase something mentioned in this article, we may
earn a small commission
.
Since the beginning of the pandemic, we've all gone to great lengths to wash our hands, wipe off surfaces, and maintain hygienic homes. But one specific spot that can get left out? Your computer mouse or trackpad—and it gets dirtier than you might think. New environmental sampling research just reminded those of us working from home just how important it is to keep the desk space clean—mouse included.
The case for a good mouse clean.
For this new report, appliance insurance and repair company Cinch Home services surveyed nearly 900 remote workers to learn more about their maintenance routines.
After gathering germ samples from various surfaces in the workers' home offices, they sent them off to the lab to be tested. The results indicated that the mouse was consistently the dirtiest thing in people's home offices, containing up to 4,000,000 CFUs—colony-forming units—per 10 square inches. That's 3,448 times more bacteria than your average toilet handle.
Computer monitors and headsets were pretty germ-ridden as well but not as much as the mouse.
Long story short: It's important to clean everything—and that means everything—in your office, at the very least once a week.
And as you might have imagined, cleaning electronics looks a little different from cleaning regular hard surfaces. Luckily, cleaning your mouse or trackpad is pretty straightforward. Before you do anything, you'll want to unplug your mouse or computer.
If you're just looking to give it a quick wipe, use a slightly damp cloth (be sure not to spray any water directly onto the surface itself, as it can damage it). If you're looking for some disinfecting action, green cleaning expert Becky Rapinchuk recommends pouring a little rubbing alcohol on a soft cloth and wiping the computer mouse or trackpad, then allowing it to dry.
You can use that same method with your natural cleaner of choice, and for the hard-to-reach places of the mouse, you can try dipping a cotton swab in the cleaner or rubbing alcohol to get in those crevices. Simple as that!
Just remember to make a habit of doing this on a weekly basis—perhaps on Fridays, when your workweek is finished.
With so many people working from home, it's more important than ever to keep our home office spaces clean. (And for what it's worth, your mouse or trackpad is probably pretty dirty, even if you don't work from home.) With just a little rubbing alcohol or cleaner, and a few minutes of your time, your mouse—and you—can stay germ-free.
Want to turn your passion for wellbeing into a fulfilling career? Become a Certified Health Coach! Learn more here.