Do Women Really Become Less Interested In Sex Over Time? Debunking The Myths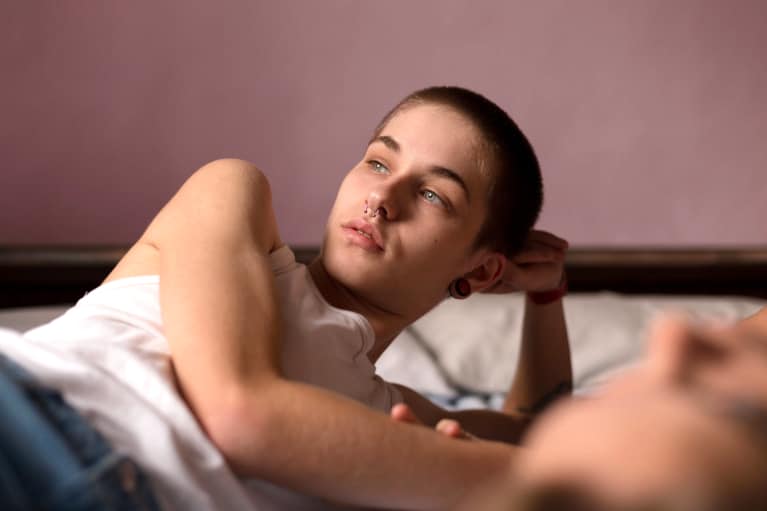 A couple in their 30s, married for 10 years, sit across from each other in my office with tension and despair written on their faces. When I hear their story of sexual disconnection, it sounds all too familiar. Ben's story is one of frustration that they only occasionally have sex. Sara's story is also one of frustration because she's at a loss as to how to fix this between them. They both agree that when they do engage in sex, the encounter itself goes well enough. Yet that doesn't lead to another roll in the hay for quite some time.
Another familiar scene is the group of men meeting for happy hour, bemoaning their lot as married men who've accepted the "fact" that women lose interest in sex after they've been married for a few years.
Anecdotes abound, yet the mainstream understanding of why sex in long-term relationships diminishes suffers from an astounding lack of information about female sexuality—and it doesn't have to be this way.
Yes, some women do say, "I don't care if I ever have sex again as long as I live." I think the truth is more likely, "I don't care if I ever have the kind of sex, or the circumstances under which I'm having sex, again."
In sexuality, knowledge is truly powerful. So let's unpack the real sources of all this distress.
The power of negative messages.
First of all, we need to name the thing many people don't want to name: The negative messages that girls are bombarded with since they found out they were girls have created enormous barriers to feeling sexually comfortable. Even today, there is still a staggering number of "Good girls don't _____" messages, all designed to modulate what might come naturally:
Don't be too loud or too expressive.
Don't sit that way in a chair.
Don't be "too much."
Don't get pregnant (which translates to "sex is dangerous").
The boys won't like you if...
Your body isn't quite right.
Have you ever heard a cliché of "Girls will be girls" the way you hear "Boys will be boys?" Never. Yet the truth is, all people are products of their culture. Even women who feel like they know better than to buy into these negative messages they heard growing up can still nonetheless be affected by them.
The good news is, the lingering impact of negative messages can be softened. The first step is to identify the messages you got as a child from your parents and peers, including social media. How did those messages affect how you feel about sex? About your body? The next step is to reflect on how these messages might still be affecting you and find a way to minimize their continuing influence. That can look like talking to your partner or friend about these experiences, reading books on female sexuality, or seeking the help of a therapist.
Additionally, so many women have been exposed to inappropriate sexual comments and touch, sexual abuse, and sexual assault. The impact of these experiences is enormous and long-lasting, usually interfering with the ability to enjoy sex. There are effective strategies to release trauma's hold on you (the best first step here would be to see a therapist), but this context cannot be ignored in any conversation about the idea that "Women just aren't interested in sex."
Likewise, a crucial misunderstanding when it comes to female sexuality—and a major source of sexual frustration in couples—is the idea that sexual desire just pops up for everyone in the same way. When it doesn't happen this way in a relationship, there's usually a lot of confusion and blame.
There are actually two basic types of sexual desire: spontaneous and responsive. We're very familiar with the spontaneous type. You know, those who walk down the street on an average day regularly struck with a desire for sex. They seem to be up for sex most anytime. Sexuality researcher Emily Nagoski, Ph.D., tells us that about 75% of men are members of this group but only about 15% of women.
Because women often aren't exposed to what is more typical of female sexual desire, they often end up saying, "What's wrong with me?" or falsely concluding, "I'm just not a sexual person."
Many women have what's known as responsive sexual desire. For people with this type of desire, the context of the moment is critical to your openness to the idea of sex. If you're tired, preoccupied with a work project or a troubled family member, stressed, or feeling blah, interest in sex is going to be hard to come by. These are not just factors affecting your interest in sex; they are central. There's nothing wrong with you for not being interested. You just need a change in context.
A common experience for responsive people is that desire shows up after arousal. This is normal. It's just not advertised. What this means is that you have to change the question from, "Am I feeling frisky?" to "Am I open to engaging in touch?" With physical touch, arousal may well show up, followed by, "Oh, now I feel very glad to be here, doing this!"
Most people don't even know responsive sexual desire exists—even the very people whose desire works like this. I was once describing responsive sexual desire to my husband, and he said, "That's interesting. That's not what you see in the movies." Exactly. The media, a major provider of sex education, only depicts spontaneous sexual desire.
As it turns out, spontaneous people often find themselves in relationships with responsive people. I've found this often to be true in same-gender couples as well. So these groups need to get to know each other.
When I explain responsive desire to Ben, his jaw drops and doesn't close for a while. Whereas Sara is nodding vigorously, "That's me. That's me—I've just never known how to explain it." Likewise, when I explain that Ben likely walks down the street with every sixth thought being a sexual one, her eyes pop out of her head.
A consequence for many women growing up today is that sexuality wasn't about them and their pleasure. With inadequate information about sex, many young women are often left to apply to themselves what they learn from their experiences with men—or the movies. If men just dive into erogenous zones at the outset of a physical encounter, then that's what must be the way to have sex. However, when desire tends to follow arousal, a direct focus on erogenous zones can feel like an unwanted advance. Their bodies aren't yet ready to be stimulated sexually.
What to do? Change the context. If you're like Sara and have responsive sexual desire rather than spontaneous, what is the context that makes you feel open to physical touch? Instead of saying, "I'm not in the mood," try asking yourself, "What could put me in the mood?"
Perhaps a conversation that would help you feel less stressed, a shared glass of wine or cup of tea, a foot massage, a hot bath, reading some erotica, having your partner wash the dishes and put the kids to bed. There's a bridge between where your head is at the moment and where it could be—you just have to build it.
This is also a couple's project. If you're a spontaneous guy in a relationship with a responsive woman, find out what turns her on—and off. Do you approach her in a way that's enticing to her? Do you send her affectionate or sexy text messages? Think of your early days of flirting—you showed interest and enthusiasm for everything about her. You paid attention to her. If she's tired, do you offer to take on tasks to give her a break?
What about unresolved conflict or repetitive bickering? For those like Sara, this is a huge buzzkill. Many a time, a Ben type approaches his partner for sex several hours after they've quarreled, and she looks at him as if he's sprouted a horn and gives him a look that says, "Are you [insert your favorite four-letter word] kidding me? I'm still furious with you!" Try finding a better way to resolve conflict so there's not simmering resentment in the air.
When we understand responsive desire and the way it works, it exposes the myth that women lose interest in sex. Sure, most women probably do lose interest in the kind of sex they've been expected to enjoy—late at night when they're ready to go to sleep, regardless of what else is going on for her.
Enjoyable sex happens in a context that takes you into account.
Getting back on that track of having a pleasurable sex life isn't about the stars aligning just right. It's about educating yourself, understanding what negative messages and experiences may be affecting your relationship, and understanding exactly how you and your partner's sexual desire works. Equipped with that knowledge, you can work together with your partner to create a context in which you can both enjoy sex more fully.
Want to turn your passion for wellbeing into a fulfilling career? Become a Certified Health Coach! Learn more here.