Close Banner
Advertisement
This ad is displayed using third party content and we do not control its accessibility features.
How Sexual Context Can Take Sex From Good To Great

Couples Therapist
By Alicia Muñoz, LPC
Couples Therapist
Alicia Muñoz, LPC, is a certified couples therapist and author of four books, including 'Stop Overthinking Your Relationship: Break the Cycle of Anxious Rumination to Nourish Love, Trust, and Connection With Your Partner.'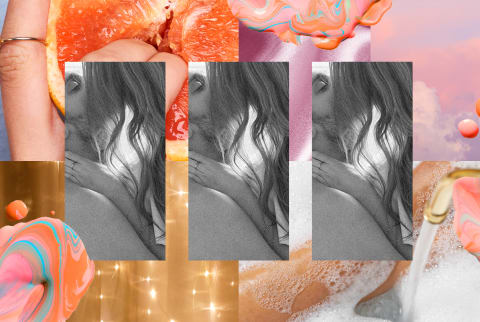 Image by mbg Creative / iStock, Stocksy
If you stumbled on a magic relationship lantern and a sex genie popped out and said, "I will grant you one wish," what would you ask for? There's a good chance many of us would wish for reliably hot sex.
Sex, when it's good, can be powerfully satisfying. It's a joyful, life-affirming experience that touches all aspects of our humanity: physical, emotional, spiritual, and mental. Unfortunately, for many of us, it doesn't happen as much as we'd like it to. Or else it's Groundhog Day in the sheets: It happens way too often, way too predictably.
What's missing from most people's sex lives.
Part of what makes sex challenging is that we've been discouraged from investigating or understanding it since early childhood. Rare is the child encouraged at the dinner table to discuss positive and negative messages they received about their body in gym class or asked open-ended questions by a loving parent, like "And how did you feel when you got in trouble for calling your vulva (or penis) by its proper name at school?"
By the time we're adults, any positive sexual experiences or sensations we have can seem like "magic" because our minds have been conditioned to short-circuit, go blank, default to predictable judgments about sex and bodies, or react to the topic of sexual feelings, erotic sensations, pleasure, and our "private parts" with confusion. Often, we don't understand the factors that go into our positive (or negative) sexual experiences because we haven't felt fully free to spend time exploring and understanding these factors, or getting the support we need to work through our mental and emotional blocks to doing this.
And if we don't know what makes sex good (or not so good) for us, how can we foster and nurture the external and internal circumstances we personally require to support the sex lives we want?
The power of sexual context.
There's a shorthand for all the complex, interlocking factors that contribute to our experience of sex at any given moment: "sexual context."
Our sexual context encompasses all of the elements—internal and external—that influence our sexuality at any given moment. On a macro level, it encompasses our ever-shifting environment, the sensory stimuli that surround us, and our conscious and unconscious internal world. On a micro level, it's our immediate surroundings and state of mind: beeping sounds in the street that distract us from our lover's kiss; the stress and tension that makes it hard to relax and savor touch; or the music, candlelight, and prolonged eye contact with our spouse that allow us to exhale and let go.
Context encompasses where we are and how we feel about it as well as who we are and how we experience ourselves. It affects our perception of sexual cues, our sensations, our arousability, and much more.
To begin exploring what contributes to your ideal sexual context, try this:
Bring to mind your last pleasurable sexual experience, partnered or alone.
Consider whether there was an event prior to this experience that may have "set you up" to enjoy it, e.g., "I just finished taking a long, relaxing bath," "I was exhilarated from a workout," "I watched a romantic movie," or "My partner was away all week and I missed him."
Make two columns on a piece of paper: internal and external.
In the "internal" column, jot down adjectives that best describe your state of mind, your emotional state, and how you felt physically at the time of this experience.
In the "external" column, jot down adjectives that best describe your physical environment: sounds, sensations, smells, visual elements.
Consider how these internal and external factors contributed to your receptivity to pleasure and sensual/sexual enjoyment.
Repeat items 1 through 6 on this list with a couple of other positive sexual experiences, and look for patterns in the factors that contributed to your pleasure.
Write down several concrete ways you might consciously create new variations of the factors that came up most often on your lists in your daily life, e.g., "I will make a practice of initiating a full-body hug with my partner three times daily," "I will get out of my humdrum work routine by asking for a slow dance after dinner," "I will go for a run before work to energize myself," or "I will read erotic poetry on a park bench."
Since most of us won't stumble on a magic relationship lantern or sex genie in this lifetime, consciously understanding the different contextual factors—internal and external—that support and contribute to our personal experience of enjoyable sex is one of the most accessible and realistic paths to sexually empowering ourselves.

Alicia Muñoz, LPC
Couples Therapist
Alicia Muñoz, LPC, is a certified couples therapist, licensed professional counselor, and author of four relationship books, including Stop Overthinking Your Relationship: Break the Cycle of Anxious Rumination to Nourish Love, Trust, and Connection With Your Partner (New Harbinger Publications, 2022). Over the past sixteen years, she has provided individual, group, and couples therapy in clinical settings, including Bellevue Hospital in New York, NY. Muñoz currently works as a Senior Writer and Editor at Psychotherapy Networker and as a couples therapist in private practice. She connects with her readers and followers through monthly blogs, newsletters, and podcasts as well as through Instagram at @aliciamunozcouples, and Facebook and Twitter at @aliciamunozlpc. Muñoz is a member of the Washington School of Psychiatry, the American Psychological Association, and the Mid-Atlantic Association of Imago and Relationship Therapists. You can learn more about her at www.aliciamunoz.com.