Will 10,000 Steps A Day Help You Lose Weight? Study Says It's Complicated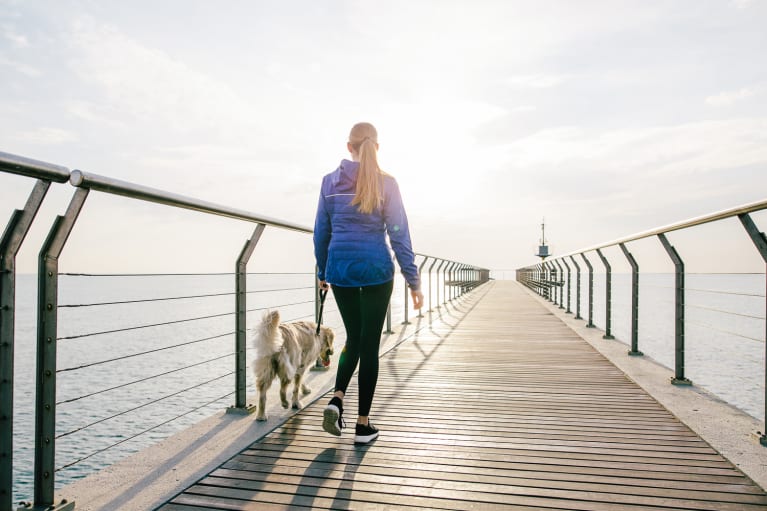 February 11, 2020 — 23:12 PM
For decades, 10,000 has been the number to hit when it comes to getting your daily steps in. According to Harvard Health, it all started in 1965 when a Japanese company created a pedometer, the Manpo-kei, which means "10,000 steps meter."
But existing research has contended that 7,500 steps may be enough, and now, new research from Brigham Young University says the number of steps you take doesn't seem to prevent weight gain, anyway.
Looking for the magic number.
To conduct their research, the team looked at 120 college freshmen over a six-month period. Six days a week, those students walked either 10,000; 12,500; or 15,000 steps for 24 weeks.
Meanwhile, researchers monitored their weight as well as caloric consumption, in the hopes of finding out whether increasing steps would help keep off the weight gain common in new college students. (A 2- to 8-pound gain is noted as the average weight gain for freshmen.)
After the six months, the freshmen had still gained weight, whether they were walking 10,000 or 15,000 steps. Over the six months, the students gained about 3.5 pounds on average, still falling within that average weight gain range, despite hitting the recommended step count.
Exercise alone isn't enough.
Now, we're not saying this is a reason to forget your daily step goals and stop prioritizing an active lifestyle. But when it comes to weight gain versus loss, lead author of the study Bruce Bailey, Ph.D., says, "Exercise alone is not always the most effective way to lose weight. If you track steps, it might have a benefit in increasing physical activity, but our study showed it won't translate into maintaining weight or preventing weight gain."
It's also worth mentioning that on average, the students were already walking nearly 10,000 a day before the study began. So for someone who's more accustomed to a much lower number, maybe then you'd observe benefits.
Ultimately though, Bailey says, "Even though it won't prevent weight gain on its own, more steps is always better for you." We can't argue with that; plus, walking is good for your physical and mental health. For more movement inspo, here are 16 ways to get on your feet during the day.