Bored Kids? Here's How To Create A Wild Adventure Indoors & Year-Round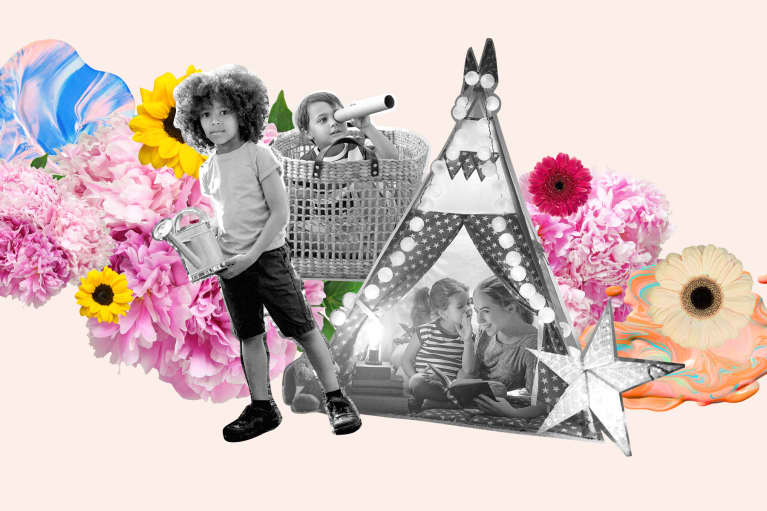 An air of independence, an eye for adventure, a spirit of curiosity: Welcome to the summer of the Wild Child. In this
parenting series
, How To Raise a Wild Child, we're exploring all the reasons you should raise your kid to embrace the great outdoors, start their own expeditions, and let their imaginations run, well, wild.
Raising a wild child, quite obviously, involves the wild: You need to get outdoors and embrace nature. But there are many times in life when that is just not possible: Perhaps it's a rainy day with no signs of abating. Maybe you need to work from home and need to be on your computer during work hours. Maybe your kid caught a cold and needs to stay indoors to recover. Maybe you don't live near enough to the great outdoors and just can't fit in a park visit.
There are plenty of reasons you're stuck inside—and while sometimes that calls for a movie and popcorn, you don't always have to default to screen time (and there are plenty of reasons you might not want to). Instead, there are a few easy, fun, creative ways to bring the outdoors in.
This is all especially true given summer is waning and fall is fast approaching. Soon your kids will start up school again and won't have the same free time to run outdoors and embark on excursions. But just because school time tends to mean more structured time doesn't mean you can't keep some of these principles going.
Here's an easy way to marry crafts and nature—perfect for the artistically inclined child. Start by making a list of your favorite activities throughout the summer, be it a beach trip, hike, or even just a fun day at the park with friends. You can build pages out of each of these memories. While you are crafting the pages, talk with your kid about why they liked it and how it made them feel. "There's always a benefit of reinforcing memories creating a journal, scrapbook, or jar," says Aliza Pressman, Ph.D., the cofounding director and director of clinical programming for the Mount Sinai Parenting Center. "Any time you create something concrete and visual, it helps kids connect to an experience. You can also use it as a tool to take the kid back to a place that makes them feel calm, safe, and happy."
The thing you need to keep in mind is this takes supplies and perhaps a little forethought: Take photos during your adventures, collect mementos along the way, have them journal about their adventures to preserve memories, and be prepared to make a run to your local art supply store to get crafting materials. If a scrapbook or journal isn't your kid's thing, but you still want to create long-lasting memories, just fill a Mason jar with shells, sand, flowers, a ticket stub, or anything you've found along the way.
One of the reasons we started this series was to encourage imaginative play, as being outdoors can inspire all sorts of it. Bring that same spirit inside with a fort—it's a classic activity for a reason. The key is to keep it unstructured and let them take the lead. (One of my favorite pieces of advice was from mom and outdoors influencer Rebecca Caldwell: "When you are at a playground, and they have it set up like a castle or boat, sometimes it's hard to imagine outside of that boat. You can still do imagination play, but you're always going to be on a boat. But when you are out in nature, it is endless what you can imagine," she told us.) You can take that same endless-possibilities approach here, too: The fort doesn't need to be perfect, pretty, or resemble anything really; it just needs to spark something.
Try a nontraditional sport.
One of the posts in this series was all about trying nontraditional sports, like skiing, cycling, and bouldering. And while many of these are seasonal and do require you to be out in nature—which is one of the reasons we recommend them!—that can be done indoors come the chillier months, depending on where you live. Bouldering is a classic example: There are plenty of indoor climbing gyms around the country, many with youth programs. Skateboarding is likely another, as larger cities tend to have at least one indoor skate park.
Plan your next outdoor outing.
Want to really flip the script? Tell them they are in charge of the next outdoor adventure. Give them a date and any parameters you might have (for example: Are friends allowed? How 'far away from home' can it be—in the neighborhood or can you make your way to a nearby national park? Is there a budget, or should you keep it to only no-expense activities?). Then let them go for it. If you need to rein it in later for any reason, you can, but at least they'll feel they contributed to the plan. "They can focus on what they are interested in, and if you've made that choice, you've thought through I can do whatever I want to do right now; what do I actually want to do? you always do it better, with more intention and attention," says Pressman. "So giving kids opportunities to make choices is very important for their autonomy and agency." You can even let them help pack, too (read our must-pack list here).