The One Mistake You're Making With Your Gratitude Journal + An Easy Fix

mbg Sustainability + Health Director
By Emma Loewe
mbg Sustainability + Health Director
Emma Loewe is the Senior Sustainability Editor at mindbodygreen and the author of "Return to Nature: The New Science of How Natural Landscapes Restore Us."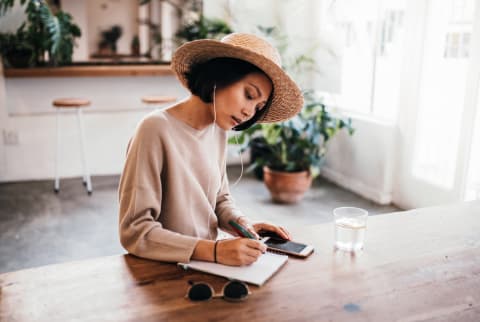 Image by Carina König / Stocksy
August 21, 2021
Our editors have independently chosen the products listed on this page. If you purchase something mentioned in this article, we may
earn a small commission
.
Gratitude journaling, as the name suggests, is the process of writing down the things you're grateful for. Those who practice it regularly may feel less stressed, more positive, and more selfless after they shut the page.
Flip open anyone's gratitude journal and you're sure to find writing on the highlights of life—a great meal, a compliment from a friend, a beautiful sunset—but not too much on the stressful stuff. Well, according to Wendy Suzuki, Ph.D., a brain plasticity researcher and professor of neural science at New York University, there's good reason to balance out your journal with setbacks, too.
Advertisement
This ad is displayed using third party content and we do not control its accessibility features.
Here's how Suzuki recommends tweaking your gratitude practice in the name of mental wellness and stress relief.
Why you should include "negative" experiences in your gratitude journal.
Suzuki's upcoming book, Good Anxiety: Harnessing the Power of the Most Misunderstood Emotion, is all about how stressors and setbacks can be used as positives, moving us forward toward more self-awareness and success down the line.
Emotions that we often perceive as negative—fear, worry, anger—after all, have lessons to teach us, too. And by recognizing them as instructive feelings, not just things to be swept under the rug, Suzuki says that you can learn a lot about yourself. "What is fear teaching me about what I value? What is worry telling me about my life and what is going right and what is going wrong and what my dream is? If I approach those emotions as protective and informative, I have a very different way of dealing with them," she tells mbg.
Expressing gratitude for these emotions is one way to reframe your perspective on them. Suzuki, who keeps a daily gratitude journal, explains that she now includes setbacks as well as successes, and it's switched her perspective on fear and anxiousness from "that thing I never wanted to have to that thing I needed."
A new view on stress.
This practice rings in an important point: Stress isn't all bad. Evolutionarily speaking, it exists to help us prepare to deal with challenges, and researchers continue to find that it's healthy and protective1 in small doses.
"Stress is not an anchor. It is the wind in our sails," Suzuki says. "It keeps us going forward; it keeps us motivated. I've given the best talks of my career when I was a little bit afraid."
It's when stress begins to add up that it becomes a problem. "It is not a good outcome for either your body or your brain if you have high levels of stress all the time," she explains, as prolonged stress keeps the sympathetic nervous system in a state of high alert.
When activated, this system increases heart rate, constricts blood vessels, and raises blood pressure. These reactions can help us out in the face of threats, but they're not things you want going on for an extended period of time.
But in a world filled with stressful headlines, constant pings, and long to-do lists, it's only natural to feel on edge often. That's why having a good stress management routine is so important. Practices like gratitude journaling (on positives and negatives) can help calm the stress response, as can in-the-moment tools like breathwork, meditation, and mindful awareness. High-quality calming supplements can also help support your body in the journey back to a healthy baseline.*
Advertisement
This ad is displayed using third party content and we do not control its accessibility features.
The bottom line.
While it's tempting to only have gratitude for the high points of life, there's good reason to express thanks for the challenging stuff, too. In doing so, you'll start to reframe stress as something that you need (in doses, at least) to show up as your best self.
Advertisement
This ad is displayed using third party content and we do not control its accessibility features.